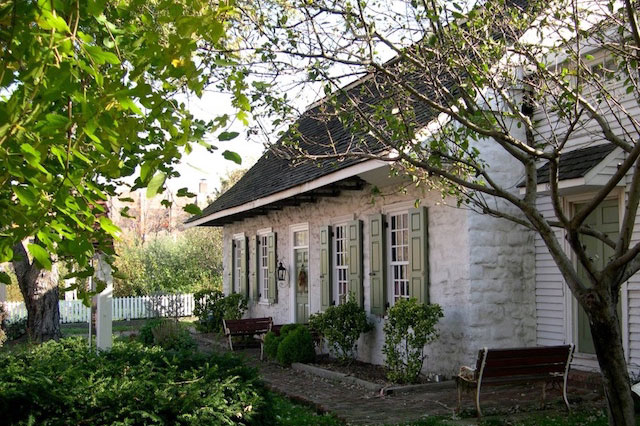 Over two years ago we interviewed locals for the definitive guide to living in Ridgewood, a homey Queens neighborhood we like so much we're exploring it one beer at a time this weekend, at The Total Ridgewood Immersion. We've updated our original Ridgewood story to reflect businesses that have moved (Bun-Ker) and opened (oh just about a dozen new bars and restaurants). Check it out for a deep dive. For a quick guide to a day trip in the neighborhood, read on for our Greatest Hits Guide to Ridgewood.
Where to eat: The first word out of any Ridgewood natives mouth? Definitely "Rudy's." The iconic bakery, its cozy walls a deep maroon and its charm authentically European, has been serving Ridgewood since 1934. From its Nutella linzer tarts to fresh cannolis and specialty cakes, like dark chocolate buttercream, to deliciously flaky Napolean tarts, it's no wonder people can't stop coming back. 905 Seneca Avenue
Houdini Kitchen Laboratory, a  wood-fire pizza joint within an old brewery, is Ridgewood's answer to Roberta's, (but not annoying in the same way). Steeped in low-light and filled with long, wooden tables, the intimate spot offers pies like the Houdini Green Pizza (shallots, goat cheese, zucchini) and Stinky Feet Pizza (rum-aged gorgonzola with vidalia onions and raisins). Pair with a bottle of red and stay the night.
Where to drink: Onderdonk and Sons is a mellow, street corner joint with a plethora of beers and wine, as well as a selection of burgers when you're ready for them. The bar is owned by husband and wife duo Brian Tayor and Louise Favier, who also run the Pencil Factory in Greenpoint. With original wood panel floors, a vintage telephone booth tucked away in the back and lovely leather booths populating the bar, Onderdonk and Sons (located on the corner of Onderdonk Avenue and Menahan Street) has had no problem attracting locals. Its $10 beer, burger and fries deal from 4 to 7pm daily is also one of the sweetest in the city. 566 Onderdonk Avenue
Close by is another husband-and-wife owned bar, the laid-back Milo's Yard. There's a lot to love here: cheap drink specials, 80s and 90s pinball machines (both are enthusiasts), and eclectic snacks like Chicago-style hot dogs and veggie samosas. The backyard just sweetens the deal. 564 Seneca Ave.
Aunt Ginny's is a perfect bar for low-key fun. There's a pool table and plenty of space and well priced beers and a full array of liquor. There's also a taco stand in the backyard, which is reason enough to check it out, in out opinion. 652 Woodward Avenue
Where to get caffeinated: Like Rudy's, Ridgewood residents agree that the quaint, no-frills Norma's is the place to go for your cup of joe. A small, comfortably disheveled place of golden hues and local art adorning the walls, Norma's offers homemade baked goods like mango bundt cakes and Mexican chocolate hazelnut cookies along with its Brooklyn-roasted Brazilian beans. The goat cheese sandwiches ($5) are a perfect little lunch. 59-02 Catalpa Avenue
Make sure to swing by: Built in 1709, Onderdonk House is a historic house and museum that sits on Flushing Avenue and remains one of the oldest Dutch colonial houses in New York City, which alone makes it worth a stride-by, if not a full-fledged visit. 1820 Flushing Avenue
Bring home: You'll fall in love with Morscher's Pork Store at your first whiff of its finely smoked meats. The counters are filled to the brim with freshly prepared kielbasa's, sausages and homemade cold cuts, all smoked in-house. The walls are lined with Eastern European delicacies, anything from pickles to chocolate spreads galore.
The Ridgewood Market is held on a semi-regular basis in an old beer hall from the yesteryears of Queens. Visit for bites from local vendors and to check out goods from artists and artisans around New York. Gottscheer Hall, 657 Fairview Avenue
How to get there: Take the L to Myrtle-Wyckoff or the M anywhere from Seneca Ave. to Middle Village – Metropolitan Ave.