Gotham Market at The Ashland is a world-class food hall featuring seven drinking and dining destinations located in Fort Greene, Brooklyn.
Actually, since January, Gotham Market at the Ashland has offered delicious fare from an all-star lineup of six eateries, counting the latest addition to the lineup, exotic ice cream maker Malai, which eschews plain vanilla for specialties ranging from Masala Chai and Rose with Cinnamon Toasted Almonds to Golden Tumeric and Orange Fennel. Fans of Italian cuisine will love Apizza Regionale. Bar Granger is serving up refreshing cocktails. Boqueria delivers latin cuisine, including tapas and paella. Flip Bird serves both rotisserie and fried chicken, and Mason Jar does barbecue.
Owned and run by the folks behind Hell's Kitchen's Gotham West Market, Gotham Market at the Ashland is sure to help sate the appetites of Fort Greene's growing population. Even better for those beyond Fort Greene, GMTA is centrally located. It's close to no fewer than 11 subway lines, the LIRR, Barclays Center, BAM and the stores at Atlantic Terminal.
It's a great spot for a quick meet up for a drink in the open air, or a sit-down dinner in the hall itself, which can accommodate up to 400. Diners can enjoy everything from Flip Bird's fried chicken to Boqueria's paella. There are myriad TV screens for the sports minded, as well as pet-friendly outdoor seating for those who don't like to exclude Fido from the fun.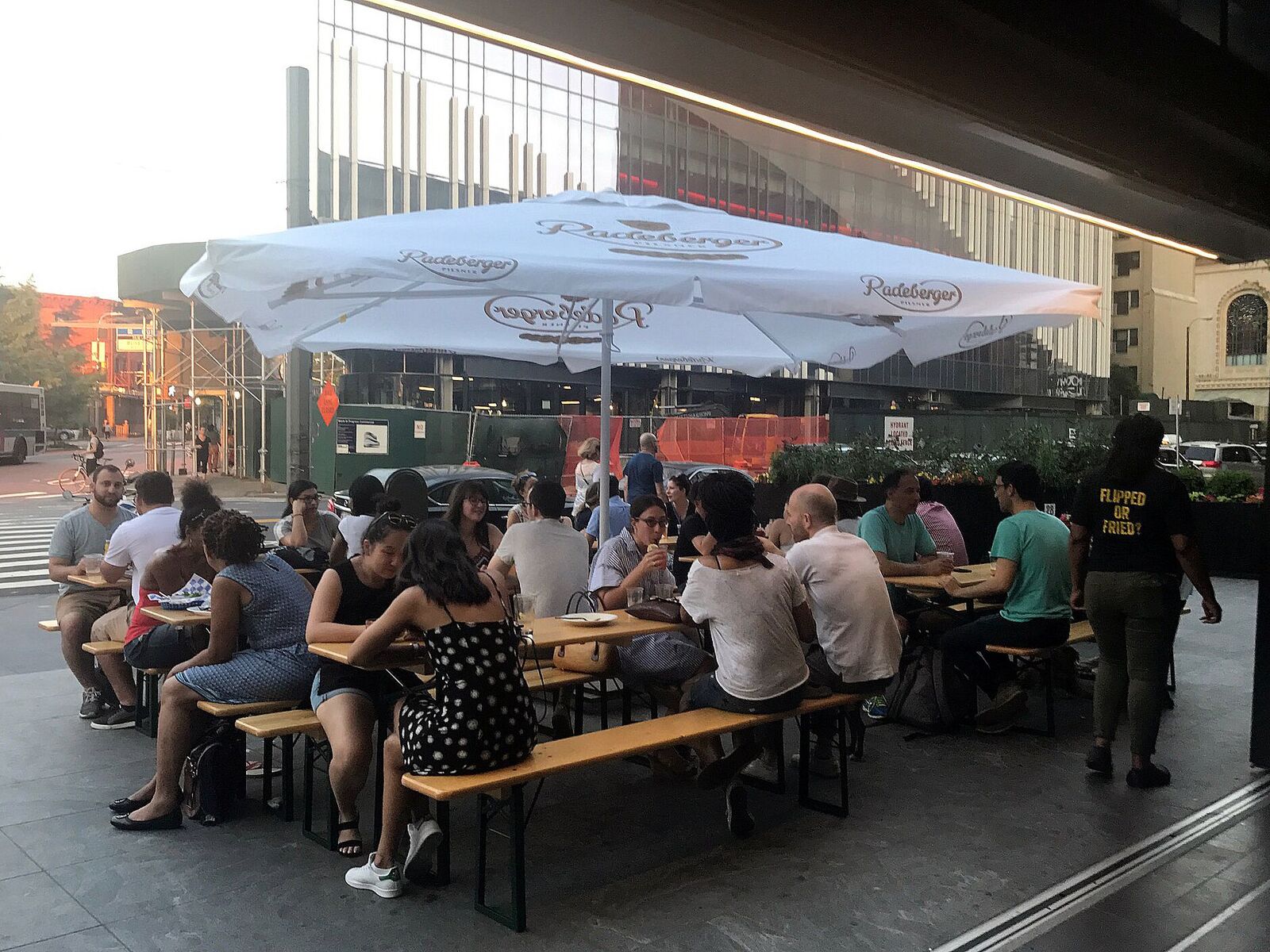 Gotham Market at the Ashland is located at 590 Fulton Street at Ashland Place and is open from 11:30 AM until late. Happy hours are 3 to 7 p.m. at Bar Granger, 11:30 a.m. to 7 p.m. at Mason Jar, and 3 to 6 p.m. at Boqueria. July 10 marks the beginning of Monday Funday Happy Hours every Monday from 6 to 8 p.m. Monday Fundays will feature drinks from $3 to $6 and food specials.
And now, pictures of food: