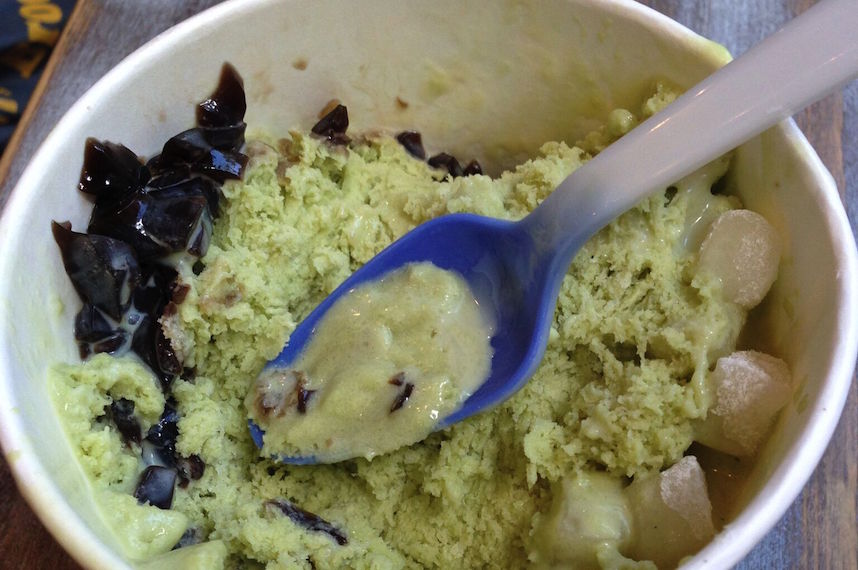 It all started with Instagram. My sister, who lives in South Korea, posted a photo of patbingsu, a Korean dessert that takes shaved ice and tops it with fruit, fruit syrup, sweet red beans, condensed milk and other ingredients that may sound like they don't belong together. The key is really fluffy ice that holds the syrup, and the contrast of different textures mixed in with the sweet, chilly base.
In my search for patbingsu in New York, which you can find at Tous les Jours and other Korean sweets cafés around the city, I went down a rabbithole of Asian shaved ices and ended up obsessed with Taiwanese-style shaved snow. This summer snack is having a moment right now, perhaps because it's the perfect marriage of creamy, fluffy, crunchy and chewy.
Icy desserts are hot weather treats in lots of different cultures. Whether you're talking Italian ice,  Sicilian granitas, Chinese baobing, halo halo from the Philippines or cendol from Southeast Asia, some combination of fruit, syrup, and toppings over ice refreshes even in the hottest weather, and often highlights the best local produce.
Taiwanese shaved snow is an extra-delicious twist on the formula, because milk or cream is frozen and shaved, making for a lush, creamy base. In Taiwan, shaved snow is most often topped with super ripe, richly delicious mangoes and finished with mango syrup or condensed milk. In the U.S., Taiwanese-style shaveries have expanded the variety of flavors and toppings available–these shops feel like an ice cream sundae bar, but with ingredients that are both exotic, like grass jelly, mochi and Pocky sticks, and unexpected, yet very American, like Corn Flakes and Fruity Pebbles.
Eugene Hu, one of the owners of Wooly's Shaved Snow, which you can find at Smorgasburg on the weekends, told me that texture is all-important for shaved snow, and that each shop has their own preference. "The texture is all about the shave," he says. "Some places like it as fine as possible, some prefer the shave to make more of a thick ice cream-like texture, some go for a ribbon type of feel." Wooly's is very light, with a layered, almost flaky texture, in contrast to Snowdays Shavery in Manhattan and in Flushing, which has a creamier texture. Formulas also vary, from skim milk to cream, and Hu noted that some shops in Taiwan even use non-dairy creamer, though he hasn't seen that in the U.S.–and hopes not to.
Snow ice serving sizes may seem daunting–even the smalls would be real gut-busters if filled with ice cream–but because snow has far less milkfat than ice cream, and the shaved texture is much lighter than a dense soft serve or frozen yogurt, it's possible to eat a mountain of the stuff and still feel refreshed at the end.
Shops like Snowdays and Wooly's generally offer a handful of snows inspired by both Asian (green tea matcha, black sesame) and American (root beer, NY cheesecake) flavors. Ordering is sort of like making an ice cream sundae–you choose a snow, then add toppings and a sauce, which could be chocolate, caramel, condensed milk, fruit syrup or whipped cream.
Snowdays makes it easy for first-timers with suggested combos, like the Made in Taiwan, which combines green tea matcha snow, topped with grass jelly, mochi and condensed milk. I never liked mochi, chewy Japanese rice paste that is often filled with ice cream, until I tried it in this context; something about the meltingly light and creamy snow combined with springy mochi makes the dessert more fun to eat and very satisfying. Add corn flakes to the mixture and it's the weirdest, best combination ever. Cathy Erway, author of The Food of Taiwan, notes that the bouncy chewiness found in mochi is a texture that the Taiwanese highly value in savory and sweet dishes alike. "Texture plays a huge role in shaved ice desserts as well as most any foods in Taiwan," Erway told us in an email. "Eaters are especially fond of chewy, bouncy or 'q' textures and this can be seen in desserts a lot."
Hu echoed the importance of texture in his guide to building your own shaved snow sundae. "My favorite is to have one fruit, then I strongly recommend our mochi–it's imported and some of the best mochi you can find in the U.S., and then cornflakes," says Hu. "The balance of texture and flavor is perfect. You get chewy, crunchy, soft, fluffy and creamy all in one one bite."
Sampling shaved snow is the perfect excuse for a make your own sundae party in the heat of August, especially with Hu's expert topping advice and the glut of delicious fruit at the farmer's market right now. Erway came up with a smart way to make this Taiwanese treat at home, even without an old-fashioned ice shaver (you will need a blender). Stock up on Corn Flakes (or CocoPuffs if you prefer) condensed milk, and click through for her recipes.