Ah, September. I have to say that for all the reflection on melancholic, late summer feels, this is one of the single best months of the year, especially in New York City. You can still go to the beach for another few weeks. There are still some trashy, fun, summer movies in the the theater, and even releasing this month. Outdoor festivals are still happening, and tomatoes, peaches and everything amazing is alive and gorgeous at the farmer's market. At the same time, the serious culture calendar is beginning. The BAM NextWave Festival starts this month and we're beyond excited to go see the groundbreaking Pina Bausch dance piece The Rite of Spring (it's sold out, but there will be standby tickets available nightly, so hold on to hope). It comes out Friday, September 8, for anyone who would prefer to not sleep for the rest of the month. And the slightly cooler weather is actually more pleasant for biking, cooking and outdoor cocktailing, even if the sun is going down a little earlier these days. Here's what we're most excited to watch, attend and read this month.
11. American Vandal, Netflix, September 15
True crime documentaries, from Making a Murderer to The Jinx have become incredibly popular, and as a result, parody ready. If you've ever watched Documentary Now! this is basically the true crime version. I'm not actually sure this needs to be a whole series, but this trailer nails the tone and narrative conventions of the genre in a way that is laugh-out-loud funny.
10. Charm, MCC Theater, through October 8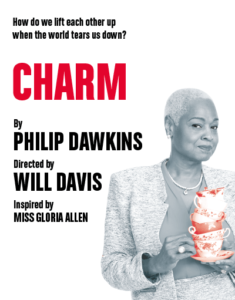 Inspired by a true story, Charm follows Mama Darleena Andrews, a 67-year-old, black trans woman who takes it upon herself to teach an etiquette class for the LGBTQ community. It's a love letter to civility and respect for one another, which seems awfully timely, and this production specifically sought out trans and non-gender-conforming actors for the show. There are still some $30 tickets available, too.
9. Reset, Ellen Pao, September 19
Ellen Pao may have lost the lawsuit she brought against Kleiner Perkins, one of the most powerful VC firms in Silicon Valley, for systematic discrimination against women and minorities, but she started a crucial conversation about representation in the tech industry and beyond. Reset, her new book about gender, tech and inclusion, comes in the wake of Uber's near implosion, the Google memo that launched a thousand thinkpieces, and a big New York Times exposé into what it's really like for women in tech, and her voice is sure to push the conversation forward in interesting ways.
The Brooklyn Book Festival descends on Borough Plaza September 17 with a week of readings and literary gatherings leading up to the main event. As always there is a dizzying amount of authors to stalk, but if we had to choose from the 100 writers in attendance and the multiple panels to choose from in every time slot, we would make a point of seeing Colson Whitehead, Jonathan Lethem and Jacqueline Woodson at 11am. There is an added silver lining for parents–Children's Day is on September 16 at MetroTech Commons, so you can take them to see their favorite authors the first day, and then see your favorites, solo.
7. American Made, September 29
God help me, I don't know why, but I just can't quit Tom Cruise. I love every Mission Impossible movie (yes, even the really stupid John Woo one, and I would argue that the first one is a legitimately great movie). I think his physicality as an actor–believably tough and daring, but not unscathable–is always compelling on screen. There's a rakish charm in there that really makes you wish that Scientology hadn't taken him. So I will, of course, go see American Made, in which he plays Barry Seal, an American airline pilot who gets recruited by the CIA to get in deep with drug runners and South American strongmen in the 80s, even though people who actually know about CIA drug-weapon deals hate this movie, and the last Jack Reacher film had the production values of a double episode of NCIS.
It won't bring him back, but this concert doc from Prince's 1987 tour and double album, Sign o' the Times, is an 84-minute escape into a sexier, more purple universe. Supposedly Village Voice rock writer Robert Christgau called it one of the best rock concert films of all time, and I'm pleased to report that there is some Sheena Easton in the footage, which is a mix of live performance in Europe and studio work at Paisley Park. Prince, the Village Voice–there's a lot of cultural wreckage of the 21st century in this paragraph, but it's all the more reason to immerse yourself in the Purple One's vision for an evening.
5. Ex Libris, September 13, Film Forum
The New York Public Library is a treasure that should make all New Yorkers proud, no matter the wait-time for the book you have on hold. This new documentary from Frederick Wiseman, a master of the form, investigates not only the grand beauty of the Fifth Avenue branch (which you may call "The Ghostbusters Library," but must under no circumstances allow anyone to refer to as "The Sex and the City Library"), but how the library system functions all over our great metropolis. Watching it you're very likely to be surprised by the sheer breadth of the services and programs the library offers around New York City, and inspired by the deep commitment to, and belief in, the transformative power of the humanities embodied in this institution.
National Book Award-winner Jesmyn Ward is one of the most electrifying voices writing about race, class, power and family in the U.S. today. Her new novel, Sing, Unburied, Sing spans several generations of an African-American family in Mississippi, where Ward grew up and now lives. Like As I Lay Dying, the epic and dark family journey from fellow Mississippian, William Faulkner, the narrative is framed by a journey, in this case a mother and her two children travel to a prison to pick up their father, but the story spreads far and wide, with trips to the past, including ghost voices, and other unreliable narrators.
I have to admit that I am late to the Bojack Horseman party, but at least I'm in company as esteemed as Emily Nussbaum, the television writer for The New Yorker. This weird series about a washed up 90s sitcom star living in an alternative world where humans and humans with horse heads, dog heads, whale heads and pretty much any other animal head you can think of, co-exist, is actually kind of amazing, poignant, fresh and addictive. Season 4 starts this month, so you either have lots of episodes to catch up on, or are excited to have an old friend back.
2. Brad's Status, September 15
Ok yes, this could be a terrible, terrible, self-indulgent movie about how everyone is alright even if they're not as successful as their college friends. In it Ben Stiller reflects on his own college years, and how much more wealthy and famous his college friends are, while taking his teenage son on college visits. In other words, Stiller may be starring in a piece of Gen X navel-gazing that is simultaneously as bad as any Boomer midlife crisis movie, while also reveling in the facile wisdom of teens today. But I have to admit that the trailer made me want to find out if maybe, just maybe, this is the movie that those of us who were watching Reality Bites in our dorm rooms now want to watch after the kids go to sleep.
There is nothing like an outdoor musical festival to stretch the summer feels a little bit further. Head to the South Street Seaport to see Ted Leo and the Pharmacists, Jean Grae, The Make-Up and a ton of other artists in one last crush of sweaty humanity. It's free, it's all ages and you can take the ferry there.