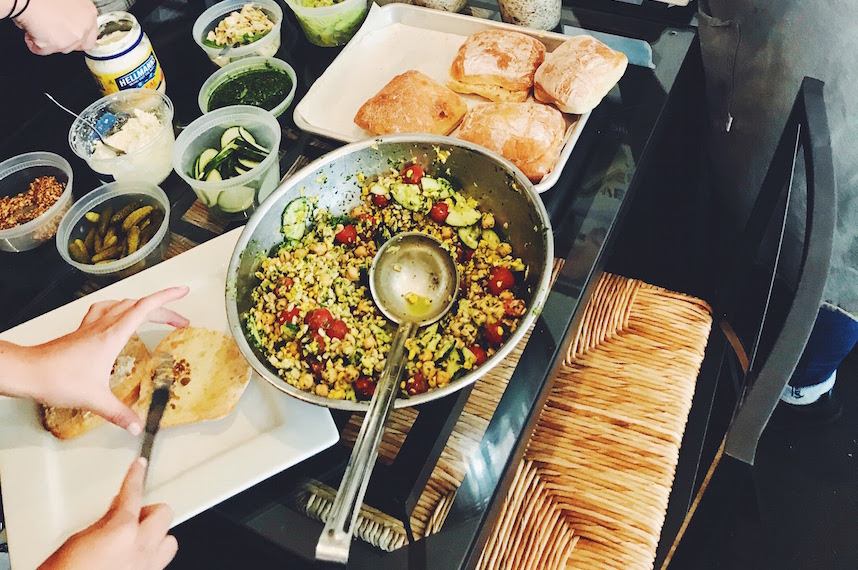 Home/Made has always been a "living room away from home," as Monica Byrne, owner and chef, describes it. She opened the Van Brunt Street cafe and wine bar in 2006 as a way to serve the Red Hook community. This summer, the restaurant embraced an even wider community by opening its doors to Emma's Torch, a not-for-profit that empowers refugees through culinary training. Students prepare brunch on weekends and take classes at Home/Made during the week.
The second Emma's Torch cohort graduated the last week in August, with two culinary students and eight ESL students. Graduate Adwa Alsubaie, from Saudi Arabia, said the program helped her jump right into a career in the culinary industry.
"I learned a lot, like how to sharpen the knife, and the tools in English, recipes, and how you work in a restaurant kitchen," Alsubaie explained. She added that from her first day as a line cook at The Dutch, where she now works, she was able to excel and feel confident because of her Emma's Torch training.
"Our mission is to empower refugees through culinary education," Kerry Brodie, founder of Emma's Torch said. "Our aim is to ensure that the newest members of our community can access the culinary industry, and build meaningful careers. It is not about simply training, but also about showing our students that what they contribute matters, and that they can play a vital role in our culinary landscape."
The program is named for poet, activist, and advocate Emma Lazarus, whose poem is inscribed on the Statue of Liberty.
Long before Brodie launched the program, she nurtured twin passions for helping refugees and the culinary world. She graduated from the Institute of Culinary Education and earned a master's in government from Johns Hopkins University and a bachelor's in Near Eastern Studies from Princeton, and has worked as the global press secretary for the Human Rights Campaign and the director of communications at the Israeli Embassy. For Brodie, Emma's Torch answers Anne Frank's quiet call to action, "How wonderful is it that nobody need wait a single moment before starting to improve the world?"
The eight-week, paid apprenticeship program provides refugees with work experience and accelerated English language courses tailored toward the food industry. Each culinary cohort is made up of two students and one instructor, so there's a great deal of individual attention. The curriculum was designed in collaboration with a Chef's Council of chefs and culinary organizations. Those include James Briscione of the Institute of Culinary Education, Jennifer Claire of Home Cooking New York, Mary Cleaver of The Cleaver Co., Jenny Dorsey of Jenny Dorsey Culinary Consulting, Dini Klein of Dini Delivers, Kimberly Lerner of Culinary Agents, as well as Eataly and The Chef Agency. Expert training ensures that the students learn all of the skills they need to transition into a professional kitchen.
Emma's Torch also runs a separate, 12-week ESL classes through ESL Works, a professional ESL training company that caters specifically to food industry professionals. While the ESL and culinary program do not overlap directly, the language skills students gain also help them transition into the restaurant industry by helping break down language barriers that make it more difficult to succeed in the workplace.
Applicants to Emma's Torch come from referrals from one of the program's partner refugee resettlement agencies, followed by interviews to select applicants.
"[The interviews are] my least favorite part, since I wish we could take on more students," said Brodie. "Hopefully over time, we will be able to."
There is no English proficiency test to participate, but students must have a baseline understanding of the language, since courses are taught in English. Participants must have authorization to work in the United States, but no prior kitchen experience is required.
"Our students and applicants come from all over the world," said Brodie. "Our first graduates were from Saudi Arabia and Nepal and our [recent graduates] are from Mexico and Afghanistan. Our ESL students are from many different countries, including West Africa, South America, and the Middle East. Some arrived just a few months ago, others have been here for a few years. What bonds them is their passion for the cooking and bringing people together through food."
Emma's Torch's brunch is served Saturdays and Sundays, 9am to 2pm, and the menu is devised to reflect the skills the students are learning and to highlight unique flavors from their own experiences. A recent menu featured the requisite avocado toast and Greek yogurt parfait, along with a mouthwatering selection of baked goods. The shakshuka, a Middle Eastern specialty with heirloom tomatoes, mixed peppers, feta cheese, garlic confit, onion rings, and saffron-spiced toast is a standout that marries the cafe's commitment to local produce and the regional flavors the refugees cooks bring from home.
"The food is wonderful. It's a combination of fresh brunch classics, and specials influenced by the participants, foods from their countries of origin," explained Byrne. The menu evolves and changes as new students go through the program, allowing all participants to learn from one another.
Like the community itself, Home/Made's story is one of resurrection. After Hurricane Sandy, Home/Made had to rebuild. In the course of that project, the restaurant's focus changed to catering, but Byrne wanted to preserve to space as a place to foster community and local ambitions.
"I knew that there was someone out there like me, 15 years ago who would love to have the opportunity, but maybe couldn't afford to build out a space, just like I couldn't when I first dreamed of opening," Byrne explained.
To learn more about Emma's Torch, make reservations, or see the newest menu, visit www.emmastorch.org.