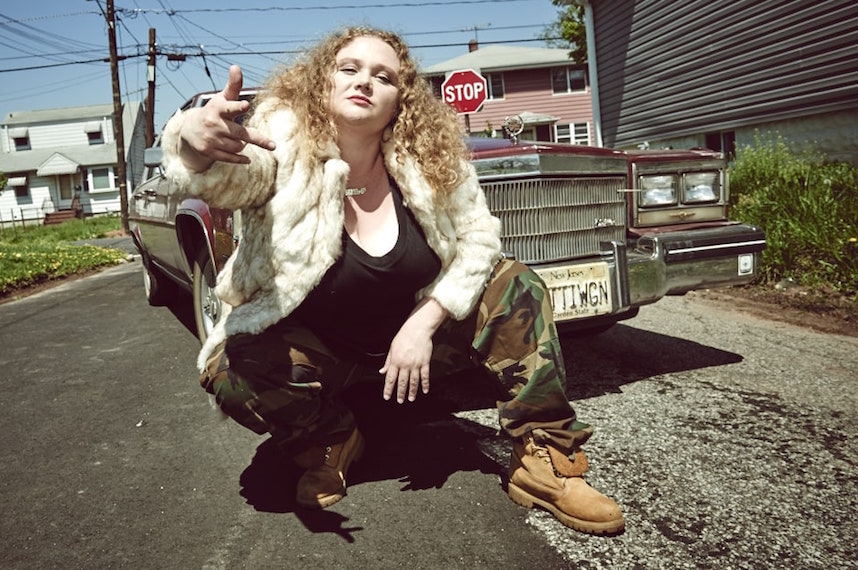 With diversity now a part of the conversation more than ever (especially across the arts), Geremy Jasper's Patti Cake$ delivers, thanks to its crew of delectable New Jersey misfits. They're a foursome of fast-spitting rappers, beat makers, MC's, and supportive, chain-smoking grandmothers. They go by the stage name of PBNJ, and although your musical senses might protest at first, you'll definitely want to check them out on Spotify after you step out of the theatre.
Part 8 Mile, part Save The Last Dance (well, sort of), Patti Cake$ tells the story of Patricia Dumbrowski (Danielle MacDonald) a.k.a. Killa P, a.k.a White Trish, a gutsy New Jersey native who works exhaustive catering and bartender gigs to support her ailing grandmother and her alcoholic mother. On the side, she fantasizes about hip-hop. More specifically, rising to hip-hop fame. She fills notebook after notebook with her raps, and lavishes in the sweet support of her friend Jheri (Siddharth Dhananjay) who acts as her MC and number one confidante. He sees Patti's ballsy, colorful New Jersey grit for what it is–true talent–and he's always encouraging her to make her rhymes public.
Patti finally agrees after the duo stumbles across mysterious punk rocker Basterd (Mamoudou Athie), who lives in a cemetery and happens to make extraordinary beats. Aided by Patti's Nana (Cathy Moriarty), the group gets to work writing music, trying to land a gig, and, of course, taking bad ass promo photos.
As PBNJ aims for stardom, the movie also focuses on Patti's fraught relationship with her mother Barb (Bridgett Everett), a former rock star who never made it out of her small Jersey town, and will never get over it. The parallels of Patti and Barb's experiences fuel a strong emotional component of the film – who, in actuality, is the delusional one? Whose thick skin are we rooting for more? Whose talent inspires who?
In the end, Patti Cake$ shines most for the way it manages to layer over-the-top playfulness (any and all of the daydreaming sequences across the film are just perfect) with the grey realities of having to live an ordinary life when you feel like you're destined for something extraordinary. As for Patti's rhymes? Well, they definitely grow on you as the credits roll.
Patti Cake$ is playing at Nitehawk Cinema through September 28, 2017.