I'll be honest, I'm feeling a little overwhelmed by how much I want to read, watch and see right now. After writing about Jesmyn Ward's new novel Sing, Unburied, Sing in last month's Culture Essentials, I went down a serious rabbithole and have been voraciously consuming all her work, while also keeping in mind that Jennifer Egan has a new book out on Oct. 3, and there's a stack of library books next to my bed that I still need to get to, as well, not the least of which is Lincoln in the Bardo, George Saunders' novel that came out back and March and I still haven't cracked. On top of all that, good movies are hitting the theater with regularity, all my guilty network television pleasures are back on the air, and there are several new series coming out this month that are must watches, and Harry Dean Stanton's death has me wanting to spend and evening with an Alien, Aliens double feature. Plus, there are so many new museum and gallery shows that are up or opening soon (keep a close eye on the new and improved Ideal Week for more of these), and of course, the chance to win the Springsteen on Broadway lottery at any moment (more on that, below). Here are 10 more suggestions for an exceptional October.
Maybe it's the cost of living, maybe it's the proliferation of Whole Foods and Chase branches, maybe it's simple nostalgia, but the bad old days of New York City have not lost any of their allure as of late, with The Deuce on HBO inspiring photo arrays like this one from Esquire. Hell, I started crying while talking about Patti Smith's memoir Just Kids the other day. Smith notwithstanding, no one personifies old New York more than Lou Reed, and Anthony DeCurtis, another New York native and long-time Rolling Stone editor, has written a biography that does the legend justice.
9. Blade Runner 2049, Oct. 6
In general, I'm of the opinion that Hollywood needs to invest more in scripts and writers and less in CGI, franchise rights and reboots. I'd hardened my heart against the idea of a Blade Runner sequel because of my deep and abiding love of the original (you can see backdrops from the set at the Museum of the Moving Image in Queens, if you really want to nerd out). Watching the trailers for Blade Runner 2049 though, gave me enough hope to start reading reviews. In The Guardian Peter Bradshaw writes, "Its mind-boggling, cortex-wobbling, craniofacial-splintering images are there to trigger awe or even a kind of ecstatic despair at the idea of a post-human future, and what it means to imagine the wreck of our current form of homo sapiens." Ok, sign me up for some spectacle.
Ta-Nehesi Coates writes about race in America with incredible clarity, elegance and passion. His book-length essay Between the World and Me isn't just an crucial piece of African-American scholarship, the way he uses language in it made me stop and re-read sentences, paragraphs, whole pages over several times just to linger over the way he constructs a sentence, turns a phrase, makes an argument crystal clear. His new book, We Were Eight Years in Power, is a collection of essays on race that he wrote throughout the two terms of the Obama administration. Some are specifically about the Obamas, others cover reparations and mass incarceration. I read several of the essays in the book when they first appeared in The Atlantic, and I can say that if you find the 140-character bursts of emotion that are passing as a serious conversation about race inadequate in these difficult times, you should definitely spend some time with Coates.
7. Mass Eduction, St. Vincent, Oct. 13
If you'd rather look forward than back, St. Vincent is an artist who proves that New York is still a place where the weird and otherworldly can thrive, and find a foothold for fame. This new, much anticipated album is rumored to have a pop sensibility, and the first release from it, "New York," has a slightly haunting ability to get stuck in your head, though her liberal use of the word "motherfucker" throughout makes it unlikely to become the kind of ode to the city that gets played in the background of a car commercial, or the type of heartbreak song to be used in a rom-com, thank god.
I have a real penchant for procedurals, the darker the better. Sure, I can give you a list of prestigious and smart British detective shows I've watched and loved, but man, I relish all-American sensationalistic trash, too, especially when the FBI and behavioral profiling are involved. Criminal Minds? I've watched every episode. So I'm very excited for Mindhunter, coming to Netflix this month, the story of how behavioral profiling got started in the FBI. I was also pretty stoked to see that one of the two leads is Holt McCallany, a TV regular who has been on Criminal Minds, CSI: Miami, and pretty much every Law & Order franchise, usually playing a cop or a soldier.
For its 40th anniversary year the Public Art Fund is going big with a citywide installation from Chinese dissident artist, Ai Weiwei–if you're not familiar with his work and story, I highly recommend the documentary, Ai Weiwei, Never Sorry. Since his passport was reinstated by the Chinese government in 2015, following his 2011 detention for making political art and expressing dissent on social media, Weiwei has traveled extensively, visiting refugee camps around the world. This new installation grew out of a common theme in all of them–fences.
4. The Florida Project, Oct. 5
Sean Baker, the director of indie phenomenon Tangerine, which was shot entirely on iPhones, has conjured a purple kingdom in The Florida Project. In it Willem Defoe runs a cheap motel in Orlando called the Magic Castle, but the real star is six-year-old Brooklynn Prince, who plays, Moonee, one of his youngest residents. Between the glowing reviews and the trailer, this just looks so magical and human, it's a reminder that small movies are sometimes the best movies.
A Visit from the Goon Squad, Jennifer Egan's last novel, surged with vitality and city energy. It won her a Pulitzer Prize and made her an author to keep an eye on. According to Dwight Garner's review in The New York Times, Manhattan Beach isn't just "immensely satisfying," it's also an education. He writes, "How to search for a body underwater, how to facilitate your rescue if lost and drifting at sea, how to run a nightclub, how to bribe a cop, how to care for an invalid — you learn things while reading this novel. Egan's fiction buzzes with factual crosscurrents, casually deployed." This hefty new historical novel is a little bit noir, a little bit wartime drama and it promises to be one of the best reads of the year.
2. Springsteen on Broadway, Oct. 3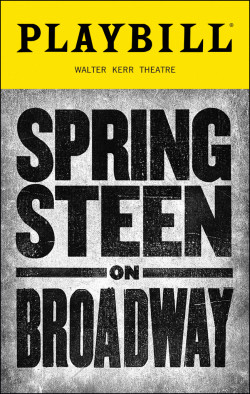 Starting on Oct. 3 Bruce Springsteen will play 79 intimate shows at the Walter Kerr theater, just guitar, piano, The Boss and the audience. While tickets, predictably, sold out in a hot second and are now trading online at a frantic pace for ever more ridiculous amounts of money, last week the show announced that there will be a digital lottery for 26 tickets at $75 each for each performance. As Springsteen himself pointed out in an official announcement, the 1000-seat theater is the smallest venue he's played in years, and this autobiographical show promises to be musical monologue to remember. Go ahead and enter your name in the ticket lottery–it's New York, you never know, you may well get lucky.
1. Stranger Things, Netflix, 

Oct. 27
Why bother with a Halloween costume and party plans when you can just stay in with a bowl of popcorn, a box of peanut M&Ms and the new season of Stranger Things?