Speaking as a hardened and cynical native New Yorker, I often get irritated by tourists who visit the Big Apple–the ones who congest midtown streets, gawk at vendors in Chinatown like they're circus oddities, and are painfully slow to figure out what they want to eat while waiting on line. That's why I try to avoid to tourist hot spots like the Empire State Building, the Met and MoMA, unless there's a special exhibition going on. I've only done the crowded High Line once, and I'd prefer not to do it again, although I've heard other New Yorkers claim to actually enjoy it.
Yet hypocritically speaking, I sometimes behave like a tourist when I visit a new city for the very first time. Last spring I visited Chicago and crammed a heap of touristy sightseeing into two packed days. To be in a new environment is inspiring: I always look forward to waking up early in the morning and getting out of my hotel room to do everything. While playing the tourist, I really soaked in all of Chicago: its downtown area, or the Loop, the amazing architecture and the good grub.
So if you only got two days, or even just one, you can still pack in a lot of fun in a short amount of time, thanks to Chicago's famous transit system. The following is a guide strictly for the first-time visitor: so die-hard Chicagoans, my apologies for missing all the cool, non-touristy stuff you would recommend, and my compliments to your city. Perhaps the experience might soften my view of tourists here in New York, or maybe not.
Famously featured in Ferris Bueller's Day Off, the renowned art museum is an absolute must-see for anyone visiting Chicago for the first time. Like our Metropolitan Museum of Art, the Art Institute houses many iconic works, including Edward Hopper's Nighthawks, Seurat's A Sunday on La Grande Jatte, Toulouse-Lautrec's At the Moulin, and Chagall's stained glass America Windows. On the day that I visited, the museum had a special traveling exhibit on James McNeill Whistler's famous Whistler's Mother. It was the first time the painting, whose home of late has been the Musee d'Orsay in Paris, had been shown in Chicago in over 60 years. General admission is $25.
Wrigley Field and Guarantee Rate Field
Even non-baseball fans know that Wrigley Field is the historic and storied home of the Chicago Cubs, who ended 108 years of futility by winning the World Series last year. On off days when the team is on the road, the ballpark offers full guided tours that included exploring the different parts of the field, the visitor's dugout and locker rooms, and the broadcast booth (price for the tour is $25). And if the Cubs are away, it's likely the hometown rivals White Sox are playing at their ballpark Guarantee Rate Field in the South Side of town. I caught a White Sox game–the first time I've ever seen a baseball outside of New York– for just $7.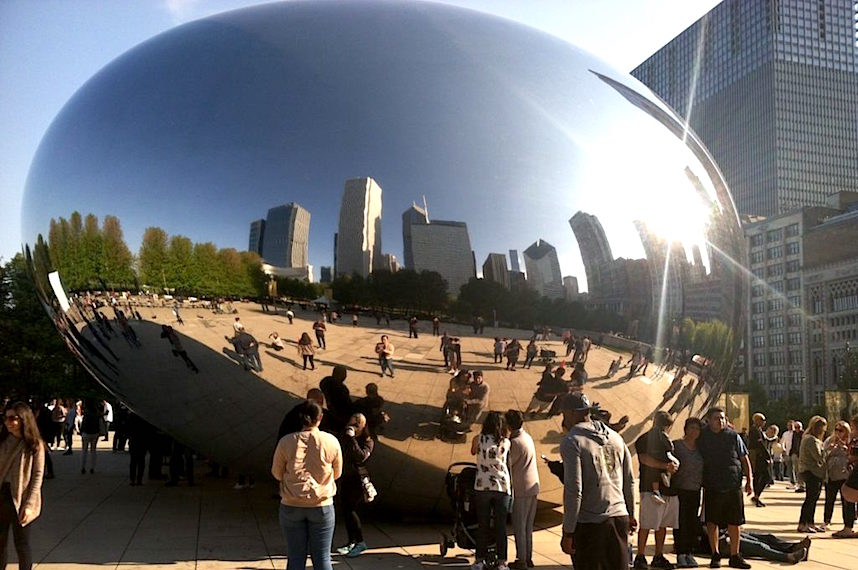 Blending both nature and 21st century modernity, this popular park, which opened in 2004, features the peaceful Crown Fountain, which consists of a reflecting pool between two 50-foot tall LED towers; and Anish Kapoor's egg-shaped stainless steel sculpture Cloud Gate (it's like seeing yourself in one of those funny distorting mirrors at a carnival). After a long day of sight seeing, the park is a nice and relaxing place to chill out.
A transit system that is less complex and frustrating than our own MTA, the CTA can take you to pretty much all the sights very easily and rapidly. The famous elevated lines (commonly referred to as the "L") has historically formed the fabric of the city. Getting an unlimited day pass is highly recommended and economical. A one-day pass will run you $10, while a three-day one is $20; fares are generally $2.25 one way.
Located at Willis Tower (formerly known as the Sears Tower), Skydeck Chicago is a major tourist attraction where visitors go up to the 103rd floor for amazing skyline views of the city. The most popular part of Skydeck is known as the the Ledge, which is made up of glass boxes that are 1,353 feet up in the air and extend 4.3 feet out from the Skydeck. When you step onto the Ledge and look down below it's both awe-inspiring and vertigo-inducing in that a thick piece of glass is the only thing separating you from death. Expect to wait on line to enter the Ledge, as people stand and sit at different angles while having their pictures taken. Admission for adults is $23.
Chicago has played a huge part in the history of blues music, and so has its favorite son Buddy Guy. The legendary blues guitarist founded this restaurant/music venue, which also serves up some fine New Orleans-inspired cuisine. Definitely get a cup of gumbo in addition to whatever else you order while listening to established and up-and-coming blues acts. I didn't spot him but according to the venue, Guy hangs out at the place if he's in town. If you show up for an early dinner, the live music is free without the cover charge. On the evening that I went to Legends, I was treated to the music of Jimmie Johnson, who was magnificent on the guitar.
A city-wide institution since 1950, Harold's Chicken Shack is fast food heaven. Your basic meal is two pieces of chicken, french fries, coleslaw, and a slice of white bread. Comfort food doesn't get better than this.
Located on the shoreline of Lake Michigan, the 3,300-foot-long pier features restaurants and shops as well as the Chicago Shakespeare Theater, the Chicago Children's Museum, and a ferris wheel that you cannot miss seeing, or riding on if you want an aerial view of the city.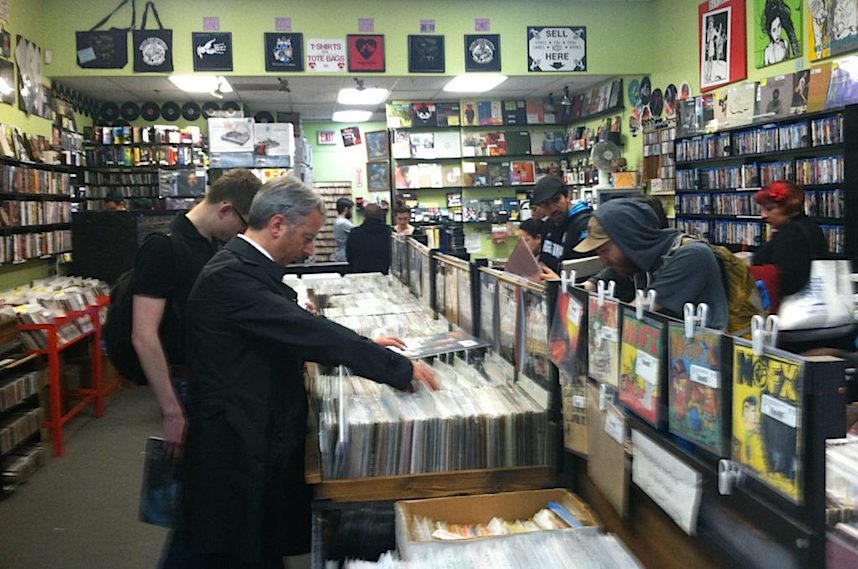 Any visit to a new city for me means checking out at least one local record store. Reckless Records is located downtown and they have a pretty good selection of both indie and mainstream titles. You can find some terrific bargains on used stuff; I scored an Aerosmith box set for just $6.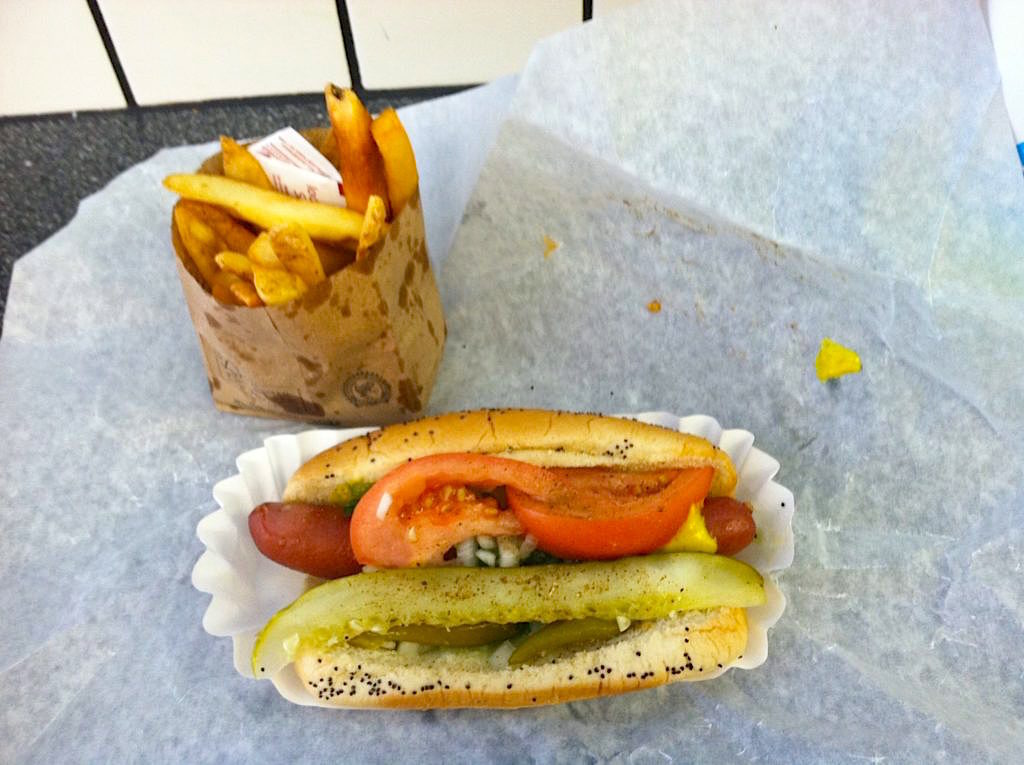 Max's Take Out and Lou Manati's
My biggest regret from my first trip to the Windy City, a too-brief work jaunt that left me zero time to see any sites, was not sampling a Chicago hot dog and a deep dish pizza. So I made sure that didn't happen again during my most recent trip. First I had real an authentic Chicago hot dog in Chicago (Shake Shack doesn't count) at a hole-in-the-wall joint called Max's Takeout, which is near the Art Institute. For those who don't know what a Chicago dog is, it's a hot dog with a long slice of pickle, tomatoes, sport peppers (they're small, medium-hot, brined peppers), white onions, a dash of celery salt, and mustard–definitely souped-up compared to a New York City dirty water dog no matter how many toppings you cram on yours.
For deep dish pizza, I ate one at Lou Manati's, a popular local pizza restaurant chain. The personal pan dish pizza may look small at first but in the end, it is much thicker and more filling compared to eating two regular slices in NYC–and it's certainly a type of pizza that you'll need both a knife and fork to dig into.
Frank Lloyd Wright Home and Studio
It's a little bit out of the way from downtown Chicago proper, but a 40-minute ride on the L will take you to the lovely neighborhood of Oak Park, where Frank Lloyd Wright Home and Studio is located. A national historic landmark, the famed architect's home was built in 1889, and the studio was constructed nine years later (there are other structures designed by Wright are located in the Chicago area). This year is an appropriate time to visit the home/studio because it's the 150th anniversary of Wright's birth. (Also located in Oak Park is the childhood home of novelist Ernest Hemingway). Admission to the Wright home and studio, which includes a tour, is $18.
Save
Save