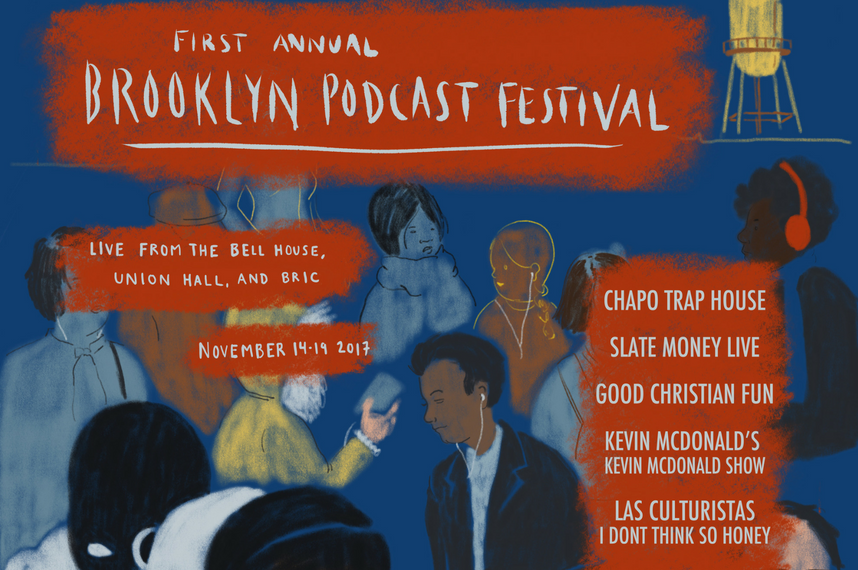 For years The Bell House has been the Brooklyn venue where the "live studio audience" gathers for live tapings of the nation's most popular podcasts like 2 Dope Queens and Ask Me Another.
So of course they would host the first annual Brooklyn Podcast Festival, Nov. 14-19. And there are still tickets left for a number of live tapings at The Bell House, its sister venue Union Hall, and BRIC.
All of the shows on the bill should be on your radar if you're not a fan already—like the media and politics podcast Chapo Trap House that the New Yorker, Paste and Mediaite all love (it's taping Nov. 17 at The Bell House) or Las Culturistas LIVE (Nov. 18 at the Bell House) which fetched a best podcast of the year nod from Esquire. Good Christian Fun, Conversations With People Who Hate Me and Reductress Presents: Mouth Time are among the other cult favorites to catch.
This is a cruel month, getting dark at 5pm and all, so lighten up those depressing hours by watching a lot of smart, funny people entertain and inform you. The full lineup is below—all tickets are available at bkpodfest.com.
BROOKLYN PODCAST FESTIVAL – 2017 SCHEDULE
The Sporkful Presents: Ask Mimi
November 14, 2017
Doors: 7:00 pm / Show: 7:30 pm at Union Hall
Legendary 91-year-old food critic Mimi Sheraton offers advice on food and life to live callers from around the country, audience members, and a special guest in this live taping of a new podcast from Stitcher.
Slate Money Live
November 15, 2017
Doors: 7:00 pm / Show: 7:30 pm at The Bell House
Join Slate Money for a special live show all about food at the Brooklyn Podcast Festival. The show will be hosted by Felix Salmon, senior editor at Fusion; Anna Szymanski, emerging markets expert; and Jordan Weissmann, Slate's senior business and economics correspondent. Sip along with the hosts who entertain podcast listeners each week with a roundup of the most important stories from business and finance as they turn their keen analysis and sharp conversation toward the food industry.
—
Kevin McDonald's Kevin McDonald Show
November 15, 2017
Doors: 9:30 pm / Show: 10:00 pm at The Bell House
Kevin McDonald (The Kids In The Hall) performs a live old-school variety hour that features famous friends, musical acts, new sketches, and uninhibited tomfoolery! Guests include: Judah Friedlander, Todd Barry, Natalie Prass.
___
Rent Party
November 15, 2017
Doors: 9:45 pm / Show: 10:00 pm at Union Hall
Hosts Yedoye Travis and Farah Brook.
Rent Party is a improvised music and stand up show that's about as much fun as you can fit into one place. Yedoye Travis, Farah Brook and the backing band, The Original Lineup, invite New York's best comedians to tell jokes and stories set to some of the best music in the city. Guests include Dulcé Sloan, Noah Gardenswartz, Jane Harrison, Eudora Peterson, Eman El-Husseini, Jess Salomon.
____
Reductress Presents: Mouth Time LIVE!
November 16, 2017
Doors: 7:30 pm / Show: 8:00 pm at Union Hall
Join Reductress editors Quenn and Dikoda for a dish-sesh on the latest in fashion, pop culture, lifestyle, trends, and pictures! With sassy catchphrases, non-threatening debates, huge special guests, silent hot guys, and bold life advice, Reductress will give you everything you've come to expect from a women's magazine podcast in 2017. Guests tonight: Rachel Wenitsky, Nicole Silverberg, Cole Escola.
___
Serious Matters
November 16, 2017
Doors: 9:45 pm / Show: 10:00 pm at Union Hall
A data-driven comedy show determined to solve the world's issues one serious matter at a time.
Hosted by Kevin McCaffrey and featuring Josiah Madigan, Brock Mahan, and special guests.
___
Chapo Trap House
November 17, 2017
Doors: 7:00 pm / Show: 7:30 pm at The Bell House; second show at 10pm
Chapo Trap House is one of the fastest growing political entertainment podcasts in the country, boasting the largest channel on Patreon with over 19,000 subscribers. The comedy collective, consisting of 6 members, have gained an extremely loyal following due to their honest and hilarious ability to dissect the current political climate. The New Yorker describes Chapo as "[fighting] for irony in the age of Trump," while Paste magazine called its hosts "the vulgar, brilliant demigods of the new progressive left." Mediaite profiled it as "The Funniest and Most F**ked Up New Podcast About Media and Politics."
___
The Scientists
November 17, 2017
Doors: 7:30 pm / Show: 8:00 pm at Union Hall
Comedians and "scientists" Madelyn Freed (The Annoyance) and Blythe Roberson (New Yorker, The Onion) investigate a new scientific topic each month. From AI to romantic attraction to body decomposition, Madelyn and Blythe give an hour-long lecture with help from NYC's funniest comedians. At the end of every show, they bring out an actual scientific authority to pester with questions and to tell them where they went wrong. Guests include: Aparna Nancherla, Paul Gale, Eudora Peterson, Allie Goertz.
___
Pulitzer Surprises
November 17, 2017
Doors: 9:45 pm / Show: 10:00 pm at Union Hall
According to the Pulitzer website, anyone can nominate anything for a Pulitzer Prize and Pulitzer Surprises takes advantage of that horrible idea. Our favorite comedians perform their submission for a Pulitzer! Then we interview a real-life Pulitzer Prize winner who has actually done something good. At the end of the show the audience will cast their vote onwho deserves a Pulitzer, and then we will really submit it for a Pulitzer Prize. That winner walks away a "Pulitzer Prize Entrant." Guest include Joe Rumrill, Mary Houlihan, Rae Sanni, Dan Chamberlain, Allie Goertz, Sheri Fink, Caroline Schaper, Eliza Cossio.
___
We Hate Movies
November 18, 2017
Doors: 7:00 pm / Show: 7:30 pm at The Bell House
Description: We Hate Movies! is a podcast dedicated to lambasting movies that time may or may not have forgotten. Recurring themes seem to include apes, dogs with human personalities, cliched cops and James Belushi.
___
Las Culturistas LIVE: I don't think so, honey!
November 18, 2017
Doors: 9:30 pm / Show: 10:00 pm at The Bell House
Ding dong! Join your culture consultants, Matt Rogers & Bowen Yang, on an unforgettable journey into the beating heart of CULTURE. Alongside sizzling special guests, they GET INTO the hottest pop-culture moments of the day and the formative cultural experiences that turned them into Culturistas. Honey, come and get your life.
There are a ton of guests for this one: Kelsey Bailey, Cailtlin Bitzegaio, Joel Kim Booster, Jonathan Braylock, Lauren Brickman, Susan Casey, Calvin Cato, George Civeris, Chelsea Clarke, Josh Daniel, Sonia Denis, Maya Deshmukh, Amanda Dieli, Pat Dooley, Taryn Englehart, Marie Faustin, Molly Gaebe, Ali Gordon, Sandy Honig, Gaby Hornig, Akilah Hughes, Brandon Scott Jones, Mike Kelton, Mehran Khaghani, Ben Kling, Lulu Krause, Yoni Lotan, Courtney Maginnis, Philip Markle, Caroline Martin, Ruby McCollister, Lane Moore, Joyelle Nicole, Peggy O'Leary, Emily Olcott, Larry Owens, Dewayne Perkins, Gaya Rajagopolan, Franchesca Ramsey, Sam Reece, Anna Roisman, Giulia Rozzi, Sue Smith, Alyssa Stonoha, Milly Tamarez, Sarah Tollemache, Natasha Vaynblat, Natalie Walker, Sydnee Washington, Zeke Smith.
___
Book Club: A Comedy Show
November 18, 2017
Doors: 7:30 pm / Show: 8:00 pm at Union Hall
Book Club is a comedy variety show where hosts Colin Stokes and Blythe Roberson (The New Yorker, The Onion), along with some of NYC's best comedians, read the books so you don't have to. Guests include Dylan Marron, Halcyon Person, Sandy Honig.
___
BRIC Media Talks: Pillow Talk – The Personal in Podcasting
November 18, 2017
4:00 pm – 6:00 pm at BRIC House Stoop FREE w/ RSVP
Brooklyn Free Speech presents a panel of podcasting hosts and producers who will share insight into the struggles and triumphs of sharing personal details over an intimate medium.
As a medium, podcasting opens up many options for independent expression. But what are the risks and obstacles of sharing personal and intimate details with a growing audience? And does podcasting present a new route for personal and documentary storytelling? Brooklyn Free Speech presents this Media Talks featuring producers and hosts from public radio and independent productions who will share their insights within this burgeoning medium.
Speakers include: Andrea Silenzi, Giulia Rozzi and Will Miles, Lu Olkowski.
___
Food 4 Thot
November 19, 2017
Doors: 2:00 pm / Show: 2:30 pm at The Bell House
Food 4 Thot is a new podcast about sex, identity, race, relationships, what we like to read, and *who* we like to read. Hosted by four queer writers of different cultural backgrounds, the podcast tackles everything at the intersection of queerness and brownness. Special guest: Joel Kim Booster.
___
Who? Weekly – LIVE
November 19, 2017
Doors: 4:30 pm / Show: 5:00 pm at The Bell House
American podcast hosts Lindsey Weber and Bobby Finger will be flaunting their good form and slim pins at an upcoming live show. Sources claim the show will feature special guests, fun games, and everything you need to know about the celebrities you don't.
___
Good Christian Fun
November 19, 2017
Doors: 7:00 pm / Show: 7:30 pm at The Bell House
Good Christian Fun is a podcast delving into the strange upside-down world of Christian pop culture. Hosts Kevin T. Porter and Caroline Ely are your tour guides through the weird and hilarious landscape of faith-based entertainment. A show for atheists and believers alike, all are welcome to come have a little good Christian fun. (Don't worry, they're not gonna make you go to church)
For their inaugural live show at the beautiful Bell House, they will be discussing the hit Christian movie God's Not Dead. Expect a riveting show full of special guests, music, sound, working lights, plugged in microphones, and a mandatory conversion at the end of the service I MEAN SHOW.
___
Flopspotting SVU
November 18, 2017
Doors 9:45 PM / Show 10:00 PM at Union Hall
For one night only, two of your favorite film podcasts are teaming up for a special show! Join Dan McCoy and Stuart Wellington from The Flop House and Matt Singer from Filmspotting: Streaming Video Unit. Get ready for … Flopspotting! Dan, Stuart, and Matt will review a recent flop — and recommend some epic cinematic disasters you can rent or stream at home right now.
___
Steal the Stars Live Reading
November 19, 2017
Doors: 4:30 pm / Show: 5:00 pm at Union Hall
Written by Mac Rogers, Directed by Jordana William
Featuring: Ashlie Atkinson, Abe Goldfarb, Rebecca Comtois, Nat Cassidy, Lori Parquet.
___
CONVERSATIONS WITH PEOPLE WHO HATE ME
November 19, 2017
Doors: 7:30 pm / Show: 8:00 pm at Union Hall
Conversations with People Who Hate Me takes hateful conversations online and turns them into productive conversations offline. As a writer and video maker who focuses on social justice issues, Dylan Marron receives a lot of negative messages on the internet. In this new podcast he calls some of the folks who wrote them to ask one simple question: why? What follows is a complicated and sometimes hilarious navigation of two strangers getting to know each other.
Produced by Night Vale Presents, the people who brought you Welcome to Night Vale, Alice Isn't Dead, Within the Wires, and The Orbiting Human Circus (of the Air).
Tickets for all these shows are available at bkpodfest.com.