Over the weekend I went to a big dinner party at 21 Greenpoint to celebrate my sister's birthday, and when it was time to make a toast everyone slipped into the gloomy gallows' humor that has become the default these days. "Happy Birthday, and may this year go by as quickly as possible!" "Can't be worse than last year, right? Oh god, CAN it be worse than last year? Help!" Etc., etc. At one point though, someone suggested a toast to the Parkland students, and the table basically erupted into one of the most earnest, non-cynical displays of pride and reverence that I've seen in a long time. So we raised a glass to those brave, tenacious, well-spoken teenagers and talked about them for the next several minutes, all of us expressing in various ways our steadfast conviction that they and other kids like them are going to be what ultimately saves us, and that because of them we felt more hopeful and inspired in the few previous days than we had in what felt like forever.
It's amazingly cool that just when you think everything is hopelessly stuck and immutable, your mindset can change with one tiny positive interaction: An admirable act by another person, a new perspective that someone takes the time to share with you, or a glimpse at a sliver of beauty and creativity that somebody else chooses to put into the world. These are the agents of change and the conduits of hope that usher us out of dark times, and I've been reminding myself not to take them for granted, especially in a city where they are so prevalent and easy to access. Here are some cultural highlights that I'm planning to take advantage of in March.
1. The Bowie Show at Brooklyn Museum
Maybe it's because the world feels like a completely different place since Trump was elected, but my sense of the passage of time has been totally off lately, and for some reason it's hard to grasp that it's been a little over two years since David Bowie died. What's weird is that I can't decide whether the time that has passed feels too short or too long, but regardless, The Thin White Duke was a sui generis, insanely talented oddball revolutionary who left behind a gaping void, and I'm glad to have the chance to immerse myself in his music, costumes, and evolving identity at the new show in his honor opening at Brooklyn Museum on March 2. The exhibit takes full advantage of its unprecedented access to Bowie's personal archive, featuring over 60 performance costumes, handwritten lyrics sheets, original album art, as yet unseen photos and video, and a custom audio mix produced by longtime collaborator Tony Visconti. David Bowie Is is so highly anticipated that the Brooklyn Museum is breaking with its suggested donation tradition and requiring guests to pay $20 on weekdays and $25 on weekends for each timed ticket to the exhibit, and even offering Bowie superfans with lots of cash to burn a special $2500 ticket that includes a private tour and merch. TL;DR: Buy your ticket now unless you like being shut out of things.
2. The Orchid Show is back at NYBG
The perennially popular Orchid Show opens for its 16th season at The New York Botanical Garden on March 3. As always, the show will feature thousands of eye-catching, complex, colorful orchid blooms, but this year there will also be several large-scale installations by "the Picasso of floral arranging" himself, Daniel Ost, whose flower sculptures have been compared to the work of Andy Goldsworthy and Claes Oldenberg. On weekends, you can arrange to have tours of the show and Q&A sessions with experts on topics like orchid care, and there are evening programs involving cocktails, DJ sets, and live performers as well.
3. A Wrinkle in Time & some other good movies
I know that everyone is obsessed with Black Panther and I'm obviously dying to see as much as the next guy/gal (side note: Please add more weekend showtimes Alamo, you are always sold out!), but truth be told if I'm gauging my personal excitement levels for a new movie release based on subject matter alone, I am beyond pumped for Ava DuVernay's A Wrinkle In Time, which opens on March 9. When you consider how beloved Madeleine L'Engle's book of the same name has been for generations of slightly nerdy preteens (myself included), it's sort of amazing that it's taken Hollywood 54 years to offer up a film adaptation. But with DuVernay at the helm of this one and Reese Witherspoon, Mindy Kaling, and Oprah (!) playing the roles of Mrs. Whatsit, Mrs. Who, and Mrs. Which, it seems like maybe the long wait is going to be more than worth it. Other noteworthy movies coming out this month? Steven Spielberg's adaptation of Ernest Cline's Ready Player One hits theater on March 29, and A24's Lean On Pete, which is about a troubled 15-year-old boy who gets a summer job with a horse trainer and befriends an aging racehorse (gotta go, I already have something in my eye. . . ) and has gotten a ton of advance critical acclaim, opens on March 30.
4. RadioLoveFest, March 7-11
RadioLoveFest, a weekend-long celebration of live radio performances on stage, returns to BAM for its fifth year on March 7-11, and there are surprisingly still a few tickets left to some of the scheduled events, like Neil Gaiman's conversation with Brooke Gladstone, a talk from the creators of S-Town, a Star Talk session with Neil deGrasse Tyson, and an evening with Ira Glass. Grab one while you can, and take advantage of one of BAM's signature cultural experiences.
5. Speak No Evil, March 6
The literary world has been waiting thirteen years for a follow-up to Uzodinma Iweala's stunning debut novel about the life of an African child soldier, Beast of No Nation, and it will finally be here on March 6. Speak No Evil, which is being roundly praised by critics, is about a privileged DC high schooler who is grappling with his homosexuality and its devastating effect on his relationship with his conservative, deeply religious Nigerian-American parents. On March 14, Iweala will appear with The New Yorker's Larissa MacFarquhar to discuss the book at Greenlight Bookstore in Fort Greene, followed by a signing and Q&A.
6. The Return of Garry Shandling & Roseanne
On the TV front, I'm really looking forward to Judd Apatow's two-part HBO documentary delving deep into the life, times, and enduring legacy of his comedic idol, Garry Shandling, who died in 2016 at just 66. Using Shandling's own meticulously-kept journals as a starting point, The Zen Diaries of Garry Shandling explores evolution of one of the most brilliant, innovative comedians we've ever had, and it includes interview footage with friends, colleagues, and admirers like Conan O'Brien, Sarah Silverman, Jim Carrey, James L. Brooks, Bob Saget, and Jerry Seinfeld. The first installment debuts on March 26, and should be a must-watch for any comedy fan. Speaking of throwbacks to comedy from the late 80s and early 90s, it is with some apprehension that I count down the days until the revival of Roseanne, one of my all-time favorite sitcoms, which premieres on ABC at 8pm on March 27. In the interest of full disclosure, Roseanne Barr is a personal hero of mine, and in my opinion her badass, trailblazing career is almost enough for me to defend all of the unorthodox and controversial behavior that has dogged her over the years. Unfortunately, though, it's not quite enough to get me past her support of Donald Trump and the alt-right, and in general I'm wary when shows I love get the decades-later reboot (Arrested Development, anyone?). I'm hoping that in this case the participation of national treasures John Goodman, Laurie Metcalf, and Sandra Bernhard mean that the quality standards for the 2018 episodes don't stray too far from the original show's sweet spot from 1990-92.
7. The Armory Show, Mar. 8-11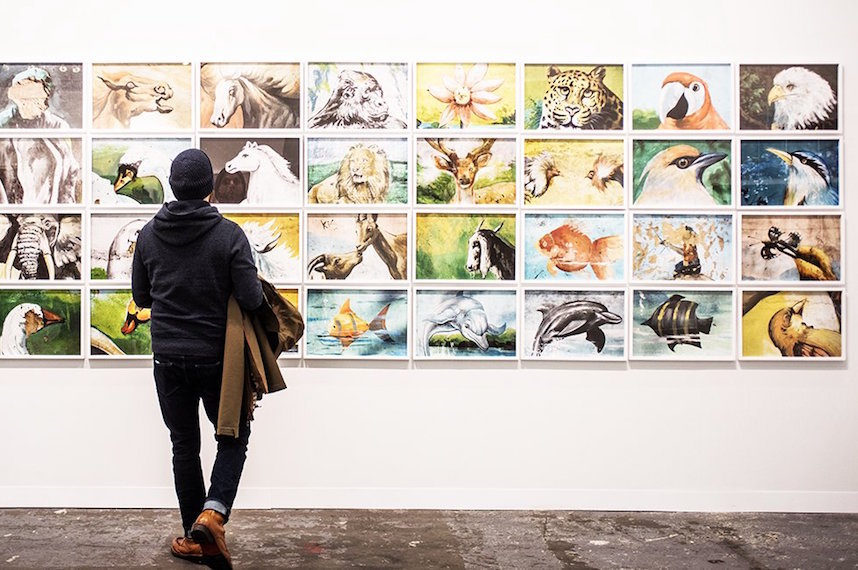 The Armory Show, the city's premier art fair showcasing works from over 200 international galleries, lands in the city for its 24th year on the weekend of March 8-11. Whether you're a collector or just someone whose idea of a perfect day off involves wandering through a seemingly endless exhibit of cutting-edge art, head to Piers 92 and 92 and prepare to be dazzled. Pro tip: Tickets are the cheapest they get ($25 each) if you go during happy hour (from 5-8pm) on Thursday or Friday.
8. Crooked Media's What a Day
I know that a normal, healthy person would not be finding new ways to inject political news into her life at this precise moment in time, but I can't be someone I'm not, and the fact is I simply can't seem to turn myself away from the train wreck. Like many others, I've found lots of solace (not to mention perspective and smart analysis) over the months since last November in the Pod Save America podcast, which I listen to in a near-obssessive fashion at the gym, and I'm looking forward to the forthcoming daily Crooked Media newsletter that hosts Jon Favreau, Jon Lovett, and Tommy Vietor have been enthusiastically promoting on recent episodes. You can sign up for What A Day here and instantly feel confident that you'll get the overwhelming morass of current events distilled down to a more manageable scope—there's no definitive date commitment for when you'll start seeing it in your inbox, but it seems imminent.
9. Lucy Dacus at Music Hall of Williamsburg, March 2
Indie singer-songwriter Lucy Dacus' powerful new album, Historian, perfectly captures the mood of these precarious times in a very personal way, as it tackles themes of romantic heartbreak ("Night Shift"); loss ("Pillar of Truth"); and social/political activism ("Yours and Mine"); it's both a reaction and antidote to our totally fucked-up world. The follow-up to her critically acclaimed debut, No Burden, Historian is a showcase of the Richmond, Virginia-based artist's exquisite vocals and deft songwriting. Having interviewed her as well as see her perform live at Rough Trade NYC two years ago, I find it so remarkable that she's still in her early 20s and yet has the maturity and talent of a seasoned music veteran. Fittingly, Dacus is kicking off her North American and European tour with a stop at the Music Hall of Williamsburg on the same day of Historian's release. Don't be surprised if the show is already sold out by the time she hits the stage.—David Chiu
10. Lobby Hero
A few years back, I had the good fortune to see Michael Cera, Kieran Culkin, and Tavi Gevinson in a Broadway revival of Kenneth Lonergan's This Is Our Youth, a 1996 play about rich UWS kids buying drugs and trying to get laid during the Reagan era. It was a thoroughly entertaining and memorable evening, so I was happy to see that Cera has signed on, along with Chris Evans, Brian Tyree Henry, and Bel Powley, for a restaging of another Lonergan oldie-but-goodie, Lobby Hero. The play follows four New Yorkers who are involved in a murder investigation, so it sounds directly up my alley. Previews begin on March 1 at The Hayes Theater.