When summertime still feels like a dream, and you're trudging through yet another bomb cyclone, with brown slush up to your knees, there's a neighborhood in Brooklyn that will remind you of island life. In Bedford-Stuyvesant, pan-Caribbean restaurants abound where you can hang up your stress levels and wash away the edge of winter with a Rum Punch (or two). Eat your way around the region, stopping through Cuba, Jamaica, Trinidad, and Haiti; you'll encounter even more global flavors along the way. Order up a sizzling pork griot, buss up shut roti, or yucca croquettes, and pretend for a moment that the sun is beating on your face and you can feel the ocean lapping at your toes. 
Pilar Cuban Eatery
If you've been daydreaming of Cuba and its classic cars, fat cigars, and sandy beaches, it's still easy to jump through the visa hoops required to get there. But if it's a hearty, pressed Cuban sandwich that you desire, I suggest you make your way over to Pilar Cuban Eatery, a mint green structure named after Ernest Hemingway's fishing boat. The sandwich comes on sourced authentic Cuban bread, enveloping roast pork, house-made smoked ham, scant Swiss cheese, a thin layer of pickle, and a smidge of mustard. After all that pork, you'll be happy to pick at the plantain chips and side of homemade cilantro sauce, which you'll have trouble not also spreading on the sandwich or directly into your mouth. If it's still daytime you can't go wrong with a cortadito, but if the sun is close to setting, the rum-centric bar might call out to you. You should answer. Pilar Cuban Eatery, 397 Greene Ave, Bedford-Stuyvesant
Grandchamps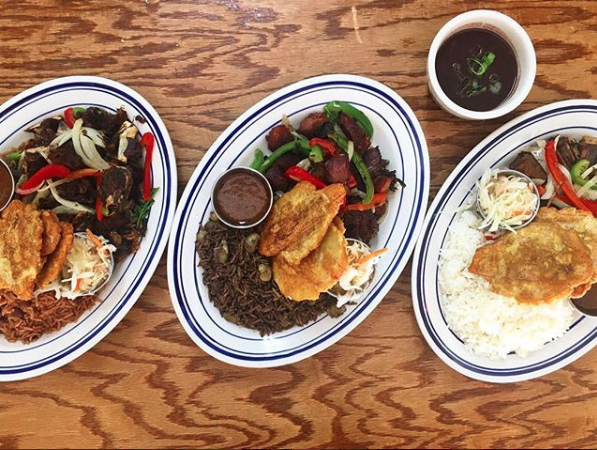 Photo: @grandchampsbk
In order for you to fully appreciate the ignorance of Donald Trump and his Haitian "shithole" comment, just come to Grandchamps for some pork griot. The pork will be cut into pieces, roasted with citrus and spices until tender, and then fried in a pan until the liquid becomes a slick sauce. You might have it served over white rice with Sos Pwa (black bean sauce), Du Riz Djon Djon (a black mushroom rice), or Rice and Beans. The pork edges are crisp while the center melts in your mouth. Don't even think about eating it without the condiments that accompany your plate. Pikliz, a spicy pickled cabbage hot sauce made with Scotch bonnet peppers, will brighten the dish, while the Sos Pwa (black beans pureed with coconut milk) mellow any harshness. You'll most likely be thirsty, and you can choose from rows of Cola Lacaye or indulge in a Haitian hot chocolate. Grandchamps, 197 Patchen Ave., Bedford-Stuyvesant
Trinidad is geographically part of the Caribbean, but the influences on the cuisine are as far-reaching as India, France and West Africa. The street foods of the island are unparalleled, and lucky for you, the global taste of Trinidad is readily available in Bed-Stuy, including at Ali's Trinidad Roti Shop which specializes in doubles and roti. Picture a curry stew, thick with chicken meat, potatoes and gravy, folded tightly into an origami shape made of a flatbread. If you prefer it the "buss up shut" way, the flatbread will be ripped up when cooked, so you can dip it in the stew when you're eating it. There's no right way to go, and both will be messy, so grab a stack of napkins. Your mind might be transported to the islands with each bite, but your hands will still be sticky. Ali's Trinidad Roti Shop, 1267 Fulton St., Bedford-Stuyvesant
Mama Fox
The cuisine at Mama Fox is not connected to one particular region, but the menu choices will have you traveling the world. The new restaurant describes its cuisine style as "global comfort food," and that is what you will find here. Brooklyn Based writer Ellen Killoran recounts how it came to be after the closing of the beloved Nita Nita in Williamsburg. She recommends a festa of shared plates including the yucca croquettes and the vegan beet tacos for your table. Don't miss the cocktails that are making waves: a Stuyvesant Swizzle or the Chocolate Old Fashioned would be just the beverages to keep you going until the warm weather reaches you, wherever you find yourself. Mama Fox, 327 Stuyvesant Ave., Bedford Stuyvesant.

Bar Lunatico
 If you are looking for a neighborhood nook, romantic enough to take a lover on a second date, but comfortable enough to eat alone at the bar, then Bar Lunatico is the place for you. The menu, ranging from Haitian tchaka, a spicy bean soup, to Oaxacan grasshoppers, to Coconut Ginger Curry, puddle jumps from country to country, offering a little something for everyone. Once the music starts, the food is almost an afterthought. The Happy Hour priced buttermilk chicken toast will be cleared off the table, and an unusual cocktail can take its place. You might sip a Foolkiller, a cane rum drink, spiced with a chile-infused amaro and a Cynar-like apertif called Cardamaro. It might feel a bit complex on your palette, and a little lethal sloshing around in your brain, but then a chord will sound, or a trumpet will ring, and you'll settle in for a night reminiscent of far-off destinations, while simultaneously reminding yourself of why you love Brooklyn. Bar Lunatico, 486 Halsey St., Bedford-Stuyvesant
Lovers Rock
Lovers Rock is a reggae bar that aims to bring Jamaican vibes to Brooklyn, courtesy of an unassuming storefront housing a small bar and a large backyard. The Infatuation calls this a place to come alone or come to meet someone. The term "lovers rock" refers to a kind of romantic reggae that would make this seem like it would be a magical place to fall in love. There's good music, dancing on weekends, and, of course, plenty of rum drinks. Lovers Rock, 419 Tompkins Ave., Bedford-Stuyvesant