Spring break is upon us, and this is the time of year that families usually flock to Orlando to hit the trifecta of big theme parks including Disney World, Universal Studios and Legoland. Over February Break, my family spent a week in Orlando and my mistakes are your gain. We spent the week specifically covering Universal Studios and Magic Kingdom, and did not reach Legoland or the other Disney worlds. In my extremely limited (yet annoyingly overconfident) experience, here are my top tips for this bucket list trip.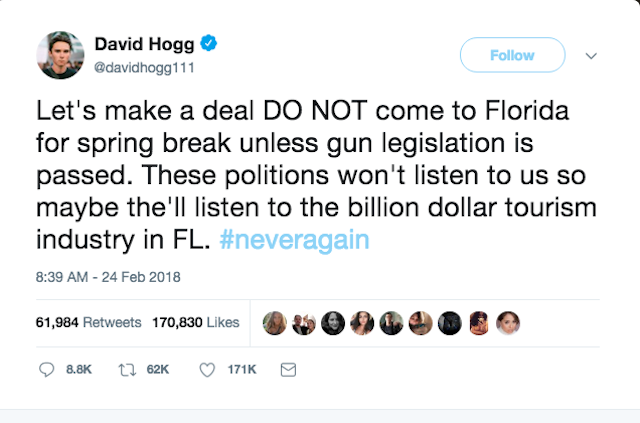 Tip #1: Don't go.
Change your plane tickets and cancel your trip. This isn't the year to go.
David Hogg, a survivor of the mass shooting at Parkland's Marjory Stoneman Douglas High School in Florida has asked students to avoid spending any time or money in Florida for spring break unless gun reform legislation is passed. "Let's make a deal DO NOT come to Florida for spring break unless gun legislation is passed," Hogg wrote on Twitter. The politicians may not be listening to the students, so the point is to hit them where it will actually hurt them: the billion dollar tourism industry in Florida."Thousands of families and students visit the state during #springbreak during their school vacations." Hogg later gave the suggestion to instead re-book your plane tickets to fly into Puerto Rico, which "could really use the economic support that the government has failed to provide," he wrote.
Tip #2:  Bring a Phone Battery
The apps that you can download now for all of these parks are extremely helpful to keep track of your schedule, where you are on the map, and how to find the nearest bathroom. But the apps will also suck all of the battery life out of your phone on a long day at the parks. And there are no phone outlets. Let me repeat that, as this is not an exaggeration: There are actually no phone outlets. Disney has special areas or kiosks where you can pay about $30 to charge your phone, but those areas may be a 40-minute walk from where you currently are. To give you an example, when we were there my phone battery died and so did the half-charged portable battery that I brought.
Tip #3: Understand Fast Pass
Do you see that family, including grandma, running across that bridge? That's because they are late for their FastPass appointment. Everyone will tell you to use FastPass if you go to Disney. You should. But the reality is that you are only allowed three fast passes (and then one more after you use all three of them). That's only four rides. Many of the most popular rides can have upwards of 2 hours wait times, so you will still be spending the majority of your day a) queuing up and b) racing to make your FastPass time slot. You can pre-register for your rides a month or so before going, and if you hesitate most of the popular rides will be snapped up. Also, note, the characters at Disney are not just walking around looking for photo opps. If you want a photo with a princess, that will have to be one of your FastPasses. Unfortunately, no amount of money (and I would pay thousands) will get you more FastPasses at Disney. But at Universal Studios, it's another story. If you are staying on the park at a few of the hotels, then you can have the benefit of fast passes on every ride without needing to pre-schedule. Compare that to waiting for over two hours per ride, and it may work out to be worth it to splurge on the more expensive hotel.
Tip #4: Understand Early Park Admission
Staying on the park will give you an early hour at the park before the masses arrive. This should cut down on some of the waiting time and allow you a little more flexibility with your FastPass later in the day. You'll be able to probably get into one of the more popular rides with less wait time, so plan your early rides wisely. It's an unfortunate part of the theme park experience, that everything from ride times to meals needs to be planned out ahead, leaving little room for spontaneity.
Tip #5: There Are No Good Food Options
Don't be fooled into thinking there are good restaurants in the park. It's true there are never available reservations at Be My Guest at Magic Kingdom. It may also be true that Mythos restaurant in Universal Studios is the "#1 Theme Park Restaurant In The World," as it states on the sign. Yet there is no fine dining at the theme parks. After months of not being able to secure a table at Be My Guest, we checked in with the restaurant every hour until we finally snagged one on the day of. The kids loved the castle set high on the hill, but we were underwhelmed with the fast-casual lunch options in the messy dining hall. At Mythos, we were given a beeper that alerted us when our table was ready. An hour later, we were seated in a cold cavernous table next to a "lagoon" that was more like a puddle. The food was not memorable, and the best part was the option of wine or beer. Eating Italian at Tony's Town Square was passable pasta, although they seemed to be out of many options, and the waitstaff did not encourage lingering. "Nothing offends me more than a theme park's attempt at fine dining," my husband joked. Know what you're getting into, and stick to the Bumblebee Taco Truck at Universal or The Mickey Premium Bars ice cream sticks.
Tip #6: The Wizarding World Is Not to Be Missed
The best thing that we saw in Orlando was the extraordinary Harry Potter areas of Universal Studios. Universal is divided into two different parks, and the Potter experience is in both of them (Hogsmeade at Island of Adventure and Diagon Alley in Universal Studios) connected by the Hogwarts Express train. J.K. Rowling had final say over every last detail, and that attention paid off with the stories coming to life in a completely interactive way. Beyond the rides (which are extraordinary — and not for the faint at heart), there are the alleys chock full of stores that you can wander through, fountains that spit, and stands selling butterbeer. Yes, you can even pass through a wall at the 9 3/4 platform to ride the train. At Ollivanders, my son was chosen by his wand, and (after the $50 purchase) he set off with a map to conduct magic spells around the park. It's a nice trick that anywhere you see a gold medallion on the floor, you can wave the interactive wand (in front of a sensor) and cast a spell. For example you can light a lantern, animate a store window or turn the pages of a book. The spell hand movements are tricky enough that kids feel accomplished when they have completed them (and frustrated if they never do). One tip: the wand end is very sensitive and won't work if scratched, so if your child has been dragging it on the ground or hitting it against the wall while playing magic, it may stop working. But you can bring the wand into the Owl Post and ask for a wand repair at no extra charge. I was impressed that they found a way resolve the issue quickly, without losing any of the magic for kids, who believe it is all somewhat real.
Tip #7: Find the Easter Eggs
Much of the fun of Universal Studios is the sense of discovery that is not possible at Magic Kingdom with all of the crowds and wait times. For superfans, these unpublished details are worth the trip to Florida. At Moe's Tavern in the "Simpsons" world, we sat at the bar to order our Flaming Moes, the red rotary telephone next to us started to ring. My son answered it, and was delighted to hear a prank call, recognizable to anyone who's watched the cartoon. At Harry Potter World, you can dial the Ministry of Magic in the red phone booth, look for a house elf in the window at 12 Grimmauld Place, and find secret spells only seen under a blacklight on Knockturn Alley. There's so many more, but telling them all would defeat the feeling of discovery.
Tip #8: Crowd Control
There will be many instances that you will feel like a sardine stuffed into a can. It's unbelievable how many bodies will be pressed into Magic Kingdom, either waiting in line or standing with sunstroke in the middle of the street. In 2014, there were 52,964 average visitors per day at Magic Kingdom. Some of the most magical moments for kids will be the parade or the fireworks, and for them it may be worth it to cram against a wall of human to have these magic moments. My only advice is to make these moments short and sweet. Look at the map and find the quicker routes, and try to stay off the main drags. We "saw" the Mardi Gras parade at Universal Studios while we were trying to escape the park, but my son remembers fondly the bead necklaces he collected. The fireworks at Disney were viewed as we walked backwards towards our extremely rigid restaurant reservation. There's nothing to do about the crowds other than to have a sense of humor about it, and for goodness sake, don't bring a stroller unless your child really needs one.
Tip #9: There is (kind of) a Dress Code
One of the most interesting part of the parks is the people watching. Obviously, there isn't really a dress code beyond comfortable shoes and breathable fabrics. But looking around, it seems there was a memo that was not received. At Magic Kingdom, it seems that many of the 52,964 visitors are wildly dressed up in their princess/ Mickey Mouse/ Minnie  outfits for the day, and at Universal it is full wizarding outfits. I'm talking children, but also adults who are there without kids and are taking fandom to the next level. On the other side of the coin, look for whole extended families with custom matching t-shirts. At Universal Studios, we saw a micro trend of Thing One, Thing Two, and Thing Three, etc. t-shirts, but at Disney, it's all about the group family vacation t-shirts. Plan ahead, and pack accordingly!
Tip #10: Grin and Bear It
Although Disney markets itself as "The Happiest Place on Earth," it's no secret that you will encounter many exhausted, frazzled, irritable adults. Between the heat, the crowds and the down time waiting in lines, it's easy to let the long day get to you. The only advice I can give is to take a valium before arrival, and grin and bear it. Bring water to keep you hydrated, stop for snack breaks to keep energy levels up, entertain kids with Mad Libs or brain teasers for lines, and try to see things through your kids' eyes as much as possible. There is magic here, even if, for me at least, I had to dig deep to find it.