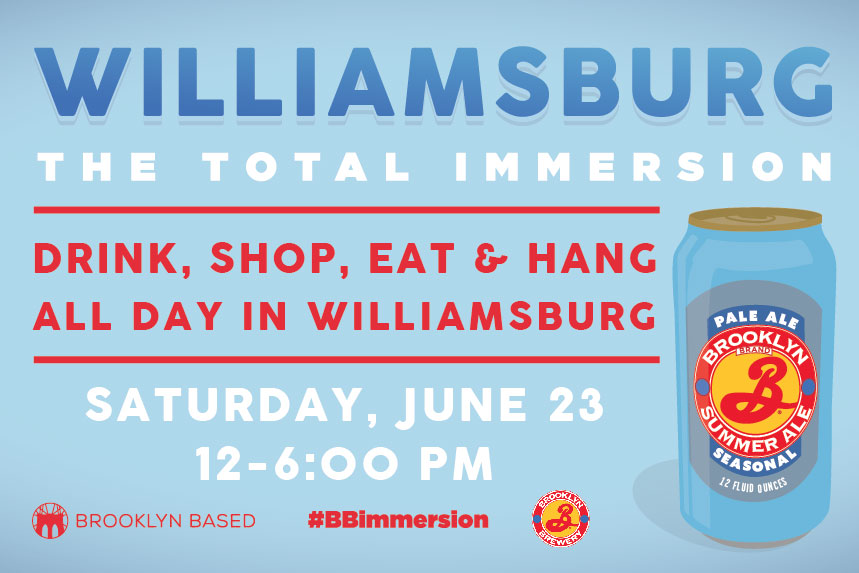 For the past eight summers we've partnered with Brooklyn Brewery to create a series of awesome, Saturday afternoon crawls that hit up the best bars, restaurants and shops in neighborhoods across Brooklyn. Amazingly we've never thrown one of these Immersions on their home turf, until now: Our first-ever Total Williamsburg Immersion is June 23!
Not only will you get free Brooklyn Brewery beers at four great local bars and cash in on nineteen food and retail deals, you'll also be one of the first people to see the Brewery's brand-new tasting room, where we'll be serving complimentary brews there, too.
Here's what a $15 ticket will get you: 
Note, you'll need to pick up a packet of "walking around money" at Rocka Rolla (486 Metropolitan Ave., near the Lorimer L and Metropolitan Ave. G stops) between noon and 1pm June 23 to redeem all these specials.
• One free Brooklyn Brewery beer at Rocka Rolla, Extra Fancy, the brand-new Clinton Hall at the Pod Hotel, Brooklyn Brewery's newly revamped tasting room AND Kent Ale House
• A $1 off Brooklyn Brewery beers at Mugs Alehouse and George and Jack's
• $2 cold brew or cold brew lemonade at Champion Coffee in the new North 3rd St. Market
• $1 off drinking vinegars and health tonics, and/or buy 2 pressed juices, get 1 vinegar or health tonic free at Sweet Road Bevs in the new North 3rd St. Market
• 20% off salads at Harvest2Order in the new North 3rd St. Market
• $5 Frito Pies at Mable's
• 20% off at The Vale Collective
• 20% off regular admission to the Museum of Food and Drink (includes a sampling of June's entree of the month, soft shell chili crab or 20% off special admission (includes entree of dumplings, entree of the month and a dessert of poached pears).
• Free mini cupcake and 20% off one item excluding cakes at Sweethaus
• 20% off purchase at Rituals
• 20% off purchase at Gant
• 15% any one item at Rough Trade and a FREE Summer Ale sampling in their Sonos room
• 25% off order at OddFellows Ice Cream Co. (Williamsburg location)
• 20% off at Goorin Bros. Hat Shop
• 20% off all drinks + retail bags at Toby's Estate Coffee Roasters
• 20% off a single item at the Brooklyn Brewery store
• Buy one appetizer get one app free between 12 and 5pm at Brooklyn Bowl
• Buy one item, get 30% off the second item at SlapBack
For another $10 you can also add on one of these lunches:
• A Clinton Hall All-American Burger and Fries (normally $12)
• A Pulled Pork Sandwich with side of Mac & Cheese at Mable's (normally $19)
• 2 Carnitas Tacos at Casa Publica (normally $12)
We'll be adding more lunches and deals soon, so stay tuned! In the meantime, round up your friends and get tickets. This is going to be an excellent Immersion!