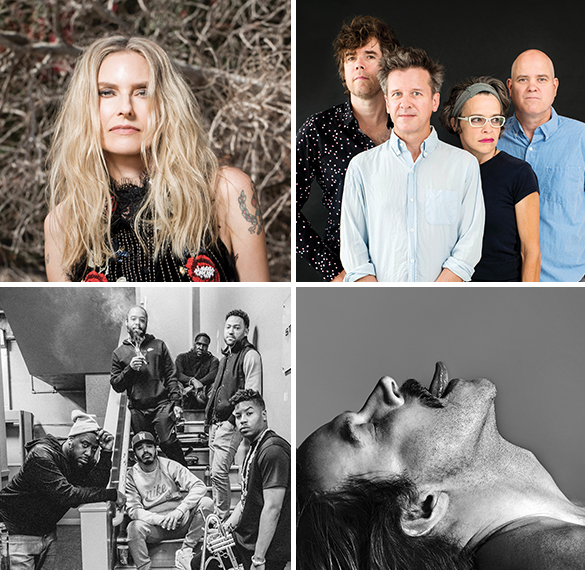 There's plenty to see, hear, and do at the BRIC Celebrate Brooklyn! Festival this week, with four concerts and a public reception for artist Grimanesa Amorós.
On Thursday, June 21, enjoy Aimee Mann, named by NPR as one of the 10 best living songwriters, along with indie punk legends Superchunk and Brooklynite singer Jonathan Coulton. Or settle in for some jazz on Friday, June 22, when Robert Glasper returns to the Bandshell with an exceptional new collective of underground icons. R+R=NOW, which stands for Reflect+Respond=Now, included Terrace Martin, Christian Scott aTunde Adjuah, Derrick Hodge, Justin Tyson, and Taylor McFerrin, and the group will perform after Haitian-American singer and guitarist Paul Beaubrun opens.
Celebrate Pride on Saturday, June 23, at the Bandshell with Fischerspooner, pioneers of the early '00s electroclash movement, who will fill the Bandshell with a new stage show that is not for the prudish. Additionally, electronic music duo Xeno & Oaklander perform and multi-faceted artist Juliana Huxtable will DJ. That night, gates to the Bandshell open at 6PM, as BRIC hosts a reception and Q&A with artist Grimanesa Amorós, who will discuss her site-specific light sculpture, Hedera, on display at the Bandshell through August 11.
Plus, tickets are still available for the Grizzly Bear + Spoon Benefit Concert on Wednesday, June 20.
Phew—that should keep you busy for a few days! Find times and more details on the BRIC Celebrate Brooklyn! site.