If you are lucky to have Thanksgiving weekend off, you know there is an excellent sequel, and often prequel, to the mashed potatoes and apple pie á la mode. It's called vegging on the couch and watching TV (or any screen). In the less than 24 hours since I arrived at my folks, I've already seen The Meg, a movie about a prehistoric shark whose elevator pitch was clearly "Like Jaws, but bigger." As ridiculous as it was, I was almost moved to waste a few more hours watching all of the Jaws movies, just to see how they had aged in comparison. Fortunately, I stopped myself. There are so many better things to see, and this coming weekend is the time to finally to catch up on all the movies that you can now stream, like BlacKkKlansman, and begin new blockbuster cables series, like My Brilliant Friend. If you need any further inspiration for your Thanksgiving binge session, we have eight great choices for you below. (All of our recommendations from last year still hold up, too.)  Have a wonderful, relaxing, leftovers-filled break, bad movies and all.
The Haunting of Hill House (Netflix)
I have a framed photograph of Shirley Jackson on my bedside table if that gives you any idea how much I love her work. That said, forget everything you know about Jackson and her seminal 1959 gothic horror book, The Haunting of Hill House when you are watching the Netflix show of the same name. The show and the novel are about a terrifying house. But besides a few winks and nods (one of the main characters names is Shirley, and the "cup of stars" that Jackson writes about takes a sinister turn in the show), there are absolutely no similarities to the book. This is a show about family trauma, with ghosts filling in for bad memories. "I've lived with ghosts since I was a kid," the eldest son, Steven says. "Since before I knew they were even there. Ghosts are guilt. Ghosts are secrets. Ghosts are regrets and failings." The format jumps back in forth through time between the summer when a family of seven moves into Hill House and decades later when the mother has died of suicide and the children have become broken adults. The acting is uneven, the plotline confusing, but the show is addictive, and most important, scary. Unlike the existential dread that we've become accustomed to with shows like Sharp Objects or Breaking Bad, Hill House offers actual jump scares. I literally jumped out of my seat a few times. The episode "The Bent Neck Lady" is a standout and offers a few twists that make piecing the plot together fun—a magic trick come to life. Unlike Jackson's novel, the show isn't something that will stick with you; it's disposable television, but absolutely perfect for binge-watching without worrying about being haunted by it.—Meredith Craig de Pietro
BoJack Horseman (Netflix)
What if I told you there was a super smart television takedown of Hollywood, popular culture and America starring Will Arnett, Amy Sedaris, and Aaron Paul? You'd be interested, right? Well, there is and BoJack Horseman is already in its 5th season, and chances are you're missing out. I'm going to assume that the reason you haven't checked it out yet is because it is an animated series. (Don't stop reading.) Trust me when I say that this makes no difference in how you will absorb the content. There is no way to describe the show, without making it sound absurd, but here goes: A washed-up sitcom actor named BoJack Horseman (who is our anti-hero, half-horse, half-man, ) struggles to connect with the people around him. The characters in this world are mainly half-animal, half human with no explanation as to the reason why. They include his agent, a cat-woman named Princess Caroline, played by the brilliant Amy Sedaris; his biography ghostwriter/friend, Diane, Diane's ex-husband, a dog-man named Mr. Peanut Butter, and a slacker houseguest. I told you it sounded crazy. Yet, the character development and creative scripts draw the viewer in deep. Themes like how patterns of childhood abuse evolve into inflicting trauma; the connection between self-loathing and opioid addiction; and a choice of asexuality are covered with compassion, sensitivity, and humor. The depth is balanced with laugh-out-loud humor. Season 5 shines bright with storylines like when an actual sex robot, in a plotline inspired by Being There, gets promoted straight to CEO of the Network. Most poignant this season was the episode that consisted entirely of a 30-minute eulogy that Bojack performs at his mother's funeral. It actually had me tearing up, as we see him wrestle with his grief, anger, and forgiveness.  It's a show that will make you laugh, cry and watch again as soon as it's over. The question for BoJack Horseman may be not why more people don't watch it, but how something so original and brilliant even made it on the air at all. As Mr. Peanut Butter would say, in one of his 'thinking jokes,' "Are you the umlaut in Chloë Sevigny's name? Because I don't know why you're here but I'm glad you are."—M.C.D.
To All the Boys I've Loved Before
Do you like cotton candy puffs of teenage rom-com? Do you have 99 minutes to kill on something delightfully cheesy? Do you like hunks? Well, then you've probably already seen To All The Boys I've Loved Before, but hey, it might be fun to watch it again with your best friend, whether you're 14 or 44.
One of my favorite women recently admitted that she had to Google the age of lead actor Noah Centineo midway through this film, feeling guilty that she might be crushing on a barely legal teen. (Take it easy, girl. He's 22.) This speaks to the dreaminess of the Peter Kavinsky character, but also to the way the film makes space for the female gaze in a way that few teen movies have done before. It feels so good to see Lana Condor's awkward and lovely Laura Jean in the driver's seat, crushing on all sorts of dudes.
Plus, the on-screen heartthrobs of my generation were either not exactly sexy (Lloyd Dobbler holding a boombox over his head in Say Anything was more cute than hot) or not particularly bright (think Jordan Catalano leaning languidly against a locker in My So-Called Life). So, I gather why someone my age (or any age) might feel unexpectedly weak in the knees upon seeing that smart-funny-cute Peter Kavinsky illuminated in the blue light of a bubbling hot tub, bare chest exposed, gesturing at the camera for Laura Jean to hop in.—Kara Zuaro
Three Identical Strangers (Prime)
If you're having one of those angsty, how-am-I-related-to-these-people Thanksgiving weekends, I've got the perfect movie for you! Three Identical Strangers tells its tale of separated-at-birth triplets through old photos, grainy, 80's-era TV clips, and interviews with colorful characters from the triplets' lives. It feels pleasantly low-budget and is perfect for the small screen.
It would ruin Three Identical Strangers to give away any of its secrets, as this documentary is fueled by its own twists and turns, but I can say that film addresses some thought-provoking ideas about nature versus nurture, questions the practices of scientific research, and takes some really dark turns. In its best moments, it feels like flipping through a particularly bizarre family scrapbook, and it's often impossible to guess what might be on the next page.—K.Z.
The OA (Netflix)
I'm about to drown myself in the beautiful and bizarre first season of The OA, which premiered in December 2016, because there's some buzz that the second season will appear soon. Created and written by Brit Marling (who also stars in the show) and Zal Batmanglij (whose brother, Rostam, formerly of Vampire Weekend, composes the score), the OA is hard to compare to anything else.
It's a confusing, intentionally pattern-less, sometimes-terrifying, genre-straddling series that opens up a new dimension of storytelling. I'd recommend it to anyone who prefers the more artistic episodes of Black Mirror and the serious moments of Orphan Black. If you've ever been brought to tears at a modern dance performance or a Sharon Von Etten concert (yes, she's in the cast, and yes, she sings), prepare to fall deeply under the OA's spell.
It immerses viewers in some Big Questions: What would you live for? What would you die for? And also, WTF is going on?! I'm not sure I understood it the first time around, so as I re-watch, I'll attempt to unravel its golden threads and smoke trails, in hopes that Brit Marling's haunting, ethereal character, Prairie, is firmly placed in my nightly dreamscapes by the time the second season launches.—K.Z.
The Good Place (NBC, Hulu, Netflix)
Now that we've made from election season to the holiday season, this is the perfect time to unwind with good food, good friends, and The Good Place!  Seriously, this is the feel-good show you didn't know you needed. I'll admit that I was apprehensive about the premise of this show when I saw early promotions for it—it seemed pretty corny and simple. I couldn't have been more wrong. (Pro tip: Don't Google the show until you watch the first season. Trust me, you'll be glad you didn't.) It has taken so many turns, and is subsequently one of the most thought-provoking sitcoms I've ever seen. It explores various questions regarding the after-life and what it means to be a good person, but not in a preachy way. This Mike Schur (The Office, Parks and Recreation, and Brooklyn Nine-Nine) creation feels as good as his previous shows, but on another level and of another world.
There's also a Good Place podcast, in which every episode is discussed in further detail and recapped by the show's stars, writers, and production team. It's pretty forking great.—Jameela Nasheed
Wanderlust (Netflix)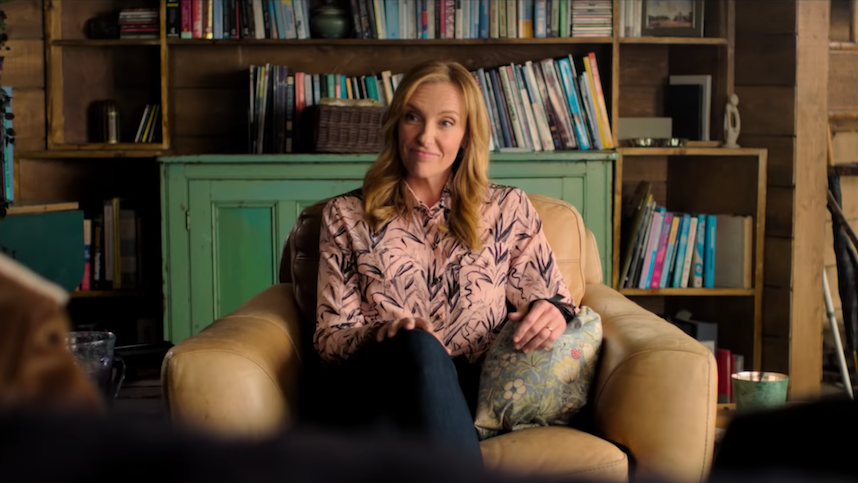 For domestic drama fans and those suffering from true crime fatigue, Wanderlust is a welcome addition to a Netflix's original series catalog. The six-episode series stars Toni Colette and Steven Mackintosh as Joy and Alan Richards, a couple who, after raising three kids and weathering the ups/downs of married life, try on non-monogamy. This is a story that, in the wrong hands, could come across as unnecessarily preachy or titillating. Thankfully, The Crown screenwriter Nick Payne has instilled in the couple—and their three adultish progeny—a generous amount or curiosity, vulnerability, and wit. In opening up their relationship, Joy and Alan also open themselves up to possibilities they hadn't conceived of outside of sex: communicating better than ever, intensely desiring one another again, and even falling in love again. A critical plot of conflict in the show centers on Alan, an English teacher, developing requited feelings for Clare (Zawe Ashton), a colleague with whom he's delightfully hooking up. The experience rattles the foundation of the marriage—not because emotional connections are off-limits, but because the fiftysomething couple, for the first time in their lives, are asked, by their hearts, to rethink everything they've ever known about relationships. Polyamory is a comedy of errors for the Richards and their decision to open up is an answer that only comes with even more questions: How will the kids find out? What will Alan and Clare's coworkers think? Where are the boundaries between Joy, Alan, and their lovers situated? Hopefully, there will be a second season of this series; there are so many directions for Wanderlust to roam.—Sarah Fonseca
Succession (HBO, Prime)
It's not a perfect show. In fact for the first two episodes, I was as cranky as the characters. It's not realistic. Nobody curses like that. They don't seem like real people. I complained a lot but by episode three I was binging in secret so I didn't have to wait for my husband to catch up. The initial satire eventually gave way to drama, sometimes melodrama, but I got hooked on the slow illumination of these mostly despicable humans, finding rare moments of empathy. It's hard to really root for anyone in this warring Murdoch-like family—the corrupt patriarch, the goofy brat, the scheming sister—all with multi-million-dollar Manhattan apartments and corner offices. We're shocked by their bad behavior, wishing for their demise while also championing their survival. This is what makes Succession an interesting show. When the oldest son faces an unforeseen humiliation, I was shocked at my own heartbreak, considering how little I thought I cared about him.—Shana Liebman