Unbelievably, we're somehow almost in the last month of 2018, a year that will be remembered for its overwhelming proliferation of news stories, if not a cheery sense that all is right in the world. On top of that, December is in the best of times a notoriously busy, stressful month, and when you already inhabit one of the busiest, most stressful cities in the world, it can sometimes take just one disastrous visit to the post office to mail a Christmas present or an inadvertent run-in with Santacon to take you from zero to Scrooge in 60 seconds. But even those of us who would rather eat Tide Pods than brave the crowds at Rockefeller Center, or who secretly think Love, Actually is wildly overrated (I know, I know, don't @ me!), have to admit that New York City has a certain charm this time of year, not to mention tons and tons of things to do with the 17 minutes of free time you might have this month that isn't consumed by parties, shopping, baking, wrapping, decorating, writing holiday cards, standing in various lines, and generally tying up loose ends at work or school before the New Year. I've compiled a list of ten cultural offerings that I plan to take advantage of over the next several weeks to both help me get into the holiday spirit and provide an outlet for some of the nervous energy that accompanies the mad December rush. Take note of any that appeal to you and, no matter what, have a wonderful, magical December full of friends, family, fun, and the occasional feast.
1. Tenth Annual Latke Festival, Dec. 3
Every December, I tell myself that this is the year that I'm finally going to the annual Latke Festival at The Brooklyn Museum, until a work-related holiday drinks event or something similarly irritating comes up and ruins the plan. I'm feeling optimistic for 2018 though, because the festival's 10th anniversary installment happens to fall on a Monday, which is the night I usually keep open anyway so I can pretend I'm going to spin class but instead watch Law & Order episodes I've already seen five times. You know what sounds better than that? An event where chefs from Veselka, Korzo, White Tiger, Bricolage, and a bunch of other local restaurants serve up their own unique, creative takes on what is IMO the best Hanukkah delicacy, crispy, fried potato pancakes, to be judged by a panel of celebrity guests. Tickets are $75 a pop, which includes unlimited tastings of latkes and other food, as well as beer, wine, and cocktails, and all proceeds benefit The Sylvia Center, a nonprofit dedicated to nutrition education.
2. The Jungle
at St Ann's Warehouse, Dec. 4
In 2015, a pair of playwrights and college friends, Joe Murphy and Joe Robertson, traveled from London to "The Jungle," a camp in Calais, France, where some 8,000 migrants from all over the globe were living in bleak conditions in the hope of being granted refugee status in nearby Britain. "The two Joes," as they have come to be known, raised some cash and opened a theater in the camp that ended up showcasing the diverse talents of the population for the next year or so, and later wrote about a play about the experience that starred some of the camp's real life former residents and earned rave five-star reviews from basically every news source you've ever heard of in London (The Guardian called it "extraordinary and heart-stopping"). Starting on December 4, St. Ann's Warehouse is staging The Jungle's American premiere, tickets start at $36, and it sounds like an incredibly powerful piece of essential viewing.
3. Janelle James Comedy Festival, Dec. 4-6
2018 was the first year in a decade that Brooklynites weren't treated to the action-packed Eugene Mirman Comedy Festival, which always brought an impressive array of performers to The Bell House and Union Hall for several relatively inexpensive nights of goofiness and hilarity from some of the funniest people in the biz. Unsurprisingly, I'm not the only one who missed it this fall, and it's a relief that veteran comedian Janelle James has taken up the mantle with her own self-titled Comedy Festival, which is happening December 4-6 at The Bell House. Tickets are still available for each of the three nights at $20 each, and the lineup of talent includes the likes of Judah Friedlander, David Cross, Liza Treyger and, naturally, Mirman himself, in addition to a host of TBA special guests.   
---
---
4. A Very Serious Cookbook
at Books are Magic!, Dec. 4
I have a confession to make: I own a copy of A Very Serious Cookbook, the easy-reading collection of recipes and anecdotes from Jeremiah Stone and Fabian von Hauske, the young, ubercreative chefs behind Contra and Wildair, and I haven't even tried to make a single recipe from it yet. It isn't actually that serious (comedian Eric Wareheim wrote the intro) and I happily read the thing cover to cover the day I received it, but admit that I'm a bit dubious that my cooking skills are on the level that I should be procuring things like pig's blood or uni tongues for my own kitchen yet. Maybe seeing the two culinary phenoms discussing and signing the book at Books Are Magic! on December 4 will help me overcome my trepidation, and I admit that I've been eyeing a few things in there that are slightly less intimidating, like the radishes with seaweed butter that adds a little intrigue to the snack I eat at home on a weekly basis. Plus the pair will be appearing with Bon Appetit deputy editor Julia Kramer and Allison Roman, whose famous shortbread chocolate chunk cookies I have made more times than I care to count.
5. The Marvelous Mrs. Maisel, Dec. 5
Last year's Emmy-winning best comedy on TV, The Marvelous Mrs. Maisel, seemed to generate a lot of snark and eye-rolling among the comedians I follow on Twitter, but I never really understood why. I personally found the first season, which follows the story of a 50s New York housewife who discovers her standup chops after her husband blows up her life, to be really fun to watch, if not the edgiest series out there. It's back on Amazon Prime for Season 2 starting on December 5, and I have a feeling I'll be doing a lot of present wrapping in front of it later this month.
6. To Kill a Mockingbird, Dec. 13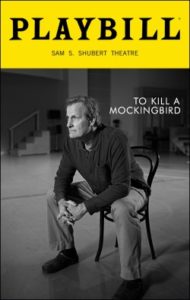 It's already been in previews for several weeks, but the new production of To Kill a Mockingbird, starring the inimitable Jeff Daniels as Atticus Finch, officially opens at the Shubert Theatre on Broadway on December 13, and I would think that anyone on your holiday shopping list would be nothing short of thrilled to receive tickets to see it this year. Harper Lee's universally beloved novel has been adapted for the stage by Aaron Sorkin, so expect some fresh takes (and lots of dialogue) in the world premiere of this revamp of everyone's favorite book.
7. Roma, Dec. 14
I've been dying to see Roma, the new loosely autobiographical movie from Alfonso Cuaron (Children of Men, Y Tu Mama Tambien) about a family and their live-in nanny in Mexico City in the 70s, since I first read that it was the centerpiece of the New York Film Festival this fall. Critics of all stripes have been tossing around words of praise like "masterpiece" and "a triumph," and it is my number one goal of this coming weekend to catch one of the limited run screenings happening at the IFC Center, among a handful of other city theaters. Can't swing a trip to the movies during the busiest time of the year? No prob, Roma will be streaming on Netflix starting on December 14. That said, the cinematography alone makes this one look definitively Fandango-worthy to me. 
8. Epic Abstraction: Pollock to Herrera,12/17
Fans of modern art will want to make a trip up to The Met this month to see Epic Abstraction: Pollock to Herrera, a new exhibition celebrating large-scale abstract paintings and sculptures opening on December 17. The show will feature iconic works from Pollock, Herrera, and Cy Twombly, as well as international artists like Kazuo Shiraga and Ilona Keseru, spanning the decades between the 1940s and now.
9. Slow Burn
This is technically cheating because the Slow Burn podcast is a year old at this point, but it's new to me so I'm throwing it in here. One of the many, many signs that I'm on the fast track to senior citizenship is that I can no longer listen to music while doing mundane tasks like running or cleaning or driving without becoming bored in a matter of minutes. The teenage version of me is horrified, but if there is some mindless activity that I need to slog through, NPR or podcasts are where it's at these days, and my recent discovery of Leon Neyfakh's deep dive into the Watergate scandal has helped me make two pies and complete a handful of treadmill adventures so far. To be honest, the Watergate scandal was too mired in bureaucracy and administrative minutia to captivate me much when I learned about it in school, but Neyfakh's lens, which focuses a lot on character development and why it takes forever for the general public to finally care about crimes being committed by powerful institutions in broad daylight, has lent it a current resonance that I find fascinating. I'm looking forward to the next season, which came out a few weeks back, and explores the Clinton impeachment just in time for AE's new series The Clinton Affair, which my mother says is worth a watch.
10. Various Holiday concerts around town
If you are looking for a dose of Christmas music that isn't Santa Baby or that unescapable Mariah Carey deal, December presents lots of opportunities to see the more classic holiday tunes performed live in some of the most striking venues the city has to offer. Case in point: The Guggenheim is hosting its annual Rotunda Holiday Concert on December 16-17, featuring the Vox Vocal Ensemble. Alternatively, you can see Handel's Messiah at Carnegie Hall on December 19, Wynton Marsalis and the Lincoln Center Orchestra playing Big Band Holiday hits on December 19-23, or the annual Winter Solstice Celebration at St. John the Divine on December 20-23. Any of these would be a special experience, and a great way to revel in general holiday merriment while managing to not drink, eat, or fork over wads of cash to retail institutions for a blissful hour or two.
---