It's a new year, and I spent the long weekend ringing it in and relaxing with some old and new friends in the North Fork, which was really lovely despite the crap weather on NYE. At one point we got into a discussion about the concept of New Year's resolutions, and the general consensus was that they always feel a little prescriptive and like a big set up for failure. My friend Jenn has adopted a different, more malleable approach, which is to choose four adjectives that describe the way she hopes to feel in the coming year and make decisions based on whether or not they will result in that feeling. This way, instead of resolving to lose 10 pounds and then feeling like a failure when your new healthy eating kick doesn't survive through MLK weekend, you can resolve to try to do more things that make you feel healthy. Then, when you are choosing whether to go to drinks or the gym after work, you can ask yourself whether either option will make you feel like one of the four things you picked at the beginning of the year.
I like this idea, and although I haven't finalized my list of four adjectives for 2019 yet, one of them is definitely "creatively inspired." I need to feel it on a regular basis and, lucky for me, I'm living in one of the best cities in the world as far as easy access to a diverse array of art, literature, music, and theater is concerned. Here are some of the ways that I plan to kick off my year of new cultural awakening in January—join me! 
1. 50 First Jokes, Jan. 4
I've always loved the concept behind 50 First Jokes—an annual Brooklyn tradition that brings several dozen local comedians (both already famous and on the verge) to The Bell House's stage in early January and asks each to tell the first joke he or she has written in the New Year. It appeals to the comedy nerd in me for the obvious reasons, but I also think that there's something really cool about starting the clock again with a shot of new creative energy and laughter, and god knows we need that more than ever after the doozy that was 2018. Now in its 13th installment, the show is on January 4, and host John O'Donnell will be joined by the likes of Jo Firestone, Liza Treyger, Matt Koff, and Rob Haze, plus many many more funny people.
2. Cold War, Jan. 4
Not trying to be a downer, but I couldn't help but notice that 2018 doesn't feel like it was an especially great year for movies. Sure, I saw a few things here and there that I liked a lot (Black KkKlansman, Eighth Grade, Roma, and Black Panther come to mind), but more often than not I was disappointed, and I should just come right out and admit right here that I'm one of the apparently six people who thought A Star is Born was just not very good (sorry!). I can't think of a year that I've gone into awards season feeling less invested, but when I read the glowing reviews for Cold War, a love story set in 1950s Poland, it sounded like something I could get behind. It's screening at BAM starting on January 4, so here's hoping it's as good as the hype!
3. Golden Globes, Jan. 6
Speaking of awards season, The Golden Globes are already upon us on January 6, and if you're looking for a fun and social way to watch the Adam Samberg and Sandra Oh-hosted affair, you should consider heading to Syndicated in Bushwick, where they're screening the ceremony with themed cocktails and a pool picking the winners, or Golden Globes Bingo at Parklife in Gowanus, which is just what it sounds like. Seeing that Sandra Oh is hosting reminded me that Killing Eve came out in 2018 and is in the running for the TV awards, which got me pretty excited, as did the news that Jeff Bridges is receiving the Cecil B. deMille prize this year.
4. Noname at Brooklyn Steel, Jan. 6
Since releasing her debut mixtape Telefone, female Chicago rapper Noname moved to LA and lost her virginity, two big life events that she addresses openly in her critically-acclaimed new album, Room 25. Her January 5 date at Brooklyn Steel sold out fast, but there are still tickets available for night two, with opener Elton Aura.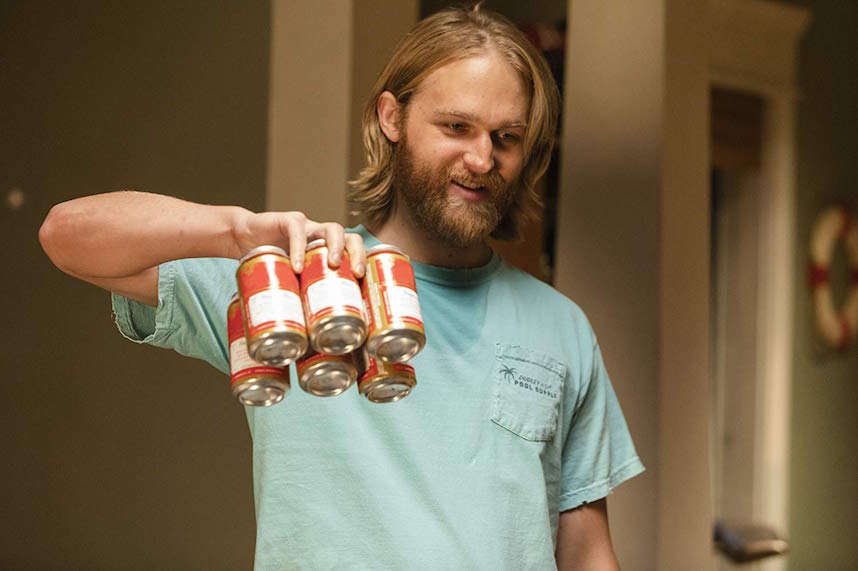 5. Lodge 49 on Hulu, Jan. 7
If you're planning to log some couch time during the cold month ahead, you've probably already noted the return of beloved shows like You're the Worst on January 9, Brooklyn Nine-Nine on January 10, the latest iteration of True Detective (with Mahershala Ali and Stephen Dorff) on January 13, and Broad City on January 24, but before I watch those I'm planning to check out AMC's sleeper success from last summer, Lodge 49, the first season of which is available on Hulu starting on January 7. The show is about a former surfer who is mourning his dad's death and decides to join a rundown fraternal lodge; it sounds weird and utterly unique, and AMC recently announced that it will return for a second season.  
6. A Night for NYCHA, Jan. 11
On January 11, SNL writer and Weekend Update co-anchor Michael Che is leaning on a handful of his famous and funny pals to help him raise money for a cause that's near and dear to his heart: The Fund for Public Housing. Che, an NYC native who grew up in a housing project on the Lower East Side, is organizing a comedy benefit at Irving Plaza featuring a mostly top-secret lineup of what one can only assume is A-list talent, although it's been announced that Dave Attell, Jeffrey Ross, and stone cold White House Correspondents Dinner champ Michelle Wolf are on the slate. Tickets to A Night for NYCHA with Michael Che and Friends are still available for $65 a pop, and all proceeds will benefit NYCHA residents who are dealing with chronic heat outages, pest infestations, and mold issues, among other intolerable circumstances, as the City's public housing crisis continues.
7. The Last Days of August, Jan. 8 and Brooklyn Podcast Festival, Jan. 10-13
Bestselling writer Jon Ronson is behind a diverse array of things that have captured my attention over the past several years, including The Psychopath Test, So You've Been Publicly Shamed, Okta, and Men Who Stare at Goats, so I was interested to see that he is appearing at The Bell House on January 8 to promote his new Audible project, The Last Days of August. Two days later, the Brooklyn Podcast Festival returns to the same venue and others around Brooklyn for a weekend of live tapings of shows like Bowery Boys, Ask Me Another, The Touré Show and Good One, Jan. 10-13
8. Kristen Roupenian reading, Jan. 17
Remember this time last year, when it seemed like all anyone was talking about on the internet was that Cat Person story in The New Yorker that went viral? Its author, Kristen Roupenian, has since released a debut collection of more short stories entitled You Know You Want This, which further explores themes of gender, sex, and power in a provocative and timely way. She'll be appearing to discuss it at St. Joseph's College on January 17 with New York Magazine's Rebecca Traister, and tickets include a hardcover copy of the book, which Roupenian will sign after the event.
9. Dutch Masterpieces at the Met
When I was in Europe this fall, I followed my mom's recommendation and took an impromptu day trip from Amsterdam to The Hague so that I could see the incredible collection of Dutch Golden Age paintings at The Mauritshuis, which includes "Girl with a Pearl Earring" and "The Nightingale," as well as some truly stunning still lives. It was one of my favorite things I did on the entire 2-week trip, so I will definitely be carving out sometime very soon to see the exhibition of Dutch Masterpieces currently on display at The Met. If you can steal away in the middle of the day on a Wednesday, you might consider signing up for an hour-long tour of the show starting at 10:30am on either January 9 or 23.
10. True West, opening Jan. 24
Despite the fact that I plugged the St. Ann's Warehouse production of The Jungle in this very column last month, I took my sweet time buying my own tickets to it and ended up being totally shut out of the extremely limited run, which is kind of driving me crazy as the great reviews keep rolling in. Will I feel better if I get ahead of things on the upcoming revival of Sam Shepard's True West, starring Ethan Hawke and Paul Dano, at Roundabout Theatre Company? Here's hoping—it certainly sounds like something I'd like. This production of the 1980 Pulitzer Prize-nominated play, which finds two estranged and ostensibly incompatible brothers reunited at their mom's California house, is in previews now, and opening night is set for January 24.