We're full speed ahead into February already, which seems impossible, and we're even seeing glimmers of Spring, what with the polar vortex* behind us, both Punxsutawney Phil and SI Chuck missing their shadows on Saturday, and forecasts for this week are in the 60s! Time to get up and out everyone—stretch those legs and your intellectual and creative stimulation beyond whatever humdrum rut this winter has wrought upon your day-to-day scene and get a shot of culture in the mix.
We're exceedingly fortunate to live in a city that provides an endless supply of exhibitions, performances, and experiences and during a time when literature and television and movies are thriving, easily accessible, and forever pushing us to think critically and beyond our own immediate circumstances. It's a privilege that should be celebrated—never taken for granted—and this February is as good a time as any to make sure you maximize the bang you get for your rent money buck. We've rounded up a list of cultural happenings that caught our attention in the month ahead—make a note of any that may appeal to you and block out the time now, before the mundane errands and admin stuff takes over. Happy days ahead!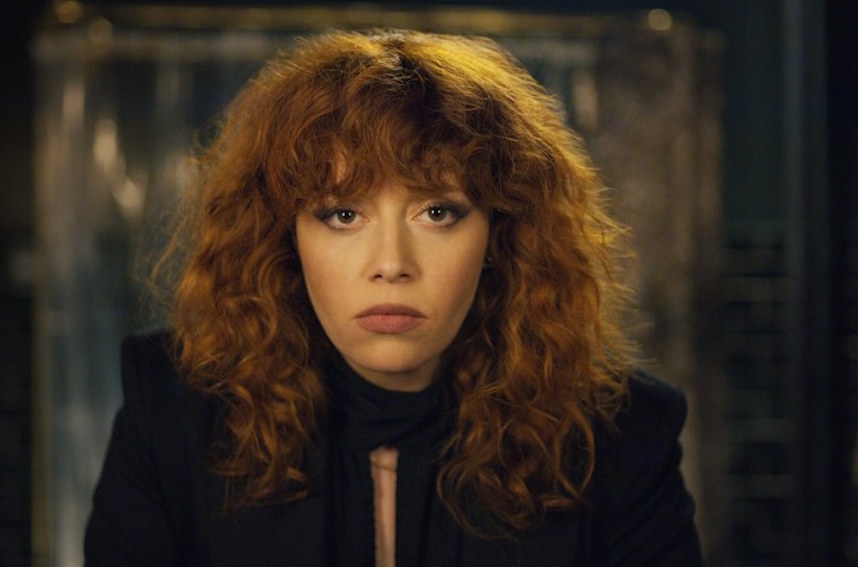 1. Russian Doll, now
I read an article over the weekend that argued that knowing too much about Netflix's new comedy, Russian Doll, before you watch it will inevitably degrade the experience, and the last thing I'd like to do is contribute to that result. So, I will just say that the show, which stars Natasha Lyonne, who is also a co-creator along with Amy Poehler and Leslye Headland, is getting a ton of hype and I'm planning to watch it asap. It sounds dark and weird and expertly acted, so if that's your thing I suggest that you should join me.
2. In Pursuit of Freedom, now through March 24
February is Black History Month, and as usual the Brooklyn Historical Society has some great programming in store to educate and spark the kind of honest conversations we need to be having if we ever hope to heal and unify and improve as a society. "In Pursuit of Freedom," an exhibit that will be on display all month, explores Brooklyn's own anti-slavery movement from the American Revolution through the early days of Reconstruction, with newspaper articles from the time, photographs, census records and more. There are also several live events planned, like a panel on black-owned businesses in Brooklyn on February 11 and Voices from Obama's West Wing, a conversation with former staffers from the Obama administration taking place on February 28.
3. Frida Kahlo at Brooklyn Museum, Feb. 8
Mexican surrealist painter Frida Kahlo is one of the most recognizable figures in art history, and her distinctive look is the subject of a new show at the Brooklyn Museum running this month through mid-May. Frida Kahlo: Appearances Can Be Deceiving, which opens on February 8, is the largest U.S. exhibition in ten years devoted to Kahlo, and the first to display a collection of her personal possessions, including clothing, jewelry, hand-painted corsets, and prostheses, which had been locked away since Kahlo's death in 1954 until recently. These artifacts will be displayed along with the protofeminist's paintings and portraits, as well as items of political and historical significance that will put them in context. Given Kahlo's popularity, we suggest you buy a timed ticket asap here.  
4. Sharon Van Etten at the Beacon Theater, Feb. 9
After an almost five-year hiatus between studio albums, the acclaimed Brooklyn indie musician Sharon Van Etten recently returned with her much-anticipated record, Remind Me Tomorrow. Sonically, it's a noticeable departure from her previous folk-rock records with an emphasis on electronics; that is certainly evident tracks on the very defiant-sounding rocker "Comeback Kid" and the haunting and atmospheric "Memorial Day." Amid the anthemic and experimental songs, the album contains some tender and romantic ballads such as as "Stay" and "Jupiter 4." Even as her music takes on a newer and bolder direction, Van Etten's beautifully haunting voice and lyrical sensibilities remain intact. She is embarking on her latest tour that includes a stop this Saturday, February 9 at the Beacon Theatre. (The show is sold out, so check StubHub and Craigslist for resales.) Expect her army of die-hard New York fans who have followed this critically-acclaimed artist from the very beginning of her career to be in full force for this special hometown gig.—David Chiu
5. Westminster Dog Show
, Feb. 11-12
As a dog fanatic and a person who has lived in New York City pretty much forever, I am sort of amazed that I've never made it to MSG to see the Westminster Kennel Club Dog Show in person. That changes this year, though, as some friends and I have tickets to see the evening session on Monday, Feb. 11, which includes the hound, toy, non-sporting, and herding groups. It's the 143rd year of the notoriously fussy competition, and the idea of being live and in person to watch the meticulously groomed dogs earnestly parade around the ring fills me with joy, as I have and always will be a relentless sucker for a dog with a job that he or she takes seriously. I've got the distinct feeling it will become an annual tradition for me. 
6. Hard to Love, Feb. 13
I'm not generally a huge fan of non-fiction or "Galentine's Day" but I may just have to celebrate both this year at the book launch for Hard to Love, a debut collection of essays by Briallen Hopper, happening at Fort Greene's Greenlight Bookstore on February 13. The common thread that runs through the essays, which cover topics ranging from the Women's March to finding a sperm donor to the TV show Cheers, is that they all focus on relationships that are extremely significant despite not being romantic (think, friends, roommates, and adult siblings). Hopper will read from the book, which has generated a lot of pre-release buzz, and discuss it with writer Leslie Jamison before the evening concludes with cake and wine.
7. Us, Feb. 15
If you've spent a good part of the last month at movie theaters trying to see all the Oscar contenders before the Academy Awards ceremony on February 24, you've almost surely been treated to/creeped out by the trailer for Us, Jordan Peele's follow up to his 2017 breakout hit Get Out. I wasn't paying attention when the second trailer dropped during the Superbowl last night, but I think I need to psych myself up to watch it online because I'm still terrified by the first one. I'm admittedly a lifelong wimp when it comes to thrillers and usually try to avoid them because I value sleeping at night, but I will make an exception for this one because Get Out was such a fresh, original, substantive piece of art that imbued the horror film genre with a new salience. I'm looking forward to seeing what Peele does next, and will watch anything with Lupita Nyong'o or Elisabeth Moss, so this is a no brainer for me, but I won't see it alone.
8. The Mother, Feb. 20
The Atlantic Theater Company's production of The Mother, the 2010 play by French playwright Florian Zeller which opens on February 20, sounds like it's definitely worth buying advance tickets for, and not just because it stars Isabelle Huppert in the titular role. The play explores a woman's struggle with clinical depression after her grown children move on with their lives and is a follow up to the US production of Zeller's The Father in 2016, which won Frank Langella a Tony. Chris Noth, who will always have a place in my heart, co-stars.
9. Orchid Show, Feb. 23
We've reached the point in the winter when I start indiscriminately spending 12 bucks a week on tulips that nobody but I will see because I'm desperate for some natural beauty to punctuate the gray days and early onset of darkness. Perfect timing, then, for the 17th annual Orchid Show to take over the New York Botanical Garden with its cacophonous display of color starting on February 23. This year's show is a tribute to Singapore, a city that places orchids at the forefront of its culture and landscape. As always, there will be thousands of flowers in myriad shapes, sizes, and hues on display, and it might just be the ultimate cure for the seasonal affective disorder that ails you.
10. Teknopolis, Feb. 23
The multi-story, multi-sensory Teknopolis fest, BAM's annual paean to digital and visual art, is back starting on February 23, and this year promises even more ambitious, cutting edge interactive technology experiences. You can test out the latest in augmented and virtual reality, create music with simple coding, and experience 360-degree interactive film screenings, and that's just for starters. Tickets for the add-on VR portion of the showcase are already beginning to sell out, so be proactive if you don't want to get shut out of this unique, kid-friendly experience.
*Still gonna argue that polar vortex is an unnecessary, made up new term for "winter" but will concede that it was really cold last week.