Brennan & Carr has been serving the working people of Brooklyn since 1938, and yes, it's definitely worth a jaunt to Sheepshead Bay to try their iconic roast beef sandwich. Lean, thin-sliced, melt-in-your-mouth beef is folded onto a soft roll and the whole sandwich is submerged in beef stock before it's delivered to the table in a pool of rich, salty au jus. Knives and forks are available, but the dipped roll does hold its shape, and the regulars aren't afraid to get their hands dirty.
The corn fritters and a slice of their pie-of-the-day are worth your consideration, and they also serve crisp hot dogs, burgers, chicken sandwiches, mozzarella sticks, and fries. But really, you're coming for the roast beef sandwich. If you're still hungry after downing one, order a second and wash it down with a frosty mug of Budweiser. For some of us, this is paradise. (And it's worth nothing that this slice of paradise is cash-only.)
On a chilly Saturday at noon, we only had to wait about 5 minutes for a table for four. We peeked into the small, wood-paneled dining room to spot many of the seated guests wearing t-shirts, jackets, or hats bearing allegiance the NYPD, the FDNY, the Sanitation Department, or the Parks Department. Like Ferdinando's, the previous entry in our series on historical Brooklyn restaurants, Brennan & Carr has got a lot of old-timey character. Even the youngest waiter, a fresh-faced kid in a white butcher's coat over a shirt an tie, wore his wavy hair slicked back with pomade and took our order with an accent from the old neighborhood.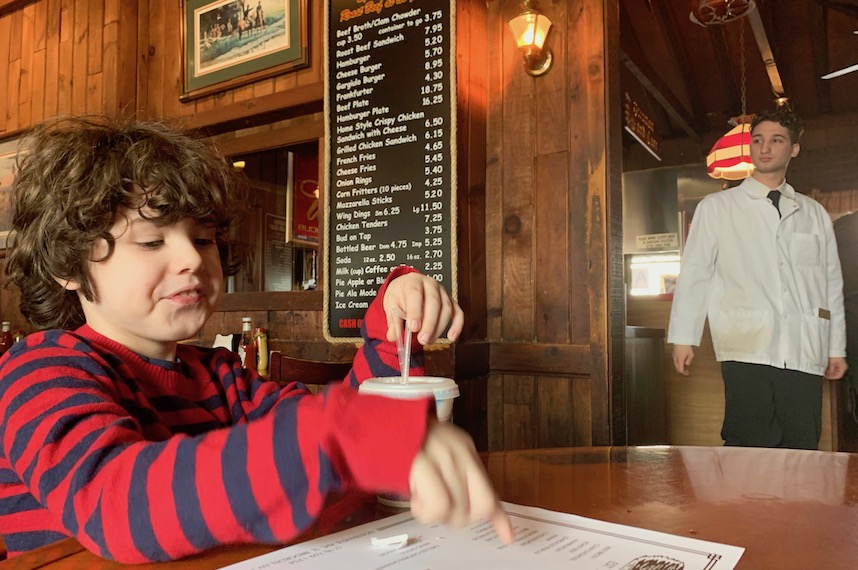 Now, they do have high chairs and cups with lids for kids, but there are some caveats if you're visiting with little ones: the parking lot is small, and so is the dining room. There's not much space to wait for a table, so if your kids are wilding out, you will not want to be here. But don't worry—we have your backup plan. Roll-N-Roaster, which most roast beef connoisseurs list as their #2 spot in the city, is only a 6-minute drive (or 9-minute ride on the B44) down Nostrand Avenue. Yes, it looks and feels like an XL McDonald's, but there's a parking lot, tons of seating, a nostalgic 1970's brown-and-orange color scheme, and milkshakes, so your kids will love it., and you (probably) won't be mad at it.
Here, the roast beef sandwich can be ordered medium or well-done on a seeded bun with optional "cheez" (yes, please). It's not dipped in deliciousness like the Brennan & Carr version, but it's still a very tasty, stick-to-your-ribs sandwich.
"If I hadn't just eaten a Brennan & Carr roast beef sandwich, I wouldn't find anything wrong with the Roll-N-Roaster version because I wouldn't have known any better," my husband weighed in. "But if I had to choose, I'd sacrifice kid-friendliness to eat the Brennan & Carr version again. It's just worlds above."
Brennan & Carr, 3432 Nostrand Avenue, Brooklyn, NY 11229, (718)769-1254

Roll-N-Roaster, 2901 Emmons Ave, Brooklyn, NY 11235, (718)769-6000