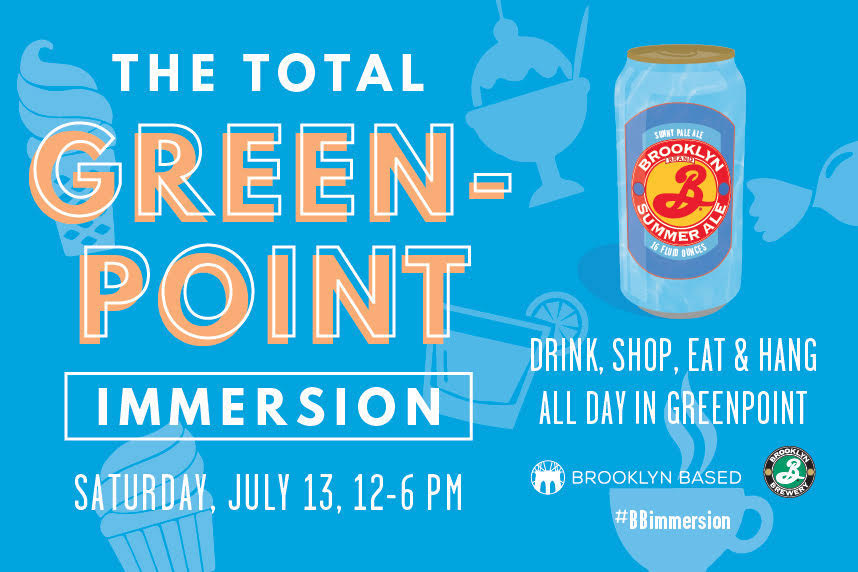 Back in 2010, we began a tradition of spending summer Saturdays exploring Brooklyn neighborhoods with Brooklyn Brewery. Our first-ever Immersion was in Greenpoint, and on Saturday, July 13 we're headed back for another awesome day of good eats, Brooklyn Brewery beers and local deals.
For $15 you'll get four free Brooklyn Brewery beers, one each at The Brew Inn, Black Rabbit, The Diamond and Brooklyn Barge, plus exclusive deals like free arancini at Archestratus Books + Foods and 25% percent off live plants at Soft Opening. (See the full list below!) For another $10 you can add a limited number of lunches at Le Fanfare, Brooklyn Label or Le Gamin. 
Once you purchase a ticket online, you'll pick up your pack of Immersion walking around money (WAM)—that's what it looks like above!—the day of the event between noon and 1pm at The Brooklyn Barge (follow the map here to locate it) to redeem your free beers and specials throughout Greenpoint.

It's one of the best ways to spend an afternoon for the least amount of $ in NYC, so gather your crew and get tickets! And while you're at it, get tickets to our Red Hook Immersion August 3, our only other immersion this summer.
Greenpoint Immersion Deals
• 1 free Brooklyn Brewery beer at The Brew Inn, Black Rabbit, The Diamond and Brooklyn Barge
• $10 lunch specials at Le Fanfare, Brooklyn Label or Le Gamin
• 20% off one book AND a free book with the purchase of a tote at WORD bookstore
• 1 free arancini at Archestratus Books + Foods
• 25% percent off live plants at Soft Opening
• $3 cold brew or lemonade at Champion Coffee
• 1 free Salted Chocolate Chip (vegan) or Salted Peanut Butter Cookie (gluten-free) with a purchase of any beverage at Ovenly
•  $3 Brooklyn Brewery beers at Anella
• 50% off all sunglasses at Alter
• 20% off crystals at Maha Rose
• 15% off $100 or more purchase of clothing at Wolves Within (accessories, jewelry and footwear not included)
• Free gift with $100 or more purchase at Home of the Brave
• Free whiskey tasting and 10% off select bottles at Duke's Liquor Box
The Total Greenpoint Immersion
Saturday, July 13, 2019, 12-6pm
Various locations
$15-$25 tickets available at Eventbrite