It's the last month of school, and if you are feeling anything like me, you are exhausted with all the talent shows, art shows, sports championships, piano recitals, and end-of-year picnics to keep track of. Between the torrential downpours and sweltering days, it can be hard to feel motivated to get out there. But with the warm weather, also comes some of New York's greatest yearly traditions. Outdoor concerts, magical parades and the opening of NYC public pools are part of a lineup of free and low-cost activities that will get a jumpstart on your summer memories, before it is too hot to leave the air conditioning.
Have you been meaning to bring the kids to visit the Statue of Liberty up close? This would be a good time to do it. The new Statue of Liberty Museum dedicated to the history and legacy of the great green lady, features 26,000 square feet of museum space, including three galleries where visitors can engage in interactive exhibits. On display is the original Statue of Liberty torch that has been restored for viewing. The Museum admission is included with your visit to Liberty Island. 
GO: Drag Queen Story Hour
Wondering how to celebrate Pride with your kids this year? Brooklyn Historical Society makes it easy and fun with a Drag Queen Story Hour happening on June 8th from 10:30am- 1:30pm. This event gives kids a chance to see "glamorous, positive, and unabashedly queer role models." On this day, families can listen to Harmonica Sunbeam and Cholulia Lemon read Rosie Revere, Engineer during this free program, and then do a hands-on art project afterward. BHS Dumbo, 55 Water St., 2nd Floor, Dumbo. Free.
GO: Fight Climate Change
How do you raise an activist? Well, for starters, by bringing kids to short family-friendly actions like this one on Sunday, June 9th from 9:30am- 10:30am, for climate-change, organized by 350 Brooklyn—who are helping move the climate movement forward. Join them outside of Senator Schumer's house to express support for the Green Deal and for "an hour of fun and climate activism for kids and the grownups who care about them!" There will be jobs and activities for kids of all ages. Feel free to bring a note for climate change of your own or to make one when you get there (sign making materials will be provided). Also, there will be singing, face painting, craft-making, bubbles, and sidewalk chalk, a fun entree into activism, no matter how old your tiny soldier is. 9 Prospect Park West, Park Slope. For more information: families@350Brooklyn.org FREE.
GO: Philharmonic Prospect Park
This summer tradition has been going strong since 1965, and this outdoor concert is perfect for bringing the whole family and spreading out on a picnic on the lawn. The Philharmonic performs in all of the boroughs, but they'll be in Prospect Park in Brooklyn on Friday, June 14th. The show starts at 8 pm, but due to popularity, you may want to set the blanket down earlier. This is a great time to introduce young ones to great music under the stars. Kids can yell, dance or sleep—and all can enjoy this yearly event. Afterward, stay for the fireworks. Long Meadow Ballfields, Prospect Park, Brooklyn
GO: Play:ground NYC
By now your family has probably had their share of fun at the no-parent-allowed playground at Governor's Island where kids can check out tools and spend hours building forts without supervision. But if you can't make it out to Governor's Island to play at play:ground NYC's The Yard, your kids can come to the pop up play:ground at Christ Church in Cobble Hill on June 15th from 12pm- 3pm to "create, build and dream big using recycled materials and loose parts" in the courtyard. All ages, rain or shine. Christ Church, Courtyard, 326 Clinton St., Cobble Hill. Free.
GO: Mermaid Parade
On June 22nd, at 1 pm, the most outrageous parade takes place out in Coney Island. Thousands of people come to watch and participate in the Mermaid Parade, the nation's largest art parade and a celebration "of ancient mythology and honky-tonk rituals of the seaside." It's a very fun event for the whole family, but it really does get extremely crowded, so strollers and parking are pretty much impossible. Plus, be on the alert for some half-dressed mermaids, if you feel that is inappropriate for your delicate children's eyes. Otherwise, if you can brave the crowds you can register to march or just watch for free and have a memorable time following King Neptune and Queen Mermaid, Coney Island native Arlo Guthrie and his sister Nora, through the neighborhood. The Parade will start at West 21st Street and Surf Avenue, Coney Island.
GO: Public Pools Are Open! 
Hot enough to jump in a pool? Good news! The city's public pools are open for business on Thursday, June 27th. Don your swimsuit, bring a towel and lock (for vaulables) and you're all set to go. During the week the pools tend to be less crowded and if you can get there then, there is no better way to spend an afternoon. Also, the outdoor public pools all now have sunscreen dispensers, with free, broad-spectrum SPF 50 sunscreen. Go to https://www.nycgovparks.org/facilities/outdoor-pools for a list of Brooklyn pools. Outdoor pool hours are open daily from 11:00am through 7:00pm, with a break for pool cleaning between 3:00 and 4:00pm.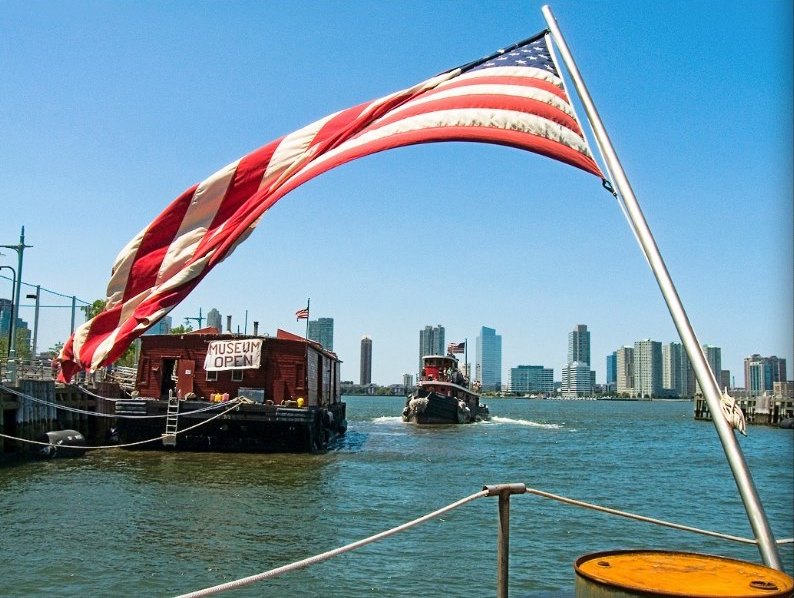 GO: Circus Afloat
In celebration of the 25th anniversary, The Waterfront Museum is kicking off its season with a circus celebration. Circus Afloat will encompass four different shows each featuring entertainment like vaudeville, clowning, puppetry, clowning, circus and more, all floating on the historic barge. The first show, Travels With Tricksters,  hits the water on June 30th at 2pm, and will mesmerize viewers with juggling, music, magic, amazing stilt dancing, and audience participation. The Waterfront Museum, 290 Conover St., at Pier 44, Red Hook. Tickets: $15-$18.
Read: Smart Diaper
Are we living in the age of smart diapers? How would our lives/wallets be different if diapers came equipped with a Bluetooth sensor that told us if it was time for a change? Isn't that what our noses are for? Births have decreased in recent years, but companies are finding ways to make consumers pay more for childrearing gear, according to this article in Vox. "That puts Huggies squarely in line with other companies advocating seemingly unnecessary tech infusions into ordinary hygiene products on the bet that it will widen their profit margins." I can't see many benefits, except for now when someone asks if your baby just took a dump, you can safely say, "There's an app for that." Happy start to summer!