Back to it, everyone! While the end of summer means shorter days, more work, less beach, and fewer barbecues, the upside of the change in seasons is that fall in NYC is invariably a bonanza of festivals, screenings, art openings, and book readings, and there's enough happening in the month ahead that you might forget to be sad that jeans and sweater weather is nearly upon us. Everyone's back from August hiatus, whether they were actually away or just mentally checked out, and the result is that you can look forward to new programming at the city's various cultural institutions; the return of popular annual traditions like the Brooklyn Book Festival and the New York Film Festival; and new book, television, and movie releases timed for maximum impact. Below, I've rounded up some upcoming cultural events this month that caught my eye— read on and start making plans for a September full of creative inspiration.
1. "Resonant Bodies," Sept. 3-5
We're back to school, back to work, and generally back to the grind, so if you're looking for something new and different to keep things exciting this week, consider buying a ticket to experience Resonant Bodies at Roulette, a cutting-edge classical music festival that is uber creative, artist-driven, and unlike anything you've ever seen or heard before. Case in point: one of three performances on the first night of the series weaves together ASMR, drone, free improvisation, ambient, and the 80s power ballad; the closing show features a world-renowned mezzo-soprano signing a mashup of of disco, rock, and opera in bearded drag. Each of the three evenings in the series consists of a different program, and you can buy tickets to all three or for individual dates.   
2. Willie Nelson Sept. 11 and Brandi Carlile and Mavis Staples Sept. 14
One major bummer about the end of summer is that the outdoor concert season draws to a close, but thanks to Forest Hills Stadium we can take in a few more great shows. One of those is the Outlaw Festival with Willie Nelson, which is happening on Saturday, September 14. The country legend is performing with neo-soul star Nathaniel Rateliff and the Night Sweats and Alison Krauss, and tickets are still available, so you can still squeeze in another sunset concert before the clocks change and it starts getting dark at 4pm. 
Later in the month, singer-songwriter Brandi Carlile and soul/R&B legend Mavis Staples will share the bill at Madison Square Garden in what promises to be an epic show.
3. 9/11 programming at Brooklyn Historical Society, Sept. 11 
It's hard to get my head around it, but it's been 18 years since the uniquely awful day in history that changed New York City forever. Honoring those who were killed and the collective loss of innocence experienced by the rest of us in a way that feels right and resonant on this always grim anniversary is not easy, but Brooklyn Historical Society has risen to the occasion with a day-long screening of Wolfgang Staehle's "2001," a dual-channel video presentation recorded on webcams that had been previously set up in Brooklyn and ended up capturing the impact of the hijacked planes and the collapse of the World Trade Center in real time. Afterwards, a panel entitled Narrators of 9/11: The Power of Word, which consists of three writers who have endeavored to document and process the lasting impact of the tragedy, will convene to discuss their work and the strengths and limitations of using writing as a medium to address such a momentous, devastating event.      

4. Photoville, Sept. 12-22
Starting on September 12, 65+ shipping containers placed under the Brooklyn Bridge will be repurposed into galleries for Photoville, an extremely popular and free immersive photography exhibition now in its eighth season. This year's display will include the work of more than 600 visual artists, and organizers expect nearly 100,000 visitors over the course of the 10-day run. A series of photographs capturing the experiences of 18-year-old girls in different countries all over the world, an examination of Spanish Harlem in the 1980s, and an exhibit entitled Silicon Valley Grows Up are just some of the many installations that sound intriguing—the full list is here. In addition to the unique gallery experience Photoville provides, there is also a variety of programming, including nighttime projections, workshops, panel discussions at St. Ann's Warehouse, demos, a beer garden, and a range of food vendors. 
5. Josh Gondelman, Sept. 17
Being a super nice guy and a great comedian don't necessarily go hand in hand, but writer/producer/standup comic Josh Gondelman, who has won numerous awards for his work on Last Week Tonight with John Oliver and is a regular performer on the late-night circuit, seems to have figured out the right balance. On Tuesday, September 17, he'll be at The Bell House celebrating the release of his new book, Nice Try: Stories of Best Intentions and Mixed Results, a collection of essays about what happens when you always try to do the right thing and, as you may have guessed, what happens can be hilarious. Gondelman will be joined by fellow funny people Gary Gulman, Emmy Blotnick, Karen Chee, and The Lucas Brothers, and your ticket price includes a copy of the book.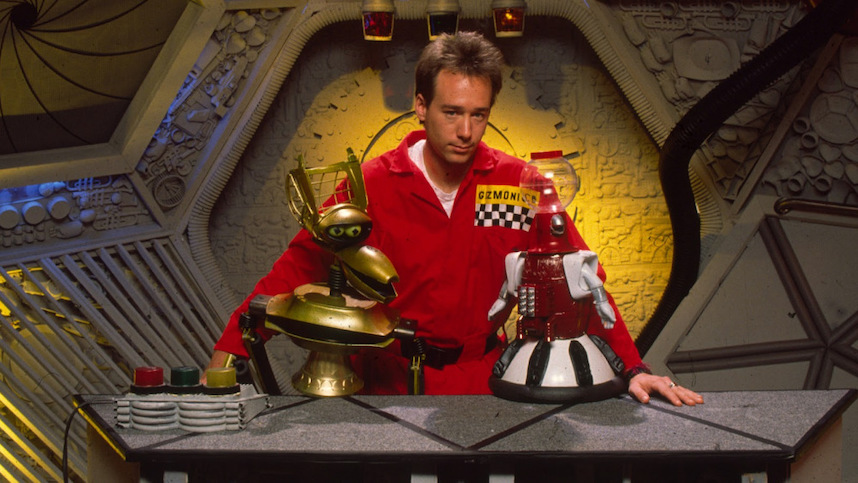 6. MST3K at Kings Theatre, Sept. 19-20
When I was in middle school, I logged what I now think may have been a weird amount of hours watching Comedy Central, which laid the groundwork for my lifelong love of standup but also introduced me to Mystery Science Theater 3000, a show I watched incessantly for a few years but sort of lost track of in high school and college. The premise is kooky and a little juvenile—a janitor is trapped in a satellite by mad scientists who force him to watch realllllly bad B-movies, while he provides live commentary along with 3 robot pals he built—but that didn't stop the show, which has had several revivals/iterations over the past three decades, from becoming a cult classic, being named one of the Top 100 TV shows of all time, and winning a Peabody Award and multiple Emmys. On September 19 and 20, creator Joel Hodgson will be hosting two live shows at Kings Theatre as part of The Great Cheesy Movie Circus Tour, the third and final series of live performances. The featured movies are the decidedly not-good-sounding No Retreat, No Surrender and Circus of Horrors, and writers and guests from past versions of MST3K will be in on the action. 
7. Vendy Awards, Sept. 21
Way back in 2005, four street vendors slinging takeaway food out of mobile kitchens met in a garage space as part of the first ever Vendy Awards, a friendly competition designed to help raise the profile NYC's diverse array of street food vendors. That mission has unquestionably been accomplished in the decade and a half since then– food trucks are now king around these parts and the beloved annual tradition has grown to encompass dozens of vendors representing cuisines from all over the world and operating in all five boroughs of the city. So it is bittersweet that this September 21 will mark the 15th and final Vendy Awards, which will bring a mix of old and new competitors, as well as thousands of hungry mouths to feed, to a giant cookoff on Governors Island. Tickets start at $60, which includes unlimited food and drink. If you've ever wanted to take part in this iconic event, now's your last chance.
8. Brooklyn Book Festival, Sept. 22 
September means the return of the Brooklyn Book Festival, which is as big and impressive as might expect for the signature literary event of a borough that so many famous writers call home. As in years past, hundreds of writers will take the stage to discuss and sign their books, although the scheduling specifics are still TBD, this year's lineup includes Joyce Carol Oates, Meg Wolitzer, Jonathan Safran Foer, Tea Obreht, Alison Roman, DeRay McKesson, Mary H.K. Choi, Matt Taibbi, and Nell Zink, among many other big names. In addition, 250+ publishers and booksellers will be there selling all kinds of great titles to get your reading habit back on track for fall. 
9. New York Film Festival, beginning Sept. 27 
The New York Film Festival is one of the longest-running and most prestigious film festivals in the world, and it's coming back to Lincoln Center for its 57th year starting on September 27. The 2019 slate includes movies from 17 countries, beginning with the opening night world premiere of The Irishman, a new Netflix flick directed by the one and only Martin Scorcese and starring Joe Pesci, Al Pacino, and Robert De Niro. People are pretty excited about that one, to put it mildly. Other highlights include screenings of Noah Baumbach's Marriage Story, starring Adam Driver and Scarlett Johansson; and Edward Norton's adaptation of Jonathan Lethem's Motherless Brooklyn. Tickets to all NYFF events go on sale to the general public on September 8. 
10. The
Politician
, Sept. 27 
Based on the cast alone, it seems that The Politician, a new comedy from Ryan Murphy and the rest of the team behind Glee about the 1% behaving very badly, is the must-watch TV show of the season. Ben Platt, who was absolutely electric in the titular role of Broadway's Dear Evan Hansen, is joined by a star-studded roster of actors including Gwyneth Paltrow, Jessica Lange, Dylan McDermott, Bette Midler, January Jones, and Judith Light, in this story of a wealthy, entitled Santa Barbara high school student who will not allow anything to get in the way of his presidential aspirations. It premieres on Netflix on September 27.
Note: We deleted a previous listing for a Morrissey concert after a reader brought to our attention his support for far-right politicians and white nationalism, a worldview we do not condone or wish to promote.