Give the gift of love & community by shopping Made in NYC. The Made in NYC Holiday Gift Guide offers up a selection of covetable items curated from its community of 1,300+ businesses committed to making their products right here in the five boroughs of New York City. Each product featured in the guide is made in NYC neighborhoods—from the South Bronx to Sunset Park, Long Island City to the Garment District & beyond.
Check out dog treats made in the Bronx, marshmallows whipped up in Manhattan, a Brooklyn-made candle, hot sauce from Queens, and more. Keep your dollars within the city limits this holiday season by shopping from fellow New Yorkers who are making it here.
Made in NYC (MINYC) is a non-profit initiative that supports thousands of New York City's manufacturers by giving them the tools to grow their companies so they can continue to make, live and grow in NYC. MINYC helps brands making everything from hot sauce to handbags to bicycles to tell their stories. Made in NYC is an initiative of the Pratt Center for Community Development and is generously supported by the New York City Council.
Receive a special Made in NYC discount when you use the code "MINYC" to receive 15% off these gifts, below and in the Made in NYC Holiday Gift Guide, until December 20th.
For Party People
Pebble Tumbler, $44
Helen Levi Ceramics
MADE IN QUEENS
Handmade from marbled black and white stoneware slips, this pebble is the perfect vessel for a holiday cocktail as you and your party guests cozy up to the fire. Helen Levi, a native New Yorker, makes functional ceramics at her studio in Ridgewood, Queens.
---
The Love Elixir (Cocktail Infusion), $35
Salut
MADE IN QUEENS
Salut's plant-based cocktail infusions are made with natural ingredients known to inspire sexual wellness – just add liquor! Hannah Matthew and Hannah Brock launched Salut in November 2019. The Hannahs were tired of only have sugary or tasteless drinks options, or ones with ingredients they couldn't even pronounce, so they created Salut – a drink you don't have to feel guilty about.
---
Hot Sauce Trinity, $15
Queen Majesty Hot Sauce
MADE IN QUEENS
Turn up the heat with Queen Majesty's hot sauce trinity: three vegan sauces ranging from medium to very hot: Jalapeno Tequila & Lime, Scotch Bonnet & Ginger and Reb Habanero & Black Coffee. Erica Diehl aka Queen Majesty has been making hot sauce for family and friends for almost over 15 years. Since 2013, Queen Majesty Hot Sauce has been proudly manufacturing vegan, gluten and sugar-free hot sauces in NYC.
For Homebodies
Reggie Bib Apron, $75
Jones of Boerum Hill
MADE IN BROOKLYN
The Reggie Bib Apron is a classic for the home chef with adjustable straps, a small chest pocket and a larger hip pocket equipped with three separate storage compartments to keep your tools and kitchen accessories right by your side. Iestyn and Deirdra Jones founded Jones of Boerum Hill in 2012. Deirdra brought design and production expertise and Iestyn his 15 years in sales combing with their mutual love for designing workwear and their company was born.
---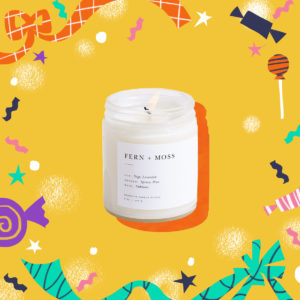 Fern + Moss Minimalist Candle, $24
Brooklyn Candle Studio
MADE IN BROOKLYN
Inspired by the dewy and beautiful Fern Canyon of Northern California, the Fern + Moss Minimalist Candle by Brooklyn Candle Studio will bring nostalgic and cozy memories of nature and wilderness all holiday season. All Brooklyn Candle Studio candles are vegan, cruelty-free, phthalate-free, and petroleum-free. Tamara Mayne, Founder and Creative Director Of Brooklyn Candle Studio is a fragrance obsessive designer who founded Brooklyn Candle Studio in 2013. A former art director in the fashion industry, she sought to create beautifully packaged natural candles at an affordable price point.
---
Kadidja's Workout Secret (Natural Balm), $34
Kadidja Handmade Collection
MADE IN MANHATTAN
Packed with organic shea butter, camphor, comfrey leaf, beeswax, and Vitamin E oil, this natural balm uses soothing, anti-inflammatory, and pain-relieving essential oils to give achy muscles the care they need after leg day at the gym. Kadidja K. Lamport grew up in West Africa and came to New York City in 2002. In 2015 she founded Kadidja Handmade Collection creating all-natural skincare products made of 100% African Shea nut butter and essential oils.
For NYC Kids
Organic Cotton Children's Romper, $48
Winter Water Factory LLC
MADE IN BROOKLYN
Surprise your little one with this roaring romper from Winter Water Factory. Made from 100% Certified Organic Cotton this long-sleeve romper has lap neck openings for quick and easy on and offs, and 7 snaps along the inside of the legs with the strength to withstand wriggly babies and many trips through the washing machine. Stefanie Lynen, Owner & Chief Creative Officer of Winter Water Factory learned her most important skills in German Kindergarden – crafting and drawing and making things! After a long detour all the way through med school, she came back to crafts and design in the early 2000's after moving to NYC. She runs Winter Water Factory with husband and co-owner, Todd Warnock.
---
DIY Hot Chocolate Kit, $30
Squish Marshmallows
MADE IN MANHATTAN
Cozy up with some scrumptious Squish Marshmallows hot cocoa! The DIY Hot Chocolate Kit is complete with hot chocolate mix, a 6-pack of your choice of Squish Marshmallows, and a Squish Marshmallows mug for optimum deliciousness (hand-wash only). Katherine Sprung is the owner of Squish Marshmallows, a small batch, hand-crafted marshmallow company started in 2014. Before starting Squish Marshmallows, Sprung worked as a nightlife DJ for a number of years, and also at a tech startup, and currently still works as a commercial voice-over artist.
---
Ani-Gram-It Board Game, $45
na2ure
MADE IN MANHATTAN
Engage your curiosity for nature and keep the mind sharp with Na2ure's Ani-Gram-It Board Game. With a reversible board and 100 colorful chit board tiles, the game mimics and celebrates the great beauty of the natural world and is built sturdy enough to last for years. Alex Wolf, Co-Founder of na2ure with Dr. Vijal Parikh, a psychiatrist, Alex knows children are bright creative thinkers, in early childhood especially, and need literal, and figurative, space and tools to express their imaginations.
For Dog Lovers
Faux Leather Dog Motorcycle Jacket, $75
Coolblue Dog Apparel
MADE IN MANHATTAN
Surprise your pup with a jacket that will turn all the heads at the dog park. Made in the Garment District with black quilted faux leather, this jacket will ensure your dog stays warm and cozy (but still looking cooler than cool) with a fleece lining. Angela Cuce founded Coolblue with her husband Jair Freire to keep hard to fit breeds donned in high fashion! Stylish, well fitting clothes for their English bulldog, Bruiser, was impossible to find. So they created their own!
---
Gobble-Gobble Krak-ems (Turkey Brittle for Dogs), $12
Little L's
MADE IN THE BRONX
This delicious dark amber "al dente" turkey brittle is made from premium skinless turkey breast that is packed with protein and selenium, which boosts the canine immune system. Little L's Artisan Dog treats are made with entirely human-grade, local poultry, with no additives, antibiotics, hormones, or preservatives. Lenny Forde, Co-founder of Little L's is an artist, entrepreneur and a doggy daddy, originally from Caribbean. When Lenny is not developing new recipes for dog treats or attending pawsome dog events, he likes to travel, paint and spend quality time with his dogs Lilly and Lulu.
---
Modi Holiday Scarf, $28
finn + me
MADE IN BROOKLYN
Get your puppy in the holiday spirit with Finn + Me's Modi Holiday Scarf. Embroidered on quality corduroy fabric, your furry friend is sure to have that 'fresh from the groomer' look all season long. Oh, and did we mention it's reversible? Two looks in one! Rebecca Fadden is the Founder and Designer of finn + me. After working in the Fashion Industry in NYC for nearly 10 years, Rebecca decided to combine her love of Fashion and Dogs by launching finn + me in 2017.
For Fresh Looks
Sue Rock Originals Fall Scarf, $45
Sue Rock Originals
MADE IN BROOKLYN
Knit and blocked by hand, Sue Rock Originals' Fall Scarf is an infinity scarf made with sustainable fabrics that are soft and comforting to the touch (handwash only). Owner Sue Rock is a woman of profound influence in both the fashion and non-profit sectors. She is at the helm of Sue Rock Originals, a sustainable brand creating womenswear, accessories and home furnishings.  Working solely with reclaimed fabrics from NYC's garment industry for over 14 years. Spurred on by the loss of friend due to domestic violence, Sue Rock Originals donates 50% of the profits from each scarf sold to support survivors of domestic violence. The 501(c)3 charity Sue Rock Originals EVERYONE, was created to provide textile training, empower people and restore skills.
---
The Bronx Brand Skully, $20
The Bronx Brand
MADE IN THE BRONX
There's just something special about The Bronx. Personify the grit and resilience of the BX with The Bronx Brand's Skully cap. The Bronx Brand showcases the creative genius uniquely found in the Bronx, inspiring fellow New Yorkers to create work they are passionate about, and catalyzing cultural change. Co-Founders Michael and Tiarra Hamlett in 2015 an apparel line, magazine, podcast, and web series showcasing the creative community in the Bronx.
---
Kitty Stardust 3D Printed Pin, $10
R+D
MADE IN QUEENS
This 3D printed pin is fun kitsch and pays homage to David Bowie's Ziggy Stardust. Each pin is .75 inches wide and .89 inches tall with a brass post and 3D printed using polylactic acid (PLA), a biodegradable and bioactive polyester that derives from renewable resources, like corn starch, cassava root, or sugarcane. Rebekah Thornhill owner of R+D is a digital fabrication designer focused on sustainable materials. R+D found its start in 2017 with 3D printed jewelry that is bold and fun. She will make anything if it will make someone laugh.