Papaya salad, or somtum, might be the balm to your winter blues. When it's done right, consuming a fiery, funky, peanut-y, citrus-forward bowl of somtum is like eating sunshine until it makes you sweat. At Somtum Der, a Northeastern Thai spot that recently expanded from the East Village to Red Hook, they offer a handful of authentic takes on the fresh papaya salad. But here's a word of warning: once you've experienced this assault on your senses, you might be forever ruined for the ho-hum somtum at your run-of-the-mill neighborhood Thai joint.
Red Hook's Somtum Der is about half the size of its Manhattan location, but has the same summery look, with red bar stools and rattan lampshades hanging overhead. It also has the same full-steam-ahead approach when it comes to the strong flavors of Isan cuisine. Each version of somtum is studded with Bird's Eye chilies, crunchy long beans, and juicy tomatoes. If you love fermented fish sauce and the slightly silty flavor of stony, black-bodied field crabs, then the tum poo-plara is the papaya salad for you. Personally, I find more pleasure in the simpler tum Thai (the most straightforward of the papaya salads, with little to distract you from its fire-and-lime vibes) and the tum Thai kai kem (the original, with the addition of a salty, soft-yolked boiled egg).
At lunch time, you can get a perfect Thai meal of somtum, a deep-fried chicken thigh, and a side of sticky rice for a mere $14. That's a lot of bang for your buck, without wading too deeply into the sea of fermented fish funk. The juicy, generously-sized chicken thigh, with its crackly, crunchy skin, is sprinkled with fried garlic and served beside a bold dipping sauce, rich with chili, sweetness, bright lime, perhaps a touch of sour tamarind, and of course, some fish sauce.
One thing the Red Hook location has that the East Village location doesn't is jaew hon, a Thai hot pot for 2 or more diners to share. A clay pot of broth is heated at the table until it begins to bubble over. We were presented with a bowl of greens, a platter of raw meat, fish, and egg, some chili paste, and a trio of dipping sauces. And then we were instructed to dip the thinly sliced beef into the raw egg in the center of the dish and submerge it in the broth until it appeared to be cooked. This was easy enough, as was cooking the shrimp, which turns pink when it's ready, but what about the ruffled white tripe, the thick rolls of carefully scored squid, and the saucy pile of liver? Help!
As much as I appreciate the fact that Somtum Der doesn't dumb down their flavors, I found the hot pot to be challenging for a leisurely meal. There are online guides to cooking vegetables in a hot pot, with recommended times for most of the ingredients spread across our table, but I wanted to see what might happen without a cheat sheet. This wasn't the smartest idea. My first piece of squid came out raw, my second too chewy to bite. I consider myself a pretty adventurous eater, but I couldn't stomach the texture of the tripe (that I failed to cook properly), and I'm not sure if I should blame my lack of hot pot skills (or my boring old taste-buds), but the gamey, metallic liver just wasn't for me.
Hot pot woes aside, there's something really restorative about consuming a big, green bowl of Thai basil, cabbage, and water spinach, dotted with pristine enoki mushrooms and bean curd. Wilted in a cauldron of hot, spicy broth, these vegetables make a fine winter warmer.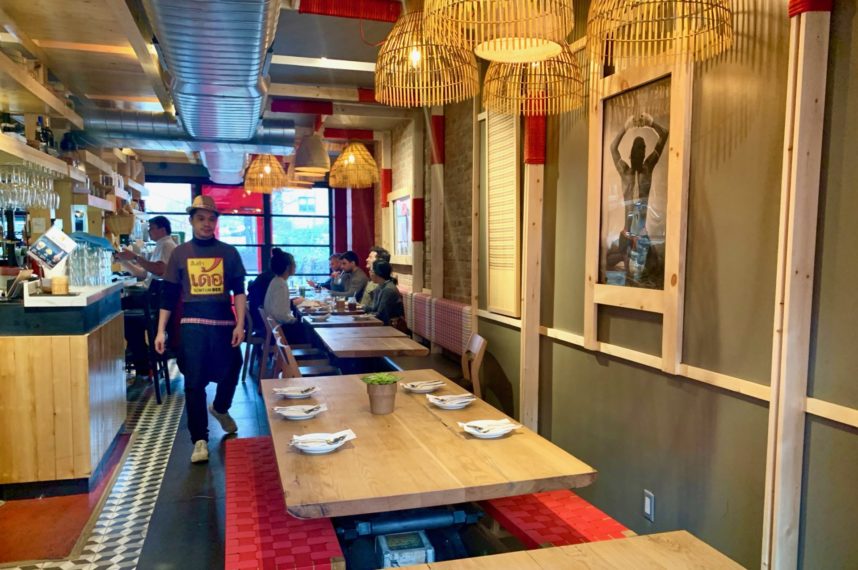 All in all, Somtum Der's Red Hook location is a goldmine for adventurous eaters and hot pot experts—without being a complete danger zone for picky eaters. There are also familiar items on the menu, and you can always wash down a fine plate of pad thai, pad see eiw, or pad kee mao with a mason jar of candy-sweet Thai iced tea. But no matter where you fall on the culinary spectrum, you won't want to leave without tasting their bracing papaya salads and crave-worthy fried chicken.
Somtum Der is located at 380 Van Brunt St, Red Hook; (347) 227-7855.