As far as months of the year go, February gets very little love from me. Emo Phillips said it better than I can in a recent tweet: "February: when the year commits to the bit." It's cold, it's dark, everyone is sick, and it's extremely telling that the first "holiday" of the month, Groundhog Day, is entirely focused on how long we have to wait until this time of year is over. It's easy to succumb to the urge to never leave your apartment, but the problem with that approach is that you'd miss out on a pretty great array of theater openings, museum exhibits, readings, and other cultural events that might do more to improve your mood than any Vitamin D supplement or sun lamp ever could. We've gathered up some of our favorite picks of things to do this month around town (don't worry, there are still a few that you can do from the comfort of your couch, we get it) to help you kick the seasonal affective stuff aside and get out there and drink it up. 
1. Girl from the North Country, Feb. 7
If you missed The Public Theater's production of Girl from the North Country, Conor McPherson's critically-acclaimed play about Depression-era boarding house residents in Duluth that features a songbook of Bob Dylan tunes, you've got another chance to see it when it makes it begins previews on Broadway starting on February 7 at the Belasco Theatre. Given the buzz that surrounded The Public's 2018 production, as well as other runs of the show in London and Toronto, this is probably going to be a hot ticket so I recommend locking seats down before it's too late. 
2. Jenny Offill at Books Are Magic, Feb. 11
Jenny Offill's novel Dept. of Speculation make a huge splash on the literary world when it came out in 2014, and fans have had a long six years waiting for her next title, Weather, which is being released on February 11. On that same night, she'll appear in conversation with Emma Straub at Books are Magic! to discuss the book, which feels "of the moment" as it is about a woman tasked with answering the mail sent to a podcast from listeners from both sides of the political divide. In general, this is an exciting month of new titles from beloved fiction writers, as Colum McCann's Apeirogon, Julian Barnes' The Man in the Red Coat, and Aravind Adiga's Amnesty are all set for release. 
3. Saul and Casteel at New Museum, Feb. 11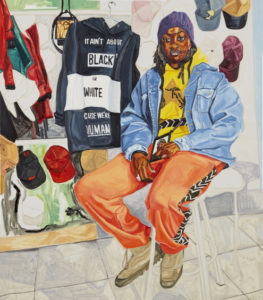 The New Museum has two new exhibitions opening this month, and both sound like they merit a trip, particularly if you can arrange to do it on Thursday evening, when admission is pay-what-you-wish. First up, a retrospective featuring over sixty paintings by Peter Saul across his fifty-year career opens on February 11. Expect to see shocking and horrifying current and historical events depicted in Saul's unique style, which blends bright colors, Pop Art and Surrealist sensibilities with imagery of Vietnam, urban blight, and John Wayne Gacy. Next, the first solo museum exhibition in New York City of the work of Jordan Casteel, entitled Within Reach, opens on February 19. Casteel, who lives in Harlem, captures urban life in large-scale oil portraits of subjects she encounters within the communities in which she lives and works, as well as on the subway. 
4. BAM pop up magazine, Feb. 12-13
Attending the winter issue of Pop-Up Magazine at BAM has become a bit of an annual tradition for me, and I already have my tickets for the 2020 edition of this unique and always illuminating event, which invites a diverse group of journalists, artists, comedians, filmmakers and more to present multimedia works on a variety of topics live on stage. Guest contributors on the slate include New Yorker cartoonist Liana Finck, Daily Show correspondent Jordan Keppler, documentary filmmaker Isabel Castro, comedian/actress Catherine Cohn, and rapper Jinho "Piper" Ferreira, and more. The show will stop in New York for two nights, on February 12 and 13, and tickets are available here. 

5. Ladies' Night R&B Super Jam, Feb. 15
For fans of old school R&B, February delivers a musical happening that will extend the Valentine's Day hangover. First up is Ladies' Night R&B Super Jam on February 15 at Barclays Center, headlined by Maxwell and En Vogue—two acts that dominated the R&B charts for most of the 1990s. At the time of his emergence, Maxwell was heralded as the second coming of Marvin Gaye with his neo-soul sound and loveman persona through his acclaimed breakthrough debut, 1996's Maxwell's Urban Hang Suite. Several years before Destiny's Child, En Vogue was the leading female soul act with such hits as "My Lovin' (You're Never Gonna Get It)," "Giving Him Something He Can Feel," "Free Your Mind" and "Don't Let Go Love." Other acts on the bill that night at Barclays will be The-Dream, Musiq Soulchild, Jagged Edge, Carl Thomas, Mase and Rotimi. It only seemed like yesterday… —David Chiu
6. Vida Americana at The Whitney, Feb. 17
To me, the most exciting part of last night's Super Bowl broadcast was watching J.Lo turn her feathery American flag cape over to reveal a Puerto Rican flag while Born in the USA blared in the background. I admittedly don't care much about football, but it felt good to see a very public repudiation of the Trump administration's shameful treatment of Puerto Rico throughout the course of this presidency. For similar reasons, I'm interested in checking out The Whitney's upcoming show about the enormous impact of Mexican muralists like Jose Clemente Orozco, Diego Rivera, and David Alfaro Siqueiros on American art in the period following the Mexican Revolution. With over 200 works by both Mexican and American artists on display, the exhibition will surely be a powerful indictment of Trump's approach to US-Mexico relations. Vida Americana: Mexican Muralists Remake American Art 1925-1945 opens on February 17.  
7. Death Becomes Her, Feb. 20 
Beginning February 20, Death Becomes Her, a group exhibition featuring ten female-identifying artists whose works explore death and grief and their impact on the living, will be on view in BRIC's Main Gallery. The project is co-produced and co-curated by BRIC and Green-Wood, and will also tie in with accompanying public programs that include performance art pieces by two of the artists in Green-Wood Cemetery in the Spring. 
8. Hunters,
Feb. 21
I wasn't totally in love with either The Irishman or Us, but I'm definitely intrigued by Hunters, a new Jordan Peele-produced TV series starring Al Pacino that will premiere on Amazon Prime Video on February 21. The basic premise follows a team of Nazi hunters living in 1970s New York who discover a secret cell of fascists plotting the rise of a Fourth Reich in the United States. Other notable cast members include Logan Lerman, Jerrika Hinton, Josh Radnor, Lena Olin, and Carol Kane. 
9. SKiNFoLK at The Bushwick Starr, Feb. 26 
Jillian Walker's new concert/play at The Bushwick Starr is billed as an exploration of "the questions and limits (?) of blackness, performance, and country in a sensuous and reflective cabaret experience" that takes place across seven movements, which sounds pretty special. SKiNFoLK: An American Show incorporates blues, jazz, neo soul, pop, rock, and spiritual black music to help Walker and a supporting cast of actors and musicians illustrate her identity and heritage as a black woman in this country, and it opens on February 26 for an extremely limited run, so we would suggest getting tickets now.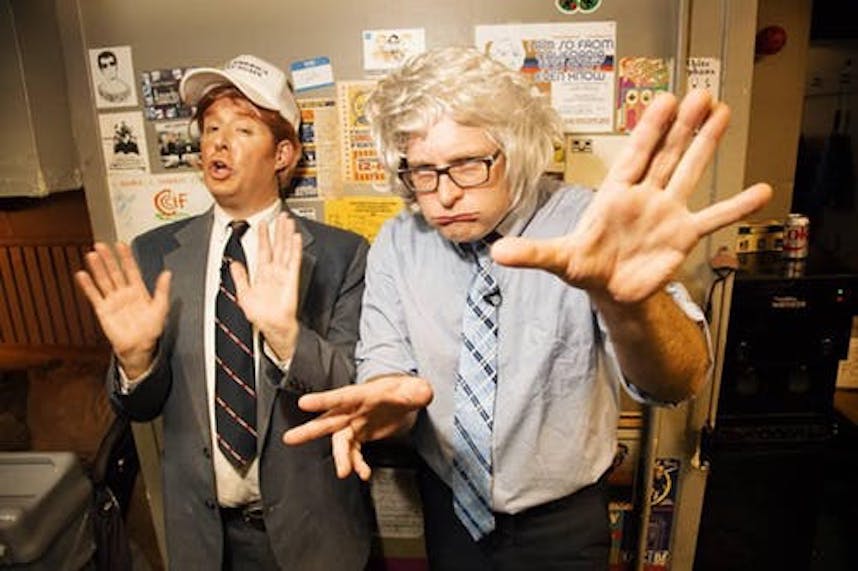 10. Trump v. Bernie, Feb. 27 
As the 2020 presidential race kicks into high gear, it feels more and more like the only way to survive is to balance out the stress and rage and negativity it generates on a daily basis with any moment of levity that can be mined from the debacle. Enter comedians Anthony Atamanuk and James Adomian, who portray Trump and Bernie Sanders, respectively, on Comedy Central's The President Show. On February 27, Murmrr Theatre is hosting Trump v. Bernie, a live debate between the two, which is sure to be a more enjoyable experience than any of the actual interactions between the current president and his Democratic opponents (or anyone else, for that matter) that we'll have to endure as 2020 rolls on.