This has been a very hard week in a very hard year, and like everyone, I'm struggling with a tide of emotions that are difficult to process and nearly impossible to articulate. I have no new or particularly insightful thoughts to add to the current discourse about racism in this country and the failure of its institutions and the white majority to prevent Americans from being murdered on the street in broad daylight by the people who are supposed to protect them, but one inescapable conclusion is that we need to make some drastic changes very quickly. White people like me have to take an honest look at the privilege that benefits us every day, in every interaction, and to that end there are some resources circulating right now that can help, like this one and this one. We also need to be better at speaking up, acting where appropriate, and refusing to be complicit in a fundamentally unjust social contract that benefits us to the detriment of Black and Brown communities. I believe that part of that responsibility includes using any platform available to me to advocate for Black Americans, so this month's Culture Essentials roundup is focused nearly exclusively on the contributions of Black artists, performers, writers, musicians, filmmakers, and more to our vast cultural landscape. New York is still in lockdown for the time being, so the list of real-time events is much less robust than it would be in a normal June, but there are still plenty of ways to get a much-needed dose of cultural exposure from the safety of home. It's also Pride Month, which means that there are related celebrations that may fall short of the traditional parade extravaganza, but will be meaningful nonetheless during this time of national crisis and pain. I hope everyone reading is hanging in right now, and that you stay safe during what will likely be a tumultuous week ahead. On top of its healing and transformative powers, art is one of the most effective ways to see things from someone else's perspective, so please consider making an extra effort to seek out our recommendations this month.
1. Patsy paperback launch, June 1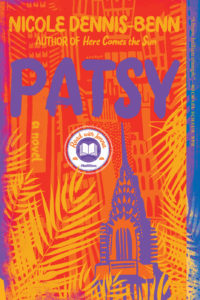 Tonight, The Center for Fiction celebrates the paperback release of Patsy, Nicole Dennis-Benn's novel in which the titular character leaves her daughter behind in Jamaica when she moves to New York City in search of opportunity. The book, which has garnered critical acclaim for its honest exploration of issues related to gender, queerness, and diaspora, is being honored as part of the Center for Fiction's Inside and Out Pride 2020 series in collaboration with the Brooklyn Caribbean Literary Festival. Dennis-Benn will be interviewed (virtually, of course) by feminist writer Roxane Gay tonight at 8pm, and you can register here. 
2. Virtual First Saturdays: Pride!, June 6
This Saturday evening from 6-10pm, Brooklyn Museum is once again broadcasting its free First Saturdays program directly to your home via Zoom, and this month's installment is all about Pride Month. Among the highlighted events on the slate, there will be a hands-on painting workshops, a book talk led by debut memoirists Meredith Talusan and Zaina Arafat, the performance of a new dance work by the artistic director of MBDance inspired by imagination as a mechanism of Black queer survival, and a DJ set from Brooklyn collective Papi Juice, which celebrates queer and trans people of color in nightlife. 
3. Insecure, HBO
I watched and really enjoyed the first season of Insecure, Issa Rae's HBO comedy about the dating lives of Millennial professionals in L.A., but for some inexplicable reason I lost the thread after that and subsequent seasons got buried somewhere in my behemoth "to watch" list. My Twitter feed has been full of high praise for the show's fourth season, which will conclude this month, and I have literally no excuse not to use my many nights at home to catch up on it. The show airs on Monday nights at 10pm and all episodes are available for streaming. 
4. White Fragility, order online
My number one homework assignment to myself this month is to finally read White Fragility, which has been sitting on my shelf for an embarrassingly long time. I am historically not much of a non-fiction reader, but based on everything I've heard and read about sociologist Robin DiAngelo's 2018 examination of White American guilt and silence, it is a non-negotiable must, particularly now, when it is absolutely incumbent upon liberal white people like me to conduct a thorough examination of their own complicity in the pervasive racism and culture of white privilege that has led us to the exact place we find ourselves in now.    
5. The Nickel Boys, order online
Last month's news that Colson Whitehead's The Nickel Boys won the Pulitzer Prize for Fiction was especially exciting because it meant that the novelist joined the rarefied list of writers who have achieved that accolade twice (Whitehead previously won a Pulitzer just a few years back for The Underground Railroad). I read The Nickel Boys last fall and was deeply affected by the fictionalized account of abuse and corruption at an infamous, real-life reform school for boys during the Jim Crow era. I felt so strongly that everyone should read it that it was my go-to Christmas present last year. If you haven't read it yet (or, while you're at it, The Underground Railroad, which is also great), now's a good time. 
6. Jubilee, available for order online
I can't say enough good things about Toni Tipton-Martin's Jubliee: Recipes from Two Centuries of African-American Cooking, and I'm clearly not alone as the cookbook was just announced as the winner of a James Beard Award last week. It is a highly-researched, truly fascinating deep dive on the history of African-American cuisine, and one of the few cookbooks that I've actually taken the time to read instead of just flipping through to recipes that look particularly good. No worries on that front either though, these dishes are delicious (particularly the chicken pot pie with biscuit crust, which is the ultimate comfort food that I confess I've made three times in the past three months).  
7. Da 5 Bloods, June 12
Da 5 Bloods, a new film from Spike Lee, debuts on Netflix on June 12, and it looks pretty great. It's the story of a group of Black veterans who return to Vietnam to recover the remains of their squad leader and a trunk of buried gold, but it also paints a broader-brush portrait of a complicated and unsettling era. Meanwhile, BAM is streaming an impressive list of African film classics through June 14 as part of its annual DanceAfrica Festival.  
8. Derrick Adams at Hudson River Museum, through 8/23
During normal times, I'd be telling everyone to plan a day trip up to The Hudson River Museum to see the current Buoyant exhibition by Derrick Adams, which features striking and colorful portraits of Black people at rest and play (a radical subject matter considering bird watching while Black is reason enough for some people to dial 911). Unfortunately, the museum is currently closed, although there is hope that it will open before the show comes down in August. In the meantime, consider joining Radical Recreation: A Conversation with Derrick Adams and Alison Rose Jefferson, a discussion of the theme of water in modern African American history, from segregation to the present day, via Zoom on June 14.  
9. You're So Brave, June 24
Unless you've been living out the pandemic under a rock, you've probably had someone send you at least one of the perfectly executed Trump lip-sync TikToks by comedian Sarah Cooper. What you may not know, however, is that Cooper is New York-based and regularly co-hosts a weekly comedy show at The Lantern on Bleecker Street with fellow comic Nikki MacCallum. It's probably safe to assume that this month's You're So Brave, which is scheduled for June 24, will be held virtually, but you can register here to learn more. 
10. Code Switch, streaming now
I'm in need of a new podcast to listen to while I spend the inordinate amounts of time cooking and doing dishes that this new life requires of me, and I'm going to give Code Switch a whirl this month. I'm always a sucker for NPR, and I've heard really positive things about this unflinching examination of race through a variety of lenses and often with an expected angle. In fact, an episode from last week entitled Songs Giving Us (Much Needed) Life sounds like the perfect thing to listen to right now.