Outdoor concerts are canceled and vacations may be on hold, but reading is the one summer pastime that the pandemic can't ruin. In fact, it may free up more time than you normally have to read.
Given the urgency of the Black Lives Matter movement, you may be craving a book right now that examines racism in America, in which case I recommend these reading lists from Brooklyn Public Library (or joining our reading group for the book Stamped from the Beginning).
But if you want a book to help you process your feelings during quarantine, or you'd like an escapist read so you can forget your reality entirely, one of the books below will help. We are all emotionally worn out by the pandemic, and just the act of carving out some time with a good book can feel cathartic right now. Here are a few that feel right for this moment to start your summer of reading.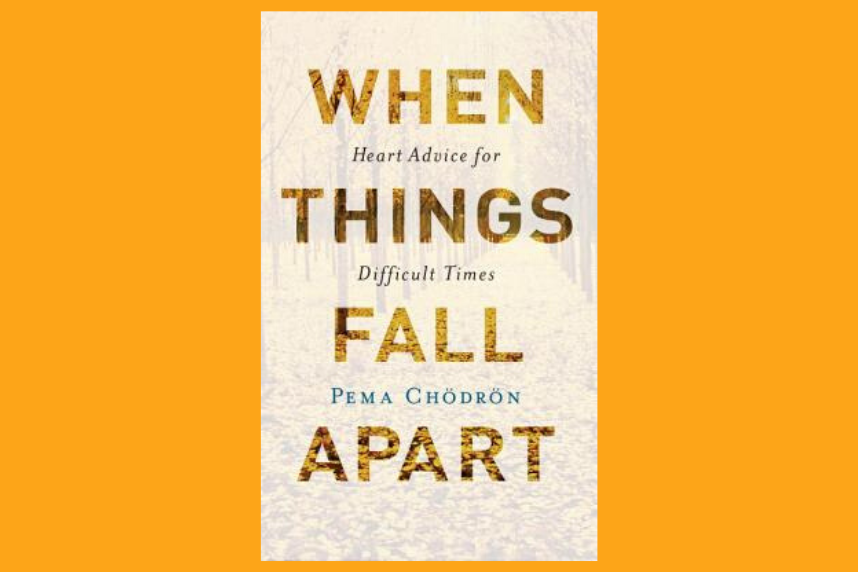 For the past two months, my psychospiritual book club has been taking refuge in the Pema Chodron classic, When Things Fall Apart: Heart Advice for Difficult Times. Each Tuesday evening, we take turns reading a chapter or two aloud and then discussing it. The text is a balm, and includes meditations, reframing, and observations so apt for the current moment—and any moment—that it feels like I want to pass out copies to everyone with whom I come in (virtual) contact. The 23-year-old book is a favorite for many who turn to the book during times of despair, loneliness, or introspection including Krista Tippett, host of the On Being podcast. The May 7 episode features Tippett and freak-folk musician Devendra Banhart in a popup spiritual book club of sorts, reading favorite passages and analyzing them in the context of our current global crisis. Banhart observes that our current moment is a "sledgehammer of now"—an opportunity to truly be present and sit with discomfort. The book offers a Buddhist approach to reflecting on our inner and outer obstacles, in short chapters with relatable anecdotes. This is a book to keep for life, with marked up passages and dog-eared pages reminding us of previous hardships that we've navigated. In that sense, a book about dealing with traumas can actually be a record of our triumphs.—Chrysanthe Tenentes [Note: This book is currently out of stock at Bookshop.org but your local bookseller or Thriftbooks may have a copy.]
It's possible any memoir right now would be suitable for this moment. After being so caught up in my immediate family's lives, I was ready to be in someone else's head for a while, especially one so attuned to the nature of grief. Didion's sad memoir recounts the experience of grieving for her husband, who dies suddenly in their apartment, while their daughter is in the hospital unconscious, recovering from an undiagnosed illness. There are moments when she processes these twin tragedies in a way that feels too insular, such as when she uses passages from her past novels to work through memories. But in taking the time to think through grief and how we emerge from it felt therapeutic. Even if you did not lose someone in the pandemic, being surrounded by the specter of death, and having our lives irrecoverably altered by Covid has taken a toll on our psyches. Reading about Didion's ordeal helps to work through the shock, coping mechanisms, and sadness of being in quarantine.—Nicole Davis

After falling in love with Jemisin's world-building and fantastical storytelling in her Broken Earth trilogy, I was eager to read the first installment of her next trilogy, The City We Became, not knowing I would be reading it in the middle of a pandemic. Turns out that reading about a city that comes together to find an unseen enemy was the perfect selection for a country in lockdown. The book follows up from a short story in Jemisin's collection, When Is Black Future Month?, which follows the embodiment of the City of New York battling an invisible-to-most force. Here, the boroughs of New York—the city's very soul—take on human form to fight an infiltrator determined to destroy the city. While it's not a plague, the story of resilience and determination against difficult odds resonated strongly.—Melissa Locker
One benefit of coronavirus is that noise pollution is down. Without so many cars on the road or planes in the sky, the near-constant hum has gotten quieter, and urban dwellers are hearing bird songs that they weren't able to before. Who better to explain the phenomenon of silence than Erling Kagge, a famed Norwegian explorer and the first person to reach the South Pole alone. This book is essentially the opposite of your social media-addled life.—Meredith Craig de Pietro
So many of us have gone down a baking rabbit hole to manage life in quarantine (while also making it as delicious and carb-filled as possible). And now that strawberries and rhubarb are showing up at the farmers market, I've started working on perfecting my fruit pies, crimping skills and crusts with this cookbook from the famous Gowanus pie shop. The variations in crusts, shapes, crumbles and fillings could keep you occupied year-round, especially since it is organized by season. I've seen reviews critical of some recipes that weren't proofed (the white nectarine and red currant pie recipe, for instance, accidentally omits sugar). But I've had many successes so far, and it's a great overview of styles. Sheet pan, square pies, upside-down pies, galettes, hand pies, mini-muffin tray pies, custard pies, even pies in a bowl are all shared here along with unusual additions like bitters, rose water and cardamom, even beets, to otherwise straightforward fillings. Even so, you won't need all the hard-to-find ingredients to bake a winner.—N.D.
Back in the days when people still regularly commuted to work on the subway, I had a rule that I wasn't allowed to read Samantha Irby on the train. There was just no way to read the essays by the wildly funny and ribald writer without laughing like a loon, which is not a good look on a crowded A train. There is no need for such restrictions at home, though, so there's no reason not to pick up her third essay collection, Wow, No Thank You. Like in her popular blog, Bitches Gotta Eat, Irby offers readers her always hilarious, frank, and incisive thoughts on topics like aging, marriage, bodies, settling down, and life's big moments. It's a side-splitting series of essays that, unless the world has truly beaten you down, will make you laugh out loud wherever you end up reading.—M.L.
If you've been feeling suffocated by the quarantine, you may feel better reading about someone who had it worse. Much worse. Journalist Jean-Dominique Bauby suffered a massive stroke that left him with "locked-in syndrome," which means he was physically paralyzed except for being able to blink his left eye. His resulting memoir took ten months to write, or rather, blink; and he passed away two days after its French publication. After you finish the book, stream Julian Schnabel's beautiful film adaptation.—M.C.P.
When life gets to be too much for a disillusioned twentysomething New Yorker, she decides to just get a little rest. Specifically, a year-long hibernation from which she hopes to return with a newfound invigoration. She embarks on this mission with a nest egg, a kindly bodega owner, one determined friend, and the help of a very unusual (and unethical) psychiatrist with a very easy grip on the prescription pad who doles out a combination of pills that let the narrator quite literally sleep her life away. While the planned somnolence doesn't work exactly the way the protagonist hopes—and it would be a bit of a boring book if it did—the result is an engaging read for anyone who may be dreaming of a yearlong nap to make a pandemic fly by.—M.L.
The narrator of Amor Towles' second novel, Count Alexander Rostov, is a Russian aristocrat who is sentenced by the Bolsheviks to live out his years in the Metropol hotel across from the Kremlin. It's a gilded cage that should feel stifling, but Rostov's many encounters with hotel guests and staff provide as rich a life as he might have had outside its walls, a testament to the way that relationships deepen even in confinement.—N.D
Sag Harbor (2009), Colson Whitehead
Beach rentals may be a thing of the past, but beach reads can transport you back to your favorite summer share. This coming-of-age story by Colson Whitehead is one of the more interesting of its genre, following a Manhattan teenager during his summer in a Sag Harbor enclave of Black professionals within the predominantly white vacation town. An 80s period piece about the Hamptons is perfect for any time, but this summer, it feels like the perfect kind of escape. Crack open a New Coke and devour.—M.C.P.
Followers (2020), Megan Angelo 
This novel tells of a future where influencers spend their lives almost entirely online as audiences around the world watch rapt following their every move. That may seem all too close to reality for those of us who have been living through Zoom meetings, FaceTime calls, and Instagram Live sessions. The story zips back and forth between the years 2015 and 2051. In one timeline, ambitious magazine writer Orla and her roommate, Floss, seek success and fame, while in the not-too-distant future, Marlow is an influential social media star fixated on her ever-fluctuating follower count. The two worlds are connected through a far-too-realistic traumatic event that makes this dystopian tale both futuristic and very, very possible.—M.L.
Depending on who you are quarantining with, you may relate to Stephen King's Misery, about an author who is being held hostage by his stan, Annie Wilkes. She rescues him from a car accident, and is nursing him back to health, and will not let him go…until he writes her a new book. Themes include feelings of being trapped, isolation, and being in a less than ideal work environment. Sound familiar?—M.C.P.