The dating rules have changed. Meeting for a drink to get to know someone at a bar has potentially deadly consequences. As we move into our ninth month of social distancing, everyone is balancing between staying safe at home and the mental necessity of seeing people. For the single folx in NYC, it's even more precarious. Even with a vaccine, it may be a long while until things go back to the way they used to be. Luckily, there's a new app on the scene that launched in May 2020 and will help potential matches get to know each other by playing games before a first awkward Zoom date or meeting IRL. We spoke with Brooklyn-based Dani Fankhauser, one of the founders (along with Andy Ross and Nicholas Reville) of the dating app, XO, about how the social norms of playing games help people to relax, what dating safely during Covid looks like and if a perfect profile photo exists.
BB: Tell me about the origin of the app XO
.
DF: I created XO with two co-founders, Nicholas Reville and Andy Ross. I've personally been a user of dating apps (and websites!) for years. Tinder launched eight years ago, and OkCupid eight years before that, and the space has lacked innovation. Nicholas and Andy are mobile game developers and had created a viral game years ago that they thought would be fun to play with someone you're dating, so we decided to combine dating and games. We think a lot of people are fed up with being judged by their appearance and sending awkward one-liners and want genuine interactions. 
How many users do you currently have? 
We recently celebrated a milestone of 100k users, since launching XO in May, which is 38% growth month over month. XO has a clear differentiator from other apps that people understand right away and we're happy to see the message resonating. 
Unlike other apps, we don't orient people towards a relationship, hookups, or any sort of specific outcome. We're the dating app for having fun. We want you to meet new people and have a fun experience, regardless of whether it leads to exchanging numbers or an in-person meetup.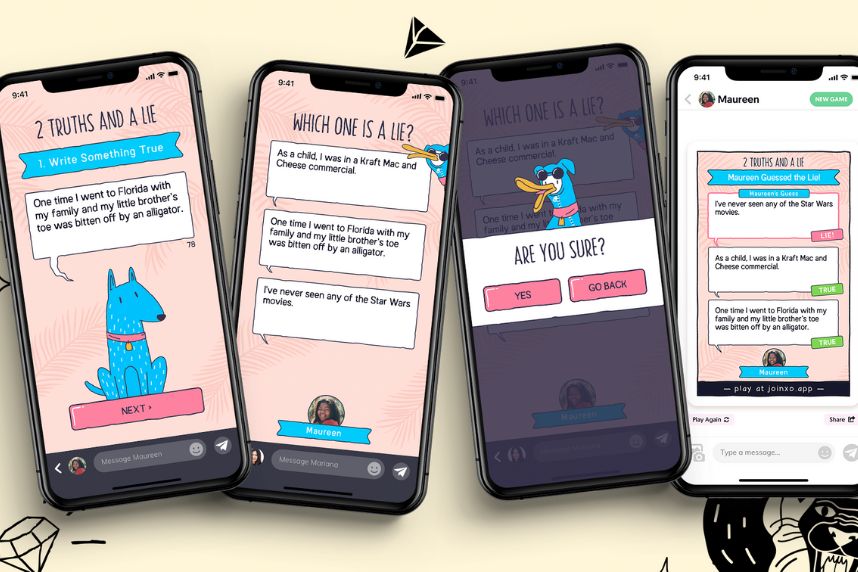 What makes XO different from other existing dating apps?
XO's core differentiator is the games. Instead of matching and then being dropped into a chat, where most dating app matches end because nobody knows what to say, we give people the option to play a game or take a personality quiz together. It changes the dynamic of the app to feel like you're at a party with your friends. When you're having fun, you're more likely to be yourself and feel at ease, which is the magic that makes genuine connection happen. 
When we were testing the app pre-launch, we found users were really eager to play games without knowing what the other person looked like, and that sparked a feature called Blind Date. We've since expanded to more of what we call "match modes," including Group Date, Random, and Third Wheel, which are fun, original ways to connect and play a game without seeing the other person's profile first. 
Are there other hidden benefits that come from playing games?
Games are one of the oldest forms of bonding. It's no accident they're used to help children socialize in school, and in corporate teamwork exercises. The real dilemma is that nobody is born knowing how to interact with a stranger on a dating app, and it's not taught in school. Very very few people are actually good at this. 
Games bring with them a set of norms around interaction, including a back-and-forth of rounds, congratulations or compliment on a good play, and closing out with a high-five or positive sentiment, regardless of the outcome. 
When you play a game on XO, it's harder to treat the other person as disposable or replaceable because you've had fun together. Our users say that everyone they've met on XO has been nice and respectful, which is quite a drastic shift from other dating apps. 
Is the app designed for LGBTQ+ singles too? 
We designed XO to have the best inclusivity settings on the market. Users can identify as any combination of female, male, and non-binary, and choose to be "looking for" any combination of those three categories, and then on their profile, users can write in a more specific identity, so they can express their identity exactly how they would like and are not ever forced to choose something that isn't quite right or "other." Around 30% of our users are LGBTQIA+.
What advice do you have for people trying to navigate the digital dating scene?
As a longtime digital dater, I've found the most important rule is to know your boundaries and your worth. A meme we posted recently on Instagram was "There's plenty of fish in the sea … yeah, piranhas." Dating can be really demoralizing when you start to tell yourself messages like, "I'll never find someone," or "What I want is too much and doesn't exist" or "If I was just more ___, I'd attract someone." A lot of people aren't right for you and it's best to move on quickly. The best way to find someone who loves you for you is to be yourself. And to really live that, you have to remember to not sweat it when someone doesn't "get" you. 
What are some common mistakes people make in their dating profiles—or put another way, how can someone improve their profile? 
Crafting the perfect profile puts a lot of pressure on people. On XO, we require at least one photo that clearly shows your face without obstructions (including sunglasses, your phone blocking part of your face in a selfie, or excessive filters). We want users to feel safe and this level of transparency helps them know who they're talking to. But aside from that, we don't want them to stress about the ideal profile. Once they start playing games, their personality, interests, and humor all come out naturally. 

Do you have advice for dating safely during Covid? 
It's been eight months since quarantine restrictions began, and we have to manage our safety around COVID hand-in-hand with the anxiety and depression that comes from isolation. Depending on your risk and underlying health conditions, dating remotely may make sense, as it did for Gaby, one of our users who met her "soulmate" on XO and interacted exclusively online. For others, it's a matter of managing risk. We worked with a sex educator to write up some guidelines for safe sex during COVID, so people can make personal, informed decisions based on their own situation. 
One perk is that communicating what you're comfortable with due to COVID, be it meeting up in person, holding hands, or more, gives us practice being explicit with our other needs and boundaries in relationships. 
Have you thought about expanding XO for platonic relationships?
XO is primarily designed for dating but we have a few features coming soon that integrate friendships. Friend Group matches you with people who do not fit your dating preferences so you can play a game with platonic matches.
Right now the upcoming feature we're most excited about is called Double Date. Think of how much your genuine humor, personality, and confidence is boosted with your friend by your side. This feature will allow you and a friend to play games together with matches, so you can help vet matches together and have fun in the process. Especially with how isolated people have been through COVID, we're looking forward to creating new ways for people to strengthen and build genuine connections.