I've lived in Vermont for four years now and I still have the dream. The one where I discover two additional rooms in my house that make it perfect. And if I'm completely honest, I'd like three more rooms: another bedroom so that my two kids can each have their own, a guest room, and an office for me that no one else can enter.
Turns out, you can leave New York and your tiny apartment behind, but the longing for more space is forever.
Here's what I've learned from living in a radically bigger home that then also came to feel not quite big enough. You will always want just a little more space. No house is perfect, especially if you have kids, whose needs, and actual physical size are ever expanding. Thriving in small spaces is a valuable skill.
By typical American standards, our current place is relatively cozy. It's a house that was built 100 years ago with an addition from the 1980s, and it's divided into three apartments. The layout is a little weird—there's definitely wasted space that drives me nuts. Anytime I start to grumble though, I mentally walk through the third-floor walk-up in Williamsburg we moved from, where we had to put our Ikea coffee table on the curb because the living room wasn't big enough for our toddler, his toys, and anything else; where we had already added every possible shelf to every closet and purchased every space maximizing container available. Where our hallway was a jumble of bikes and strollers and only worked because the neighbors also had bikes and strollers. It's not just that we have more rooms, plus a backyard, garage, and laundry now, it's that the rooms themselves are bigger. They have closets. And windows—even the bathroom. I have to remember to be grateful for these things.
I hated leaving New York. It wasn't working for our family, but I was still so sad to go that I pulled over and had a panic attack in a gas station parking lot while driving out of town. But then the first morning I woke up and couldn't roll over and touch the wall from my side of the bed, where all my clothes, plus a suitcase, and a laundry hamper fit in the closet, it felt like taking off a pair of pants that were a size too small and slipping into a pair of cashmere sweatpants. I try to relive that expansive sensation whenever I wish for an office door I could close.
Over the course of 13 years I lived in six different apartments in New York, and each taught me a lesson about what I need to be happy. The gorgeous brownstone apartment with the difficult landlord and the too-high rent was one lesson. The very nice apartment that was so far out that I was always on the train or spending my rent savings on car services taught me the value of location. The loft apartment that had no privacy was a clue that sometimes you need walls. And the wonderful third-story walk-up that was great for two and bursting at the seams with three was a masterclass in the difference between just right and too small.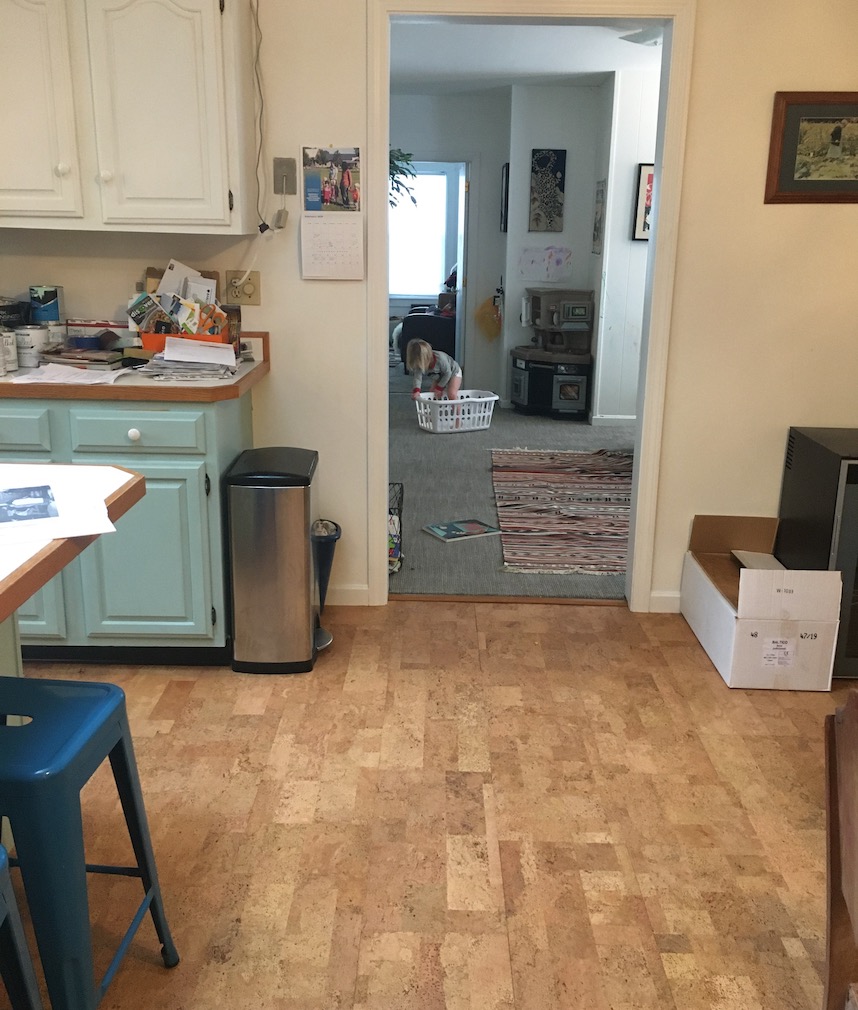 Two years ago we started talking about buying a house, and at the same time, our then-landlord asked us if we wanted to buy the house we had been renting from him. At first we dismissed the idea in favor of something bigger and more architecturally interesting. We felt squeamish about being landlords. But, trained by years of thinking about the cost of housing, we looked at the numbers and realized that we'd be stupid not to buy it. We knew the house was in good repair, that the tenants were quiet, nice, and reliable. And we knew that even though it's not our dream home, things like loving your neighborhood, which we do, and having outdoor space, can far outweigh things like built-in bookshelves and granite countertops when it comes to actually being happy in a place.
What we didn't know was that six months after the sale was final we'd experience a global pandemic, I'd be laid off from the job that made the purchase possible, and if we'd spent the same amount on a house with no tenants our lives would be a lot harder right now.
So yes, as I sit typing this in my bedroom because I needed the door closed this morning and my "office" is a corner of the living room and everyone else in the house is currently shouting, I still dream about opening a door I'd never noticed before and finding more space for myself. But years of finding ways to be happy in all kinds of apartments that were at once wonderful and not-quite-big enough have taught me how to have the sense of enough that the moment requires.