Happy Friday friends, and congrats on being able to go outside in reasonable comfort again! For that reason alone, and even in spite of rainy forecasts for the weekend and unsettling news about the new virus variants spreading in the city, things feel a little more upbeat around here these days, don't you think? I think I've read thousands of articles about people cleaning out their closets or upgrading their apartments during this extended period at home with a mix of annoyance, jealousy, and awe, but last weekend I finally tackled mine (only took a year!) and it does feel freer to be living in marginally less clutter.
That said, my classic "start an unpleasant task and then get bored halfway through and leave home littered with shoddily constructed piles of loose papers that I have literally had movers move from apartment to apartment instead of taking the 10 minutes to figure out where to shred them" approach means I'm still not ready to host a dinner party anytime soon. Dinner parties. . . LOLLLL, remember those? 
Speaking of dinner, I had a lovely one last night in the backyard at Olmsted, which is a great place to meet a friend or two if you have a birthday or some other happy occasion to celebrate and want to spend $$$ on DIY s'mores (that are DELICIOUS). Other highlights from last week include walks with friends I hadn't seen in ages in Bush Terminal Park, Red Hook, and Prospect Park, where we encountered the joyful sight of what seemed like millions of ecstatic kids (and a few adults) sledding down every slope in sight; takeout from Rucola and Double Windsor; and I Care A Lot, a horrifying but entertaining thriller on Netflix starring Rosamund Pike as pure capitalist evil. Otherwise, it was lots of hunkering down and wearing this, the only item of clothing I look forward to putting on these days, around my house. 
I'm hoping to ramp things up a little this week, even if I'm not quite ready to take local government up on their offer to dine indoors or sit in a movie theater anytime soon. A very kind friend surprised me by sending me Plenty, Yotam Ottolenghi's cookbook, out of the blue, so I'm excited to have that and my latest box of vegetables from Misfits to experiment with this weekend. The Golden Globes are on Sunday, but I think I'd rather watch Riz Ahmed, who was nominated for best actor for Sound of Metal,  perform his acclaimed album, The Long Goodbye, via BAM's livestream before it closes on Monday. This article about the much maligned series finale of Lost, the show that made me forever skeptical of addictive, faddish television, is sitting in my queue for when I've got time to read it.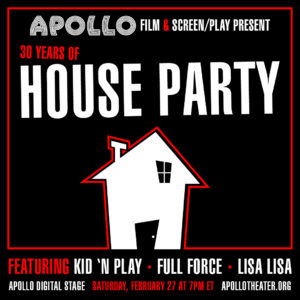 Saturday night's 30 Years of House Party virtual event via The Apollo (with Kid 'N Play, natch) has nostalgia fix written all over it. Hopefully the rain will let up enough to allow for some more walks, and I'm considering a trip to the Brooklyn Museum to see its new KAWS exhibition sometime soon, even though it's an in-person experience. If you're missing museums but are reluctant to visit one IRL, consider tonight's Underwater Happy Hour with the New York Aquarium that Atlas Obscura is sponsoring—a glass of wine and jellyfish sounds like just the kind of Friday night I'm into these days. 
Whatever you do this weekend, please continue to be safe and keep yourself sane. We are almost at the year-mark of this weird new life we've adapted to, and it's time for things to turn around, as the days get longer and the skies get sunnier.