At the height of the pandemic, I made dozens of loaves of banana bread (no exaggeration) and cooked a five-course, fussy French meal for Christmas Eve. But when I was jonesing for dumplings on Chinese New Year, I had a hard time even finding wrappers at the grocery store. "The Asian sections of so-called 'ethnic' aisles at mainstream grocery chains just don't cut it!" says Andrea Xu, founder of Umamicart, a new, next-day grocery delivery service that boasts over 500 products, plus a rotating sidebar of ideas and kits that come with recipe cards. (Similar to subscription meal services like Blue Apron, but without the weekly fee.)
"We spent a lot of time interviewing potential customers," she says. "And after over 80 in-depth conversations, we started hearing some of the same themes, one of them was around wanting to cook something very specific, yet finding it challenging to know and find the right ingredients."
Even Xu, herself, had trouble sourcing the items to cook her favorite Chinese recipes at home before starting the site, and would wind up visiting multiple stores, often without coming across what she was looking for. Umamicart was her dream shopping experience. "I envisioned a one-stop-shop where folks could easily stock up on high-quality and fairly-priced products, and have them delivered right to their doorstep." 
But Xu actually took her idea a step further. Rather than homing in one type of cuisine like most local specialty stores do, Umamicart carries a mix of staples from different East Asian and Southeast Asian culinary traditions, alongside products from inspiring Asian-American founders offering new and personal takes on traditional flavors.
One look at the mouth-watering photos on its website, and I quickly added ingredients to make the aforementioned dumplings, plus Korean rice cakes, snacks, taro black tea, black sesame oatmeal by Crave Natural, fluffy instant rice, and various produce.  
All my current favorite brands, like Mother-In-Law's Kimchee, Pocky sticks, and LKK Black Bean Garlic Sauce, are for sale, as well as tons of meats, seafood, and produce. I was gobsmacked by the quality and size of my snow pea shoots and Napa cabbage, which was enough to feed a small army. And although I'm very picky about where I get meat from, I was dazzled by the Heritage Premium Ground Sakura Pork (and next time would even try the sashimi-grade fish). And the site currently delivers to New York City, as well as certain states in the Northeast region—you can enter your zip code to check availability where you are, and join their waitlist to get an alert when they start servicing your area if they don't already. 
"We're proud of the suppliers we work with," says Xu, and the majority of the products they carry are from businesses founded by Asian-Americans. "Now more than ever, it's an important time to support immigrant-owned businesses and small businesses, particularly Asian-owned ones, as they've been disproportionately impacted during the pandemic," says Xu, who was born in Spain to Chinese parents who raised her primarily in the U.S.
Something else Umamicart stocks its virtual shelves with are items from mom-and-pop suppliers and producers with interesting, yet accessible, offerings like pink pineapple, Five Seasons tea, or Korean golden enoki mushrooms.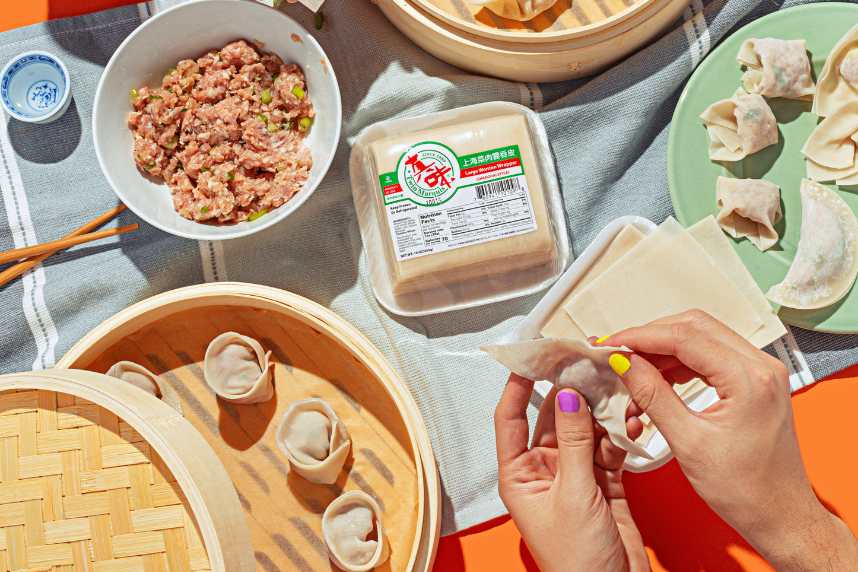 The day that I received my box, I made a variation of Alice Sun's dumplings. I mixed the sesame oil, soy sauce, ginger, pork, and garlic, soaked and squeezed the cabbage, and stirred everything together. Then I wet my fingers and spent a meditative afternoon folding the Twin Marquis Dumpling Wrappers into shape until I had dozens. I panfried them in batches, steaming them at the end, and served them with stir-fried snow pea shoots and a dipping sauce. My family went wild. These were the most delicious of any of my attempts at dumplings. 
Something else I appreciate about the site is that it plans on coming out with different recipe kits on an ongoing basis. They just launched Sweet and Sour Pork Ribs and Golden Salted Egg Shrimp (which uses the snack, Tochi Salted Egg Fish Crisps). These recipes are how I plan to eke out the rest of the pandemic in my kitchen. And when it's all over, and everyone I know is vaccinated, I'm going to organize a decadent "make your own sushi" party or a home hot pot extraordinaire to celebrate. When will that be? Who knows. But with next-day delivery, I'll only need 24 hours' notice.