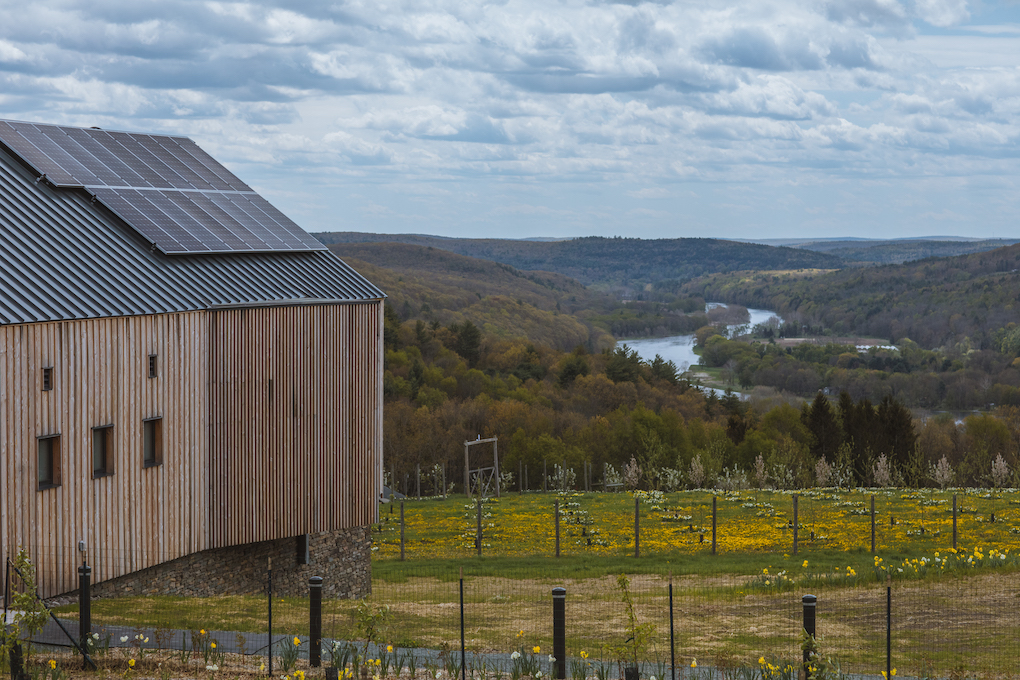 From where I'm standing, rows of apple trees stretch down the hillside toward the Delaware River with only the spire of a century-old seminary to obstruct my view of the valley below. As far as picturesque places for a cider tasting, this has got to be up there. But there's another factor that distinguishes Seminary Hill from New York's growing number of cideries (100 and counting)—it's the only working cider farm in the state where you can also spend the night.
First and foremost, Seminary Hill is a new, eco-friendly, craft cider brand with an orchard, cidery and tasting rooms in Callicoon, NY. But on June 25, they'll open their reimagined take on a historic "boarding house" just three-minutes drive down the hill from the orchard.
For husband-and-wife owners Doug Doetsch and Susan Manning, who still work in Chicago as a lawyer and professor, respectively, this is the fulfillment of a long-time dream, as well as a retirement plan. "We both wanted a second act," says Manning, while touring the property on a hot June day. "And Doug felt so deeply connected to this place."
Doetsch's family goes back five generations in Sullivan County, and part of their motivation was to reinvest in the land and the community that raised him. His grandparents and great grandparents farmed and made their own cider right here. They also took in boarders over the summer months to supplement their income, which is what inspired The Boarding House.
Where Shaker design meets Swedish minimalism
The Boarding House comprises two historic buildings, one formerly a doctor's office (built in 1873) and the other a local hospital, built in the 1930s and in operation until 1970. In fact, many of the crew who worked on the extensive renovation were born right there. Few original features remained when Tom Roberts and Anna Aberg––the husband-and-wife duo behind design outfit Homestedt––stepped in for the remodeling.
"We didn't have much to work with, honestly," Roberts says, going on to describe the '70s-style linoleum flooring and wall paneling they tore out. "But when we started diving into the area's rich history, we found our inspiration."
Just like the boarding houses of old, the heart of each property is its communal areas, including a living room stocked with classic books and vintage furniture, and a Victorian-style parlor kitchen, where guests are welcome to cook themselves a meal and enjoy the daily breakfast buffet. Each of the eight apartments (with seventeen bedrooms in total) also has a kitchenette, living area, and an antique clawfoot bathtub. They're stocked with many items from Roberts and Aberg's homewares store in neighboring Livingston Manor, the epitome of Catskills chic—the feather duster is an object of such beauty it doubles as wall art.
"We imagined how the houses might have looked 100 years ago and added some modern touches," Aberg says. She was inspired by the utilitarian modernism of Shaker design softened by a warm Swedish minimalism. (She's from Sweden herself.) "The combination worked out well," she notes. Everything is wooden or vintage in a palette of pale blues and grays, which make it hard to feel strung out about very much at all––apart from making your way back up the hill to drink more cider.
Have a field day
"The core of the project was to be an estate cidery," Manning tells me. "And to grow our own apples to make cider." While they've planted 1,500 trees, they're still a few years from being mature enough to fulfill that goal, though they're already making small-batch craft cider using heirloom apples from regional farms.
Take a tour of the 12-acre orchard to admire the views (friars from the Seminary below once farmed these fields) and learn from architect-turned-cidermaker Stuart Madany about apple varieties and craft cider production. Planted holistically, each tree is lovingly circled by companion plants—like daffodils, bee balm, and yarrow—to entice pollinators and protect them from attack.
A guided orchard tour ($45) includes a visit to the cidery (the first in the U.S. to receive certification from the Passive House Institute for meeting its energy efficiency standards) with its production facility and cellars downstairs, followed by sampling some ciders in the tasting room above. Tours take place every Sunday at 1pm or a solo tasting is $25 any time.
A room with a view
Odds are cider tastes better when drunk in the vicinity of actual apple trees—the airy tasting room has floor-to-ceiling windows looking out over the orchard beyond. A tasting includes five varieties from the classic dry crisp and sparkling Northern Spy to the more unusual Beechwoods, a still and delicately bitter cider.
You can move seamlessly onto dinner here (the broccoli slaw was unlike any broccoli dish I've encountered) or out on the expansive deck with its Argentinian grill, for the likes of black cherry tamarind ribs––which taste as decadent as they sound.
What else to do in Callicoon
This hamlet may be home to just a few hundred people but it packs an outsized punch, with an indie movie theater (run by a St Ann's Warehouse alum), a handful of restaurants, a book shop, and not one, but two, vintage stores. Here are a selection of highlights.
Sample spirits and nibbles at Catskill Provisions: When you're done tasting cider, wander down the hill and hit up the tasting room of Catskill Provisions to move onto something stronger. The Maple Margarita with their NY Maple Bourbon will make you rethink what a margarita should be. Both their Pollinator Vodka and Bespoke Gin donate funds to protect bees and other pollinators. And while you're here, you'll need one of their charcuterie platters, too.
Shop at Spruce Home Goods: They sell the type of bedding, crockery, and candles you aspire to one day deck out your entire home with, though for now, a single, hand-crafted ceramic mug will do nicely. It's much more than that, however; they sell gourmet sandwiches, fancy local and French cheese, and––since the pandemic––have stocked the international foodstuffs local expats struggled to acquire during lockdown (hello, Marmite and Branston's Pickle).
Wander: The Callicoon Farmers' Market takes place on Sunday at the Callicoon Creek Park, where if it gets too hot while perusing fat, farm-fresh strawberries and foraged mushrooms, you can wander down to the creek, remove your shoes, and take a paddle.
Other go-tos: Litt Home & Book; Ragtime Clothing Exchange; and Callicoon Wine & Tapas Bar.