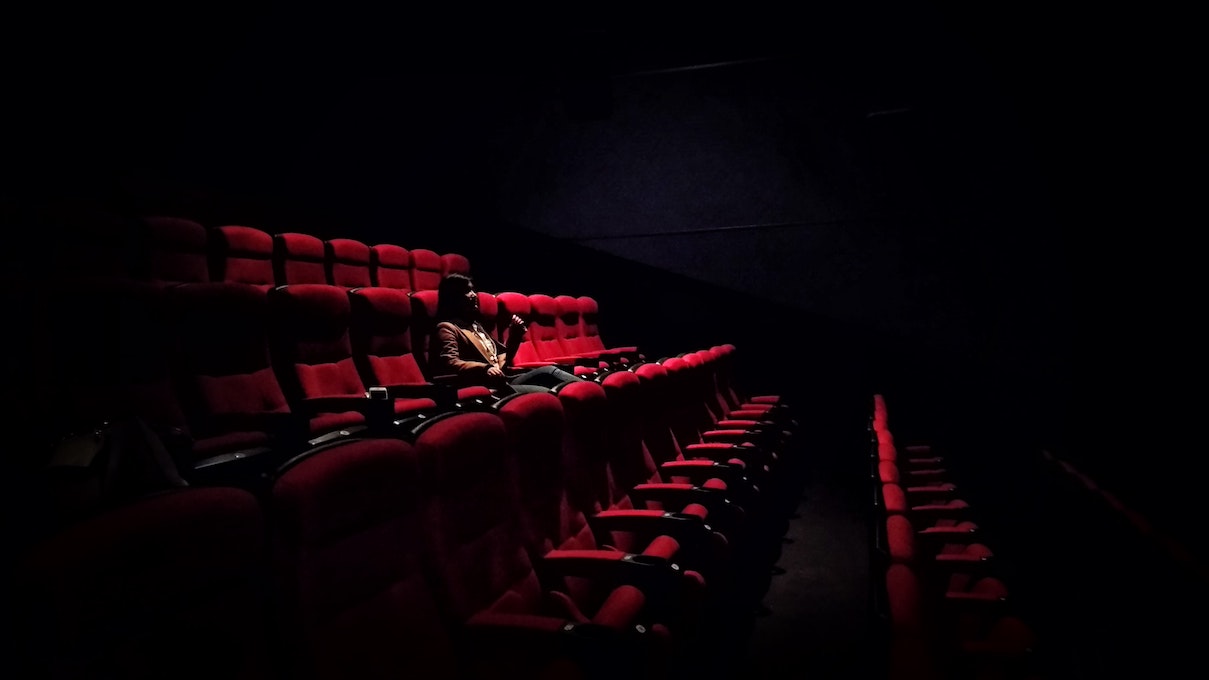 Going to the movies is like visual Xanax for me; I love the experience almost as much as I love the movies themselves—phone off, world off, sipping a Diet Coke the size of my head, air-conditioning at goosebump levels, in front of a giant screen. There was a lot of heartbreak in 2020, a lot of things more tragic than not being about to pay $15 to view a blockbuster. But I just missed having movie theaters as a place to escape it.
Now that cinemas are back open again, however, it's important to recognize that not all of them are open in the same way. With movie theaters as with people, each one is at a different stage in their pandemic safety rules and comfort level. National chains AMC Theaters and Regal Cinemas no longer require masks for vaccinated moviegoers—though there's no vaccine status check on arrival. While AMC still lists COVID precautions on their website, you'll have to do some digging to find Regal's. On the other end of the spectrum, masks, social distancing, and temperature checks are still required at Quad Cinema in the Village, at least as of this writing.
These rules can change fairly quickly, with local laws and individual business's preferences, so it's critical to check each theater's website for information. All that said, it was a thrill to be back, even in this in between world we are currently in. If you're not quite ready to go inside, Syndicated's Sidewalk Cinema series in Bushwick is an excellent choice, outdoors and nicely spaced. Just remember to get their about an hour before showtime.
If you are ready to venture to an indoor theater, here's what you need to know about going to the movies in Brooklyn right now, based on visits to three.
Alamo Drafthouse
At the Alamo Drafthouse in Downtown Brooklyn, I opted for an 11:30am showing of A Quiet Place Part II. I was one of two people in the theater, as not many of us are strategic (read: unhinged) enough to see a horror movie in the morning. Even during primetime, however, two seats on each side of a ticket-buying party are blocked off to encourage social distancing. So is every other sink in the bathrooms. If you buy your ticket in advance, you'll check in right at your seat, but you can still buy tickets at the box office.
Masks are required for moviegoers when not eating or drinking, and staff are masked at all times. There's a slightly shorter menu—which is all online, as paper menus are gone—and guests are encouraged to place food and drink orders with ticket orders to minimize contact, so you're paid up even before you enter the theater. You can still order at your seat though, for any in-the-moment cravings. There were some similarities with pre-2020 moviegoing, though the blocked off seats and sinks, and the masked staff members, were a reminder that it's not 100-percent the same world. Like the House of Wax bar remains closed, but hopefully not for too much longer.
Nitehawk, Williamsburg
My weekday afternoon showing of In The Heights at the Williamsburg location of the Nitehawk was slightly more crowded than my Alamo visit, but the experience was fairly similar. Two seats on either side of any party remain unsold to encourage social distancing.
The Nitehawk website indicates that unvaccinated guests must wear masks except for eating and drinking, but until the movie began, everyone I saw in the building, including staff and moviegoers in the lobby, kept them on. It wasn't until the drinks and the popcorn started flowing that people removed their face coverings, regardless of vaxx status.
While moviegoers can't order food in advance, there are no longer any paper menus, and all orders must be written down with the sanitized paper and pen to limit verbal interactions. As before, you can order both prior to and during the movies, and the menu remains unchanged.
If you'd prefer a post-movie drink or bite, the Lo-Res bar on the ground floor of the building is open, Monday–Thursday 4pm–1am, Friday 4pm–2am, Saturday 11am–2am, and Sunday 11am–1am.
Regal Cinemas, Court Street
Most of the other moviegoers on the Court Street concession line with me were talking about seeing F9, but my 7:10pm showing of Zola, while not exactly full, had more people than the previous two movie theater visits. Just two registers were open on a Thursday night, and signs indicated that said concessions menu was limited, but it seems like the most-popular candy, popcorn, and soda options were available.
Seats weren't specifically blocked off as they were at Nitehawk and the Alamo, though the Regal Cinemas website indicates that they'll follow capacity restrictions in areas of the country that require it. I had most of the row to myself anyway.
Mask wise, it was every person for themselves. Most of the staff members were masked, but it was evenly split for patrons. There was a lot of confusion about the rules. Even though I had looked at the website before I came, and even though no one told me differently. I settled for taking my mask off while drinking. I still wondered whether I was following guidelines—which is the case for many situations in life right now.