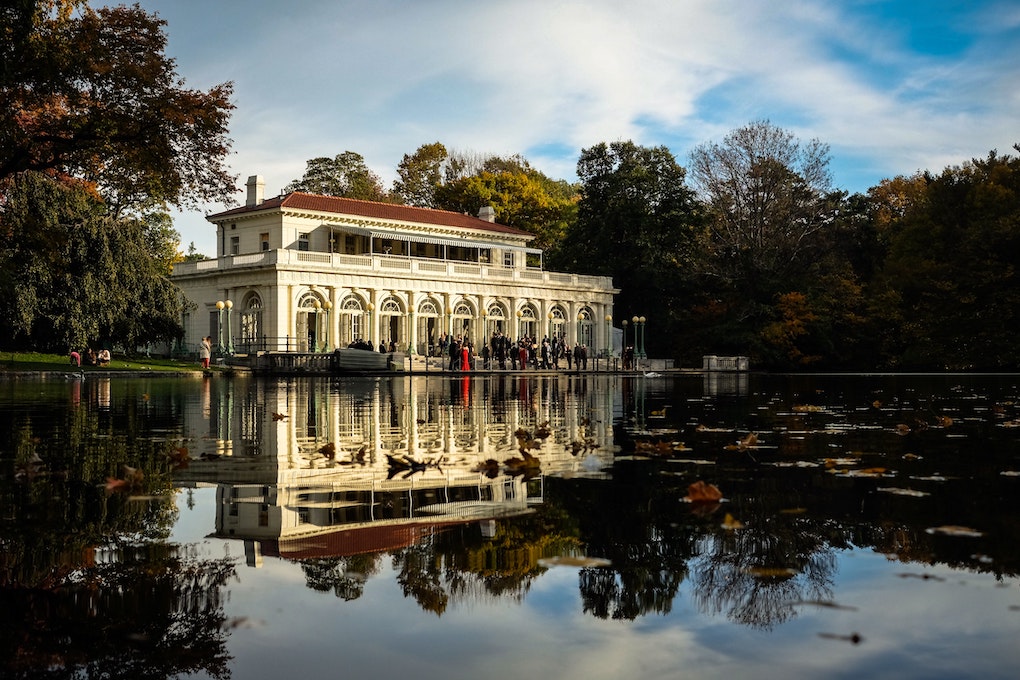 Though its vales, valleys, and ponds are glacier-carved gifts from the last ice age, Prospect Park is as much a marvel of man as of nature. The public green space, which opened in 1867, was designed by the influential landscape architecture team of Frederick Law Olmsted and Calvert Vaux (the duo that designed Central Park), who landscaped 585 acres of terrain into an urban retreat, reflecting their shared belief that a pastoral playground could have a civilizing effect on a growing metropolis.
Lured by the promise of creative freedom, Olmsted and Vaux were drawn back into city park design after an exhausting experience with the "infernal scoundrels" of Central Park in 1857. That highly political process, they felt, had restricted their vision for the park, forcing them to work within a rigid rectangular shape. But James S. T. Stranahan, a philanthropist, politician, and unsalaried head of the Brooklyn Parks Commission—a statue of whom now stands just inside the park, near Grand Army Plaza—assured them that, across the East River, they would be free to create a space that epitomized their vision of an uninterrupted landscape.
At the time, Green-Wood Cemetery was the only major public green swath in Brooklyn. Founded in 1838, this final resting place for many of New York's 19th century luminaries was also a popular spot for picnics and carriage rides around the tombs. Funding was approved for Prospect Park in 1859, but it was stalled by the Civil War, and construction finally commenced in 1866. Though, you could say that the foundation for it was really developed 10,000 years prior.
From glacier to green space
You see, the layout of the park was not entirely the work of Olmsted and Vaux—they had a little help from Mother Nature. The main shape of the plot was formed when a glacier retreated, carving a diagonal ridge through Brooklyn, and leaving an elevation that includes Prospect Heights, Crown Heights, Park Slope, Green-Wood Heights, and Sunset Park. The second highest point on this ridge, and in Brooklyn, is Mount Prospect, at 200 feet above sea level. Its peak was originally included in plans for the park, which was to be called Mount Prospect Park, but was eliminated from the final design because Olmsted and Vaux wanted to avoid the intrusion of Flatbush Avenue, even then a busy thoroughfare, through the serenity of the park.
Another element of an early plan connected Prospect Park to a series of parkways that would form an unbroken green trail from Coney Island all the way to Central Park. In the end, though, only Eastern Parkway and Ocean Parkway were built.
Once construction was underway, it took nearly 2,000 workers to plant trees and other flora, and refine the glacial terrain so that a natural arboreal barrier shielded parkgoers from the sight of buildings outside the park—though today some taller new structures do peek over the trees. One of the biggest additions to the natural landscape was the 60-acre lake, dug using only picks and shovels. Olmsted and Vaux highlighted natural features like Lookout Hill, the highest point in the park, and glacial ponds in the Vale of Cashmere and the serpentine Lullwater by the boathouse.
They created the sweeping Long Meadow by pulling back the edges of an existing field, removing brush, and extracting trees to be planted elsewhere, helped by a newly developed tree-moving machine. The result is the park's crowning feature: a 90-acre uninterrupted lawn, where grazing sheep once maintained the grass. The sheep lived with cows in a dairy, where park visitors could order a glass of milk. The building was destroyed in 1935, though the locavores of Brooklyn may make a case for its revival today.
It's undergone many architectural evolutions
The park and four of its buildings are now listed on the National Register of Historic Places. One of these is the Italianate mansion called Litchfield Villa, built for land speculator and railroad businessman Edwin C. Litchfield in 1857. It now serves as the Park Department's borough headquarters and visitors can stop inside during office hours and see the octagonal rotunda.
Also on that list is the Lefferts Historic House, a Dutch colonial farmhouse that is now a museum (though it's currently closed for restoration), which predates the park, although it was relocated in 1918 from its original location on Flatbush between Maple and Midwood. The Friends Quaker Cemetery, a 15-acre burial site started in the 1820s was also incorporated into the park. Actor Montgomery Clift was buried there at the request of his Quaker mother. The cemetery is closed to the public, but its quiet rows of grey graves can be seen from a fence off of Center Drive by the Nethermead.
The most significant architectural additions to the park, after Olmsted and Vaux, were done by the prolific firm of McKim, Mead & White, whose work in the borough includes the Brooklyn Museum and the Prison Ship Martyrs' Monument in Fort Greene Park. The firm implemented increasingly formal park ideas in a Neoclassical style that was not entirely at home with the rustic American pastoral style championed by Olmsted and Vaux. Examples of these competing styles include Prospect Park's stone walls and elaborate entrances, which replaced Olmsted and Vaux's simple wooden fences and subdued gateways, as well as the Corinthian temple-like Croquet Shelter built in 1905. The white terracotta boathouse at Lullwater, inspired by Sansovino's Library of St. Mark in Venice, was also built around this time.
Even more controversial changes were made under Parks Commissioner Robert Moses, who saw parks as places for active play rather than romantic strolls and pastoral civility. He built Wollman Rink in 1960, destroying one of Olmsted and Vaux's most picturesque vistas; other asphalt-heavy Moses additions to the landscape include playgrounds, the ballfields on the Long Meadow, the bandshell, and the zoo.
Bringing the park back from the brink
Although designed to require very little maintenance, the park is vulnerable to invasive species, erosion, and weeds, and simple neglect accounted for the worst deterioration to Olmsted and Vaux's vision. The decline started after 1915 with management and maintenance cutbacks as a result of a decrease to the park budget. By the 1980s, the park was so unkempt and dangerous that it was seen as a hazard rather than a boon to nearby residents. Then the Prospect Park Alliance was formed in 1987, to help maintain and improve the park.
The Alliance has paid special attention to preserving Olmsted and Vaux's work, rebuilding the designers' rustic shelters with the original methods—no nails, only pegs and dowels to keep the wooden lakeside structures together. An archive kept in the Picnic House has reference materials for Olmsted and Vaux's design, which the Alliance uses for its reconstructions and restorations. It launched an extensive restoration project for the Ravine in 1994, one area that was particularly rundown, so that its bridges and waterfalls are again close to what Olmsted and Vaux intended.
Amidst a once-again-thriving park though, there are still overlooked corners that feel like secret gardens. The Vale of Cashmere, for one—a classical formal garden added in the late 19th century, with a fountain by Frederick MacMonnies in a pond almost lost beneath an overgrowth of plants. There's also the rose garden added in 1895, which has long languished.
Even as Prospect Park maintains the spirit of Olmsted and Vaux by encouraging a peaceful escape from the city, there's something tantalizing about these forgotten and transporting places of quiet. These overgrown spots take you back to another time, when parks were created as more than just picnic grounds or baseball fields, when landscape architecture was first seen as an art, where instead of a canvas there was an unruly terrain, on which each stretch of grass or sudden turn in a forested trail could be like a dash of paint in a sprawling landscape.