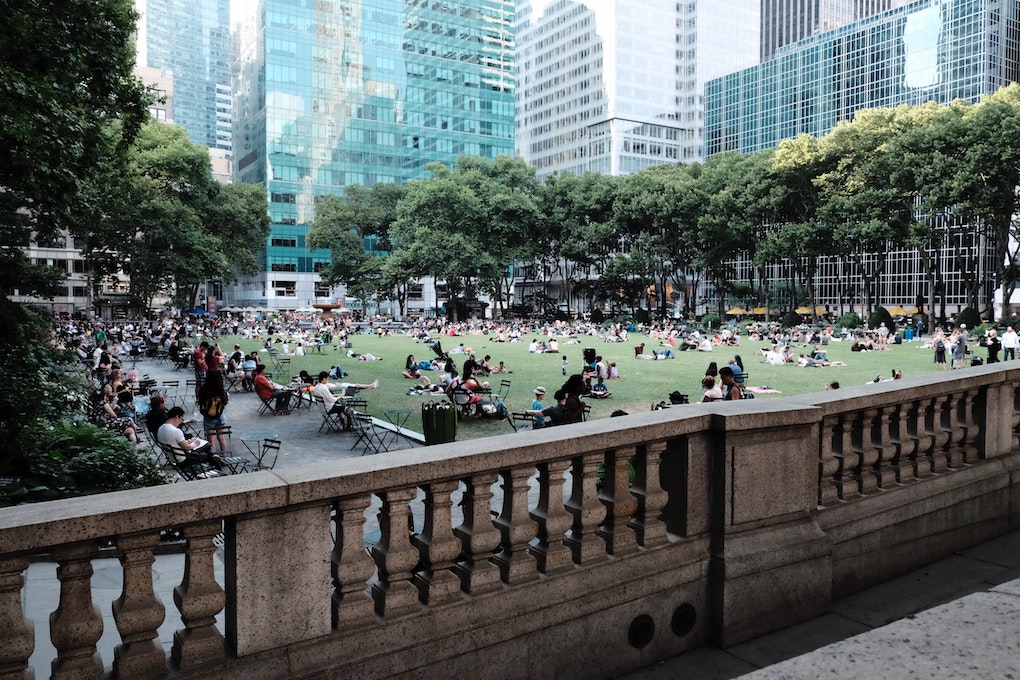 As we mentioned on Tuesday, the 245th anniversary of the Battle of Brooklyn is tomorrow, and for the past 114 years, part of the commemoration of this Revolutionary War skirmish, fought along the East River in Brooklyn Heights, has included a memorial service at the Prison Ship Martyrs Monument in Fort Greene Park—which will happen again this year on Saturday at 10am. I first learned of this time-honored tradition while researching this story on the Society of Old Brooklynites, the organization that originally dedicated the statue in memory of the 11,500 colonists who perished aboard British prison ships docked in New York Harbor in 1776.
Solemnity aside, the part of this story that really gave me goosebumps was the point when Ted General, a member of SOB (somehow I feel like that acronym was intentional), explained that the monument was more than just a marker—it was also a tomb. "Their bones were scooped up from Wallabout Bay along the shoreline there where the waves had exposed them after a while, and they were put into this crypt in Fort Greene Park," is what General told me at the time. I found this cemetery-within-a-city-park concept more than a little morbid, but then I started looking, and it turns out, some of the city's most popular places to read books, sunbathe, host birthday parties, and let your dog roam off leash started out as potter's fields—a term with biblical roots that refers to land too poor to farm, but perfectly suitable for potters to extract clay from, or to use as a mass grave.
Hart Island off the shores of Pelham Bay Park, may be known as the Island of the Dead, but just over 200 years ago, similar things could've been said about Washington Square, Union Square, Madison Square, Sara D. Roosevelt and Bryant Parks, which were originally purchased by the city to serve as burial grounds for New Yorkers unable to afford final resting places. This included the 20,000 people still buried below Washington Square Park—most of whom were victims of yellow fever in the late 1700s. Their remains were never removed and Pelham Bay Park was just designed over them. (Washington Park also served as a public gallows at one point, which the New York Public Library says was somewhere near the park's present-day fountain.)
By comparison, the history of Bryant Park's potter's field doesn't seem as dark. For 17 years, the land adjacent to the New York Public Library did serve as a cemetery though, which makes you rethink watching outdoor movies on its lawn or doing corpse pose during one of its free yoga classes doesn't it? It was decommissioned in 1840 to make room for the Croton Distributing Reservoir.
Meanwhile, Madison Square Park served as Manhattan's original potter's field, and Union Square closed its grounds for burials in 1807. In the Lower East Side, Sara D. Roosevelt Park began as a potter's field for Black people during a time when even cemeteries were segregated. This piece by former Brooklyn Based writer Allison Meier asking why the city's Second African Burial Ground still remains largely undocumented is worth a read.
While most of the potter's field-to-park transformations took place in Manhattan to give increasingly affluent New Yorkers open space to recreate around the turn of the 19th century, more recently in 2016, a former Naval hospital cemetery where more than 2,000 marines, sailors, and their families were buried in the Brooklyn Navy Yard was turned into the Naval Cemetery Landscape, a public, 1.7-acre pollinator garden of native wildflowers, by the Brooklyn Greenway Initiative. All the remains from the area were disinterred almost a hundred years ago.