Brooklyn homes were still cheaper than Manhattan's, and an international furniture retailer in Red Hook was just an idea at the time.

Over the years, the expo has provided a launch pad for designers whose works have gone on to become trendsetting pieces of home decor, like Uhuru Design, whose first line of furniture debuted at the fair in 2006, or Eskayel wallpaper, which debuted at Brooklyn Designs in 2008 (both are now featured in Brooklyn Museum's decorative arts collection). Brooklyn has also become even more of a contemporary furniture depot–along with Ikea's Red Hook store, West Elm is headquartered in Dumbo, and Design Within Reach opens its first NYC outlet in Industry City tomorrow.

Today the fair—whose moniker has been abbreviated to BKLYN DESIGNS—returns in a new location, Greenpoint's Brooklyn Expo Center, with nearly 70 retailers and makers throughout the weekend. The event kicks off a larger week of citywide design fairs and programming called NYCxDESIGN, which builds upon the focus of furniture design to include fields like fashion, graphic and urban design. There are lots of events planned including talks at BKLYN DESIGNS, home tours, and shuttle buses between the fair, the Brooklyn Museum and WantedDesign in Industry City, where there are two weekends' worth of festivities planned.

In advance of the expo, we asked some of the borough's brightest figures in design to nominate the most iconic objects made by Brooklyn designers over the past decade. Here are the picks from Grace Bonney of Design*Sponge, Jon Sherman of Flavor Paper, and more.

Jon Sherman, founder of Flavor Paper: "I'd nominate David Weeks' Hanno or Cubebot as they are ingenious in their simplicity, yet elegant in their materials and form while being fun and functional for kids and adults."
When the first Brooklyn Designs debuted in 2003, the fair featured about 40 furnishings designers and manufacturers in Dumbo. It was the beginning of the borough's maker movement,
---
Charlie Miner, co-founder of WorkOf: "I would nominate Francois Chambard's holy stools. In addition to being one of the most prolific design studios in Brooklyn, UM Project has been pushing the Brooklyn and, by extension, American design scene forward with functional objects that are always imbued with unique personality. These stools are a iconic not just because of their popularity, but also because of their simple functionality and forward thinking design."
---
Anne Hellman, author of Design Brooklyn, based on the blog of the same name: " I have to nominate Pelle Design's Bubble Chandelier, specifically the Gold and White-Gold versions. Pelle's Bubble Chandelier is truly iconic, beginning as an inspired DIY piece and evolving with the times into an elegant, customizable, LED light fixture. The original, pure-glass and white-rope version will never grow old. The newer versions transform a room—a gold leaf with black leather cord hangs in our living room and it is one of my favorite objects in our house. When dimmed, the room takes on a pale, candlelit glow. (I imagine the white-gold leaf's effect is equally beautiful.) Beyond the atmosphere it creates, the design stems from a clear concept: light is so much like the air in a bubble, delicate, floating, yet always present. The chord anchors the piece, tying it to the room just as it ties back to its origins on Brooklyn's waterfront."
---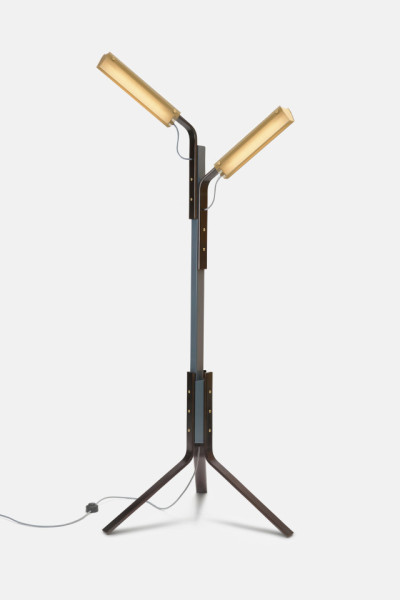 Thom Forsyth, senior interior designer, Rockwell Group: "I think Rich Brilliant Willing produces interesting, deceptively simple pieces of lighting that elegantly mix industrial components with the hand-crafted (as seen in the floor lamp and pendant). RBW has an excellent sense of materiality that furthers their design approach (i.e. wood with powder-coated metal). I've seen them grow from a small studio with only a few pieces into a burgeoning mid-sized design business with a serious repertoire of work. They continue to innovate and push their own boundaries while remaining true to themselves as designers–a goal we all strive for."
---
Grace Bonney, founder, Design*Sponge: "For me, Jason Miller's Antler Chandelier will always remind me most strongly of the past 10 years of Brooklyn Design. When Jason was selling his work through Dave Alhadeff at The Future Perfect (who deserves a lot of credit for promoting and celebrating that 2003-era wave of designers who really made Brooklyn Design a 'thing'), the next great wave of designers from Brooklyn were just coming up and his antler chandeliers were everywhere in the press. While the look has come and gone and is 'over' for most design fans, this look still feels iconic to me and reminds me especially of the early trend of casting every found objects (in this case, found deer antlers) in porcelain."
---
Donald Rattner, formerly of Module R and now founder of The Creative Home: "Designed by Brooklyn artist Patrick Martinez and launched via Kickstarter, Jix is the quintessential freeplay toy for a borough known for its collective creativity and boot-strap entrepreneurship. And like it's hard partying residents, Jix can never be exhausted!"
---
Our Pick: Brooklyn Toile. This wallpaper, originally commissioned by Mike D. of the Beastie Boys, and brought to life with the help of Revolver New York, and custom made by Flavor Paper, is our pick for most iconic, Brooklyn design object. Taking the 18th century French pattern as its starting point, which typically depicts pastoral scenes like a couple picnicking, the Brooklyn version sneaks in borough-specific signifiers like the Cyclone, Notorious B.I.G., graffitied subways and a stroller-pushing mother. It's almost better than Willy Wonka's lickable wallpaper.

| | | |
| --- | --- | --- |
| | Brooklyn Based delivers free daily emails about the borough's best food, events, attractions and innovators. Get Brooklyn Based in your inbox--sign up here. | |