Our cooking advice column, Dear Liza, is penned by Liza Queen, one of the pioneers of the New Brooklyn food scene. Her restaurants Queen's Hideaway and later Potlikker both attracted a cult-like following and transcended easy categorizing, save for their reliance upon Greenmarket fresh foods and Queen's Southern-tinged style of cooking. Now she is between restaurants–and fortunately for us, answering questions from inquisitive home cooks. Send her your questions here. This week Liza shares her culinary must-reads with us.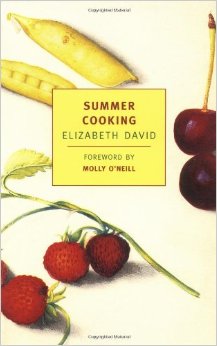 Summer Cooking by Elizabeth David
Let just say, for simplicity's sake, that Elizabeth David was Britain's Julia Child. Like Julia Child, she wrote books on food and cooking post World War II, focusing on fresh ingredients and country/home-style cooking of the Mediterranean at a time when processed foods and the mechanization of the food industry was in full swing, new enough and useful enough to be much celebrated.
It is said that she did not like to talk about herself or give away personal details of her life, and that people were always shocked by the "unconventionality" of her life when the prose in her cookbooks was so "dull."
I always thought that perception was deeply strange as, when I read this book, I always thought her voice and personality come through so clearly: a dry as a bone wit, an impatience with laziness or stupidity, a withering hatred of inferior product, all surrounded with a true sensualist's love of beautiful food and an awareness of how context fuels the feeling of a meal. (more…)