Recipe and text from Feed Your People: Big-Batch, Big-Hearted Cooking and Recipes to Gather Around by Leslie Jonath with 18 Reasons with photography by Molly De Coudreaux. It's part of our feature on Jonath's tips for an easy Friendsgiving. This recipe is by Becky Courchesne. 
"Farmer Al" Courchesne was doing his usual rounds, dropping off flats of his famed Frog Hollow Farm peaches, when he met (and fell in love with) Becky, a pastry chef at a busy Oakland, California, restaurant. Soon they were married, and Becky joined Al at the farm in nearby Brentwood, among the peach and plum trees.
Bay Area cooks and restaurant chefs prized Frog Hollow Farm's luscious organic fruits, but there was always the problem of what to do with the farm's surfeit of less than- perfect produce. Becky convinced Al to build a large commercial kitchen on the property, and when it was finished, she began developing recipes for preserves, chutneys, and fruit pastries of all kinds. Soon, Frog Hollow Farm was turning nearly all of its extra fruit into delicious jams, jellies, tarts, cookies, scones, and galettes and selling them at their cafe in the San Francisco Ferry Building.
With its nutty-crunchy cinnamon topping over a warm fruit filling, this crisp has long been Becky's favorite easy family dessert. As she says, "It doesn't require a lot of fuss and is always a crowd-pleaser. It can be made with almost any fruit you have on hand, in any season. It's perfect for using up those wrinkled apples or overripe peaches. You can also combine fruits; for this apple version, you might add pears and even throw in some cranberries if you've got them and a little orange zest."
This recipe makes 12 cups of topping, and you won't need all of it for this recipe, so store the rest in the freezer. It will keep for months, which means you can whip up a crisp whenever you've got extra fruit on hand. Becky uses a 5-quart ceramic casserole dish for her crisp, although she fills the dish only three-quarters full. Overfilling means the topping may brown before the fruit is thoroughly cooked. For the nuts, Becky suggests using almonds in the spring and summer, since they pair so beautifully with stone fruits, followed by pecans or walnuts in the fall. Hazelnuts will work too, as long as they are toasted and skinned.
RELATED
A Friendsgiving potluck without the guesswork
Little Cranberry Chicken Potpie
Serves 12 (single batch); Double batch makes 24 servings
Prep time: 30 minutes
Cook time: 2 hours
Total time: 2 and a half hours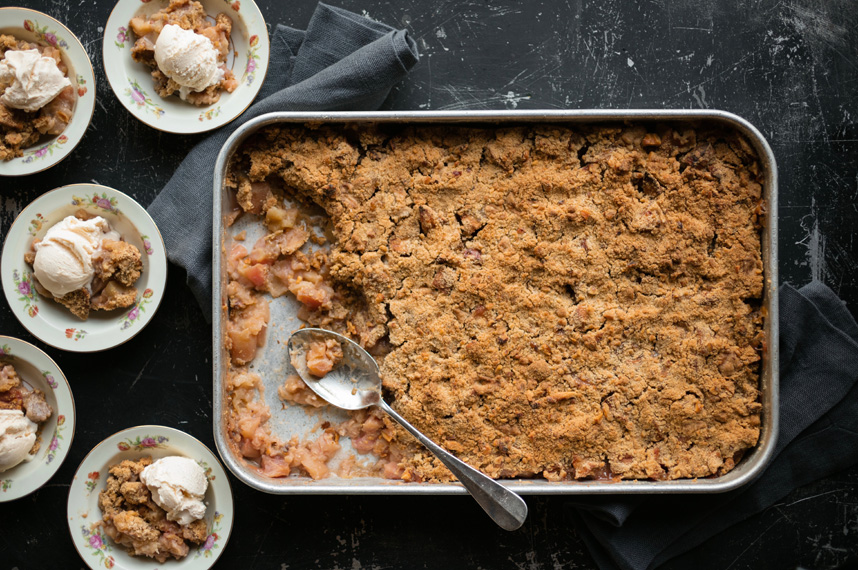 TOPPING INGREDIENTS (SINGLE BATCH or DOUBLE BATCH)
All-purpose flour (1-3/4 cups or 3-1/2 cups)
Lightly packed light brown sugar (3/4 cup or 1-1/2 cups)
Granulated sugar (2-1/2 Tbsp or 1/3 cup)
Ground cinnamon (1 tsp or 2 tsp)
Kosher salt (1 tsp or 2 tsp)
Unsalted butter, cut into 1/2-inch cubes and chilled (3/4 cup or 1-1/2 cups)
Walnuts, pecans, or almonds, lightly toasted and roughly chopped (1 cup or 2 cups)
FILLING INGREDIENTS (SINGLE BATCH or DOUBLE BATCH)
Firm, tart apples, such as Pink Lady (4 to 4-1/2 lb or 8 to 9 lb)
or Granny Smith, peeled, cored, and cut into 1-inch cubes
Granulated sugar (1 cup or 2 cups)
All-purpose flour (1/3 cup or 2/3 cup)
Vanilla extract (1 tsp or 2 tsp)
Whipped cream, creme fraiche, or vanilla ice cream for serving
MAKE AHEAD
The topping can be refrigerated for up to 2 days or frozen for up to 1 month. The topping can be used directly from the freezer.
EQUIPMENT
One or two 4- to 5-quart baking dishes or pans.
BIG BATCH NOTES
You will need a very large bowl for mixing the filling. Although you can make the double batch in a large hotel pan (12 by 20 by 4 inches), you will have much more control over the baking if you use two large baking dishes.
Make the topping
In a stand mixer fitted with the paddle attachment, combine the flour, brown and granulated sugars, cinnamon, and salt and mix on low speed until combined. Add the butter and mix on medium-low speed until the mixture resembles coarse crumbs with some pea-size pieces of butter (similar to pie dough). The mixture will look and seem powdery. Add the walnuts and mix just until evenly distributed. (You can also do this step by hand, stirring together the dry ingredients and then working in the butter with a fork.) Refrigerate until ready to use or, if you're not using the topping right away, store it in the freezer until ready to use.
Make the filling
Preheat the oven to 375°F. Have ready one 4- to 5-quart baking dish or pan if making a single batch or two dishes or pans if making a double batch. Place the apple chunks in a large bowl and add the sugar, flour, and vanilla. Toss well to coat the apples evenly with the other ingredients. Pour the fruit into the baking dish or divide evenly between the two baking dishes. Pat down the fruit to compact it a bit, then top with about 2 cups of the topping (if making a double batch, sprinkle 2 cups of the topping over each baking dish), covering the fruit so just a few pieces are poking through.
Bake until the apples are soft and the topping has browned, about 1-1/4 hours. Begin checking after 1 hour. Stick a knife into the center, and if you feel resistance, the crisp needs more time. If the topping is looking too dark and the filling isn't yet cooked, lay a piece of aluminum foil over the crisp and continue baking until the filling is tender, checking every 15 minutes.
Remove from the oven. The crisp is best when allowed to sit for 45 minutes to 1 hour before serving, so it is still warm but not hot. Serve with whipped cream.