Chef Norberto Piattoni, of Fort Greene's Mettā, said he garnered cooking inspiration from his mother, who would "always reinterpret food and recipes."
"She would tell me, 'I don't follow recipes, [I] just get inspired from them.'
Think of this dish as an inspired riff on the traditional bird served at Thanksgiving. The Argentine native didn't grow up celebrating the American holiday, but says bird galeto is perfect for it. (He'll be serving it at the restaurant, which is open from 2 – 7 p.m. on November 23).
"[We] always made it to share and celebrate," said Piattoni. This Argentinian take on skewered meat is best for a Thanksgiving or Friendsgiving where you can live without turkey, as it's not ideal for this recipe. But feel free to substitute any game bird, like quail.
"It's fun to eat and share with friends and family," he said.
Serves Two
Prep time: 20 minutes
Cook time: 60 minutes
Total time: Hour and 20 Minutes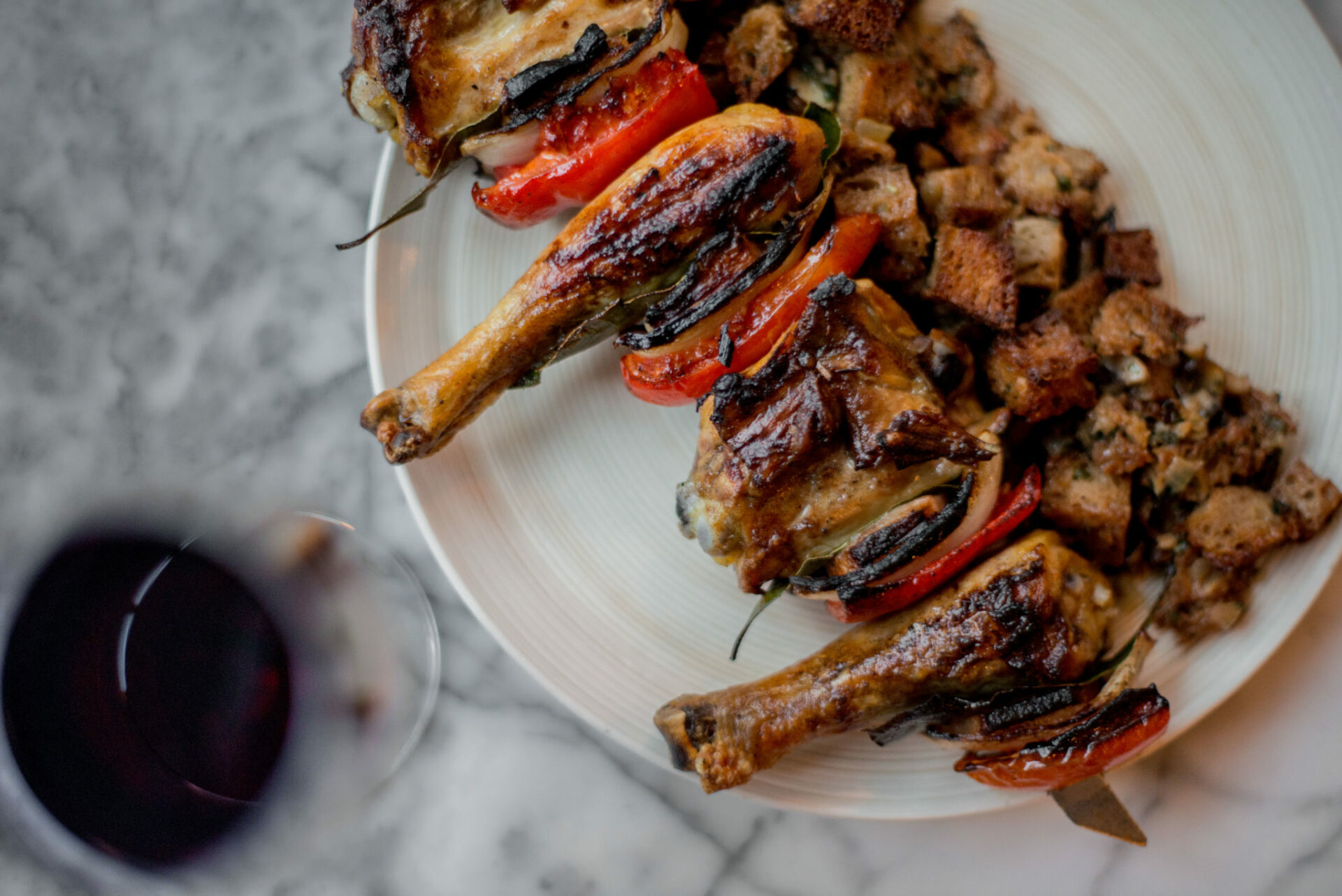 Ingredients:
400 grams chicken (half chicken, about a pound)
80 grams tomato (4 slices)
60 grams red pepper (4 pieces)
40 grams onion (4 pieces)
40 grams bacon (4 slices)
4 bay leaves (whole, fresh)
1/2 cup rendered chicken fat (substitute olive, sunflower, grapeseed or coconut oil--any fat of your choice)
1/2 cup apple cider vinegar
Salt to taste
Cut the chicken into 4 pieces: bone-in thigh and drumstick, boneless breast, halved.
Slice tomatoes and bacon in 4 pieces about 1/3 inch thick. Cut onion and red pepper into square pieces 2-inch x 2-inch thick.
Mix chicken fat with apple cider vinegar and reserve.
Slide chicken, bay leaf, onion, tomato and red pepper on a skewer, then repeat until all used.
Season the skewers with salt and the fat/vinegar mix and cook over medium-high heat on a parrilla over coals for about 40-50 minutes. (Note: if using a barbecue, cook over medium low heat. A grilling plancha on a stove will also work.)