Susan Spungen's "Slow-Roasted Lamb Shoulder with Pomegranate Molasses" was my family's favorite of all the dishes I cooked from Open Kitchen. This one's a show stopper, and certainly meant to be shared with a gathering of friends.  It took at least four hours in the oven, but the perfect dish to make if you're going to be stuck at home. We ended up eating lamb two nights in a row, the second served room temperature on a bed of greens and no one complained.
The following recipe is from Open Kitchen by Susan Spungen, published by Avery, an imprint of Penguin Publishing Group, a division of Penguin Random House, LLC. Copyright © 2019 by Susan Spungen. Photo © Gentl and Hyers.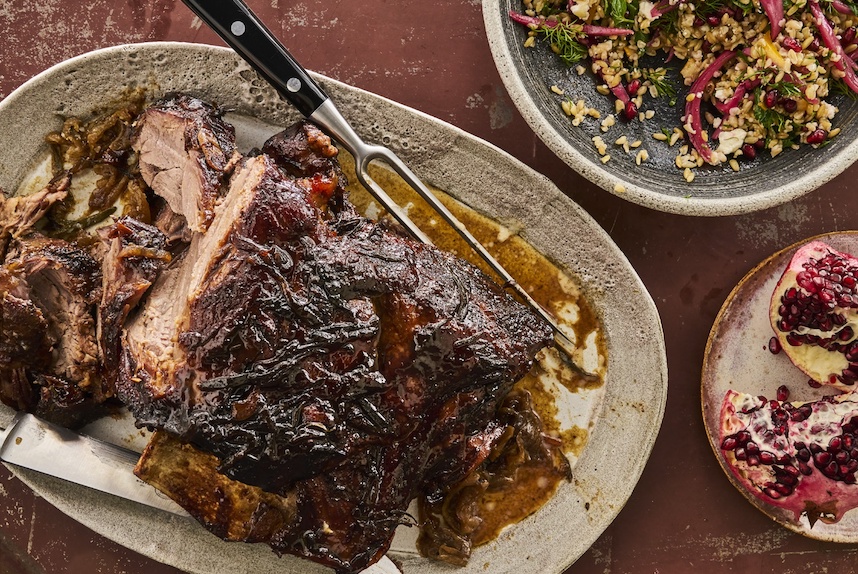 1 semi-boneless lamb shoulder (6 to 7 pounds)
1 tablespoon salt
Freshly ground black pepper
2 tablespoons olive oil
2 teaspoons ground cumin
1⁄3 cup fresh rosemary leaves Juice of 1 lemon
4 large garlic cloves, sliced
1 large onion, sliced ¼ inch thick
1 cup white wine
¼ cup pomegranate molasses
1.  Season the lamb with salt and pepper and rub it with the oil. Rub on the cumin, rosemary, lemon juice, and garlic. Put it all in a resealable plastic bag, refrigerate, and let marinate overnight.
2. Preheat the oven to 325°F. Line a 9 x 13-inch roasting pan with foil.
3. Remove the lamb from refrigerator 30 minutes before roasting. Scatter the onions over the bottom of the prepared roasting pan. Place the lamb in the pan, pour in the wine, cover tightly with foil, and roast for 2½ to 3 hours, until the meat yields when pressed. Pour off most of the liquid. Pour the pomegranate molasses over the top. Continue cooking uncovered for about 1 hour, basting frequently, until extremely tender and glazed.
TIMING TIPS:
• Up to 2 days ahead: Marinate the lamb and refrigerate.
• At least 4 hours ahead: Start cooking the meat.
• 1 hour ahead: Gently rewarm the meat, covered if it's cooled.