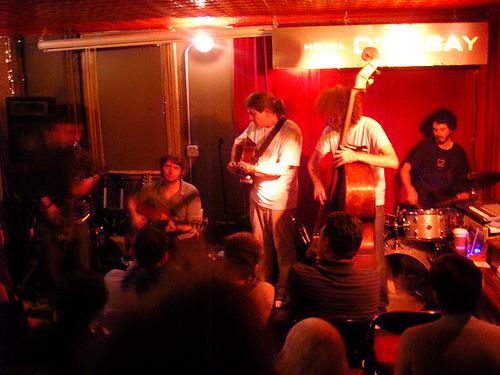 Barbès is not new to Park Slope, but with an unassuming, garden-level facade and steamy front windows tucked alongside a row of brownstones, it's not a place you'd stumble upon. Which explains how I, and probably many Park Slopers, managed to walk past this institution for years, having no idea that inside was a secret lair of escapist music and devil-may-care dancing.
It's narrow, dark and sultry, which I quickly realized is ideal for a snowy Wednesday night in January. Furthermore, the bar area was crowded in a way that made multiple rounds of whiskey on a snowy Wednesday night in January feel perfectly reasonable. Practically necessary, even. I've heard Barbès patrons complain about the crowds—a valid complaint—but a giant empty bar is far more depressing.
Even more depressing is a moody, romantic bar with intrusive music ruining the vibe. In this aspect, Barbès wins again. Crammed at the end of the bar is a separate room about the size of a one-car garage. There, Barbès hosts a diverse calendar of bands best described by what they are not: they are not rock bands, or hipster bands, or trendy bands, or singer-songwriters. Barbès books traditional world bands, culture-blending fusion groups, and uniquely talented musicians. Catch an old timey jug band, a Gambian Kora player, or a Colombian cumbia group. The bands are always interesting and they always have an audience.
For example, each Wednesday, traditional Guinean band The Mandingo Ambassadors groove through a memorizing set for a suggested donation. That follows a weekly installation of jazz-leaning performances known as The Palimpsestic Series. Every Tuesday is the popular, lively 9-piece horn group Slavic Soul Party, self-described as "BalkanSoulGypsyFunk."
The venue's musical variety is a reflection of its namesake and of its owners' backgrounds. Barbès is a neighborhood in Paris known for discount shops and record stores, and its large North African population; the bar's owners are French musicians.
Barbès' other defining element is its endearingly strange crowd. While taking in the Mandingo Ambassadors, I realized I wasn't the only total cliché of a human being using Barbès to leave the outside world behind for a night.
There was the mustachioed man with crazed eyes and spastic, almost compulsory dance moves. There was the secretive couple crouched in the back corner, whispering and giggling behind their coats. And best of all, there was the Park Slope yoga mom who looked like she had snuck out on her family after downing a few cups of mushroom tea. She spent a few hours spinning around to the music, eyes closed, after which I like to imagine she stumbled home and mumbled some explanation like "The bodega… was out of kitty litter" before passing out. Secret lives, people. Barbès is the place to live one.
I watched this motley cast of characters dance around me while the warm, fuzzy hug of my third whiskey sunk in. Suddenly, why not dance with the man in a three-piece suit? Why not spin around in circles and high-five the alto sax player after each song? Why not clap along and pull strangers onto the dance floor? The memory of the outside world, with numb fingertips and freezing rain on my face, seemed a million miles away.
Barbès, 376 9th Street, Park Slope, Brooklyn
Erin Griffith lives in Boerum Hill. She is the keyboard player for Team Genius and a big fan of lots of bands, probably even yours. She has a travel blog too.