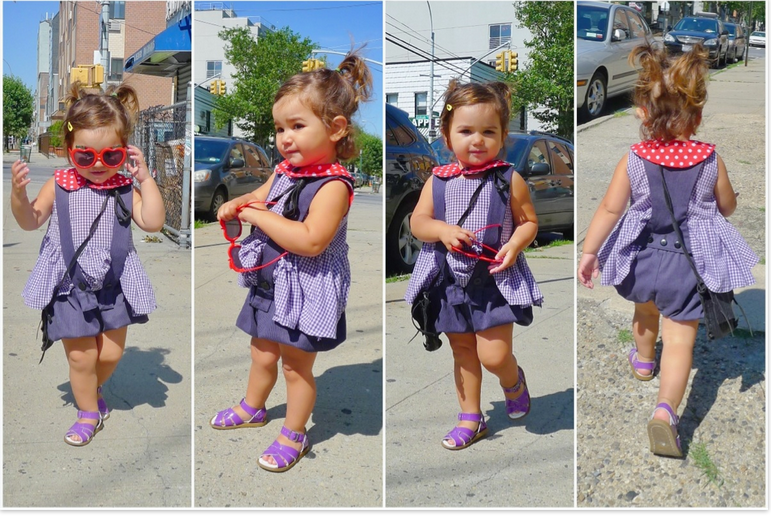 Recently I was standing in line with 200 other Brooklyn parents waiting to see our little stars perform acts they'd learned at a local dance center. As I stood sipping my coffee I spotted a delightfully dressed little girl running circles around her mother who was standing directly behind me. This little girl was a stunner, as sweet as they come, but it was what she was wearing that prompted me to ask her mom where she got such an adorable outfit. The mother told me that she was in fact the designer and her line was called The House of Brooklyn Rascals. Serendipitously, I had my next assignment.
The House of Brooklyn Rascals is a family affair designed by Bettina D'Ascoli and Gaby Montiel, native Venezuelans who married brothers, making them sisters-in-law. But it was only a year ago that the two joined forces and decided to create a line of playful children's wear.
The seeds of a fashion brand were planted when Bettina had to come up with something for her son to wear on Pink Day at school. "Oh my god! It's Pink Day. I had nothing for him to wear. So I took one of his t shirts and cut one of mine and sewed a pink cape on. There you go!" Bettina said of her first foray into design. That day back in 2008 the cape shirt was born. It was an instant success and was sold in local shops (it's now sold at Cute Attack). Meanwhile, a year earlier, Gaby arrived in New York to study fashion at Parsons. "I always had a dream of making my own label," says Gaby. With backgrounds in branding, marketing, fashion and parenting, these two lovely ladies founded The House of Brooklyn Rascals.
The company is based out of Bettina's Williamsburg home, making it convenient for her to be close to her two kids. It also works well because her son, Luca, 7, is an integral part of the design process. "Luca is very important here. We ask him, 'Do you like this color? Would you wear this?' " Bettina tells me as she shows off sketches that Luca has made. "He sews," the girls say in unison. "He designs too, he just loves it," Bettina says proudly of her son. As the girls take me through the line squeals of delight echo from upstairs where her littlest, two-year-old Olivia, the precious doll I saw in line that day, is playing. To some people this would be a distraction, but at The House of Brooklyn Rascals it's inspiration.
The line is made up of separates, many of which are reversible, in bold colors, gingham fabric and polka dot prints for children 6 months to 8 years old. "We are very much into the reversible, because it's like a puzzle, it's something they can play with," Bettina says, showing me the most adorable little vest.
Their signature reversible tunic can be worn front or back, basically giving you four looks in one. Another signature piece, the bubble shorts, can be be worn with or without suspenders. Other staple items include their version of swimwear (a top and bubble shorts), drop crotch pants, tunic dresses and a one piece romper. They've also created a few very unique accessories for kids. The reversible Peter Pan collar is a fashion statement for any little girl and instantly adds pizzaz to any old t shirt. And for boys they've made a traditional tie and an elastic collar tie inspired by Luca, who wears a tie nearly everyday of the week.
While Bettina and Gaby focus on building the brand for a 2013 Spring launch, they're currently running The House of Brooklyn Rascals as an atelier, each piece made to order (you can get in touch here). It's not uncommon for neighborhood moms to pop by and place orders over a cup of coffee or wine, depending on the time of day. The turn-around, depending on the order size, is generally 7-10 days and the price point is reasonable (bubble shorts are $40 and a tunic blouse is $55)–especially since each piece is more than just an outfit. As they explain on their site, the line "is designed to stimulate their imagination as they interact with what they wear as if it was a game, loving it as a new toy."
When clothing is made with this much thought and care, you feel like you're in a special club when you seek it out–like you're a member of The House of Brooklyn Rascals, yourself.