Yes, Valentine's Day is a consumer holiday that's all about lame prix-fixe dinners, pink teddy bears and gaudy, overpriced bouquets.  Or, conversely, about being so over-it-all cool that we pretend not to care or celebrate only with ironic gifts. The fact of the matter is, why wouldn't you want to wear, eat, and buy things that make you, or someone you adore, feel good? Why not get pampered? Here are four Brooklyn-based ways to say "I love you" to yourself, or to someone else.
Local Skivvies
Winkworth, nudged between Carroll Gardens and Red Hook on the Columbia Waterfront District, is a locally owned lingerie boutique with a well-selected selection of European underpinnings. The prices range from the affordable to the sublime; with the so-called "lucky-size" baskets overflowing with clearance-priced odds and ends. A bra-panty set from the lucky-size bin can run in the $70 range.

Women wearing harder-to-find sizes may find luck via the bespoke styles by Brooklyn-based, Parsons-trained designer ClareBare. Many of the looks take a vintage tack, like garter belts or pasties evocative of burlesque shows. Pieces are made to order and can take two or four weeks to arrive. A pair of panties will ring you in the $30 range; garter belts range from $50 for a simple style to $104 for a style featured in True Blood. Check out ClareBare's Etsy shop for details and contact information.
Chocolatey Goodness–or Badness–Your Choice
Last year we gathered our editorial team together to binge on Brooklyn-made chocolate, all in the name of service journalism. We tasted dozens of chocolate bars, bon bons, truffles and treats and reported back on which were best for sending to your Elvis-loving mom and which were sure to get you laid. Read on, if you need some Valentine's Day Cocoa Mojo.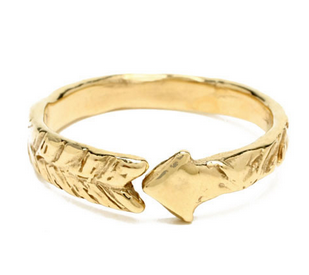 Scent of a Dude, or a Woman
Jewelry designer Odette NY and local perfumer MCMC Fragrances have teamed up to offer new bling and a new scent in three different limited-edition gift sets. The pairings are perfect because both the jewelry and perfumes are on the subtler, more unisex end of the feminine spectrum–more edgy than frou-frou. The first features a perfume oil roll-on of Anne Serrano-McClain's spicy fragrance, LOVE, with a brass arrow ring ($99); the second delivers the arrow design in a bronze cuff bracelet, paired with KEPT eau de perfum ($148); and the third gift set is a dude-centric combination of arrow cuff links and a Dude No. 1 candle scented with notes of cedarwood, sandalwood, coriander and pink peppercorns ($148). Online orders will be shipped this week in time for V-Day.
Love May Be Lame, But You is Still Fine
If you need a palate cleanser from all that lace and chocolate, or your Valentine has a serious sense of humor, check out Love Is Lame, where Chad Silver, a local artist, sells the freshest teddy bears you'll find anywhere. "It started in the mid-90s when I was in art school in Halifax," Silver explained. "I  did a lot of text based work, and I saw the teddy bears at a thrift store stated making them. Ebonics was in the news then."
Those first few bears were only designed as a limited-edition art project, but people who saw them wanted to buy them. So, in the early aughts Silver revisited the idea, made a bunch of bears and, "made a horrible website, bought a print ad in The Onion, started selling them and haven't stopped since." This year they're available at Milly and Earl and Honey Gifts in Williamsburg, or via Love Is Lame. Bears go for $17, and there are also Valentine's cards bearing their likeness for $4.75. And, we're giving three bears away on Facebook, to the readers who come up with the best alternative message for a Love is Lame bear.
Compiled by Nicole Davis, Annaliese Griffin and Anne Szustek