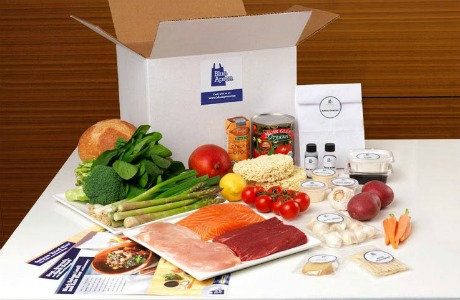 Blue Apron is changing the way people cook at home. Launched in 2012, Blue Apron offers a once-a-week delivery service for omnivores and vegetarians that includes everything you need to cook three delicious meals at home, for two or more people. In each box you get original recipes and easy cooking instructions, with all the fresh ingredients in exactly the right proportions. Since Blue Apron meals often take the same time you'd spend waiting for take out, and cost as much or even less, they are also the healthiest answer to the eternal "What's for dinner?" question.
Plus, the recipes are so good you'll want to make them again on your own. In the culinary industry, a blue apron represents lifelong learning in cooking, which is what the East Williamsburg-based company derived its name and philosophy from. Blue Apron strives to introduce members to new ingredients, flavors, and cooking techniques with every recipe they create.
In a week, for instance, you might learn to cook Cod with Parmesan-Crusted Squash & Roasted Red Potatoes, Steak with Salsa Rossa and Broccoli Rabe, and Chicken Banh Mi with Sesame Cabbage Salad. There are equally creative menus for vegetarians, too.
Regardless of whether you become a member—which works out to $9.99 per person, per meal–their weekly recipe email will inspire you to be more creative in the kitchen.
Sign up for their weekly email here, and you'll be entered to win a tool that will make your food prep a joy: a Kikuichi chef's knife, valued at over $250. These knives are handcrafted in Japan, forged by master sword makers. They are preferred by the Blue Apron chef, too—you might even notice one on the back of your recipe cards.
Enter to win the Kikuichi knife here.