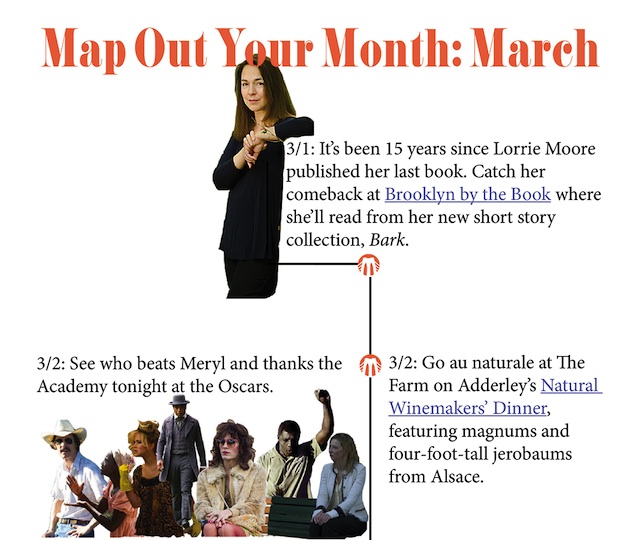 Scandal is back on television, Mercury is coming out of retrograde today, and we're only weeks away from being over this winter–as of tomorrow we've made it to March and spring is fast approaching.
This year March comes in with a literary lioness, as Lorrie Moore makes her return after a 15-year sabbatical from short-story publishing. Brooklyn Symphony Orchestra and WORD Bookstore both have big birthdays to celebrate: the former turns 40 at the end of the month marking the occasion with a gala at Brooklyn Museum (which also celebrates the opening of a much lauded Civil Rights exhibition on March 7), and the latter turns seven on March 14.
There are plenty of occasions to lift a glass, from a natural wine dinner at The Farm on Adderley to St. Patrick's Day and Purim. And while we can't guarantee that March will go out like a lamb, we can confidently predict that the Academy Awards will the year's biggest festival celebrating Hollywood's self-regard. See who goes home with a little man this Sunday–maybe even one named Oscar.
You can find more of this month's highlights on our March Fun Map.