Louder Than Hell: The Definitive Oral History of Metal, by Jon Wiederhorn and Katherine Turman, published by It Books, is now available in paperback.
Heavy metal music has always found a home in Brooklyn–long before St. Vitus, Greenpoint's black and red house of the heavy, L'Amour, a legendary metal club in Bay Ridge, showcased up-and coming '80s acts, including a little band named Metallica.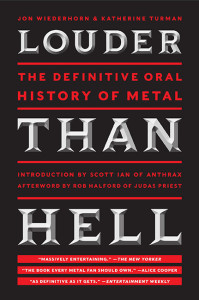 The genre's wild, raucous, innovative origins, spanning from the late '60s through metalcore, is now told in the massive oral history book, Louder Than Hell, written by journalists Jon Wiederhorn and Katherine Turman. This 700-plus page book, which was published last year and has just been released in paperback, features mostly recent interviews with the major players from the last 40 years: Black Sabbath Alice Cooper, Kiss, Metallica, Motley Crue, Guns N Roses, Iron Maiden, Judas Priest, Slayer, Megadeth, Ministry, and Nine Inch Nails. There are plenty of fascinating stories from the book, especially the tales of debauchery during the L.A. metal scene in the '80s, through the church burnings and deaths linked to the Norwegian black metal scene in the '90s. Amid all this, metal has grown in popularity thanks to new bands who push the envelope by playing angrier, harder, faster, louder.
Both authors, who reside in Bay Ridge, have extensive backgrounds in covering heavy metal music: Wiederhorn is a senior writer for hard rock magazine Revolver; Turman was an editor for '80s metal publication RIP. We spoke to them about some of the popular and pivotal acts that helped the genre's evolution and why it has remained so popular to this day.
How did the idea of doing a heavy metal book come about?
Jon: I always loved the oral history of punk rock that Legs McNeill did, Please Kill Me. I've done lots of oral history pieces on bands for magazines. I did a little research and found there wasn't a full oral history [on metal]. I suggested that idea to my agent and he said, It sounds like a really good idea but it's going to be a lot of work, so I'd like for you to think of another writer you can work on this with. I went home and bandied around some ideas of writers I knew and liked. It hit me that Katherine Turman, who lives on the West Coast, followed much more of the L.A. scene, which at the time I wasn't a big fan of. I was more of a fan of thrash and death metal. Of course, we both were fans of early metal. We crossed over in a lot of areas–our interests in Pantera, Metallica.
Certainly, when it comes to what we know now as metal, it all came from Black Sabbath.
Jon: We knew we wanted to make Sabbath the definitive beginning point, but we also agreed that we should have a decent amount of material predating Sabbath because Sabbath didn't just evolve out of a vacuum. They were huge fans of Zeppelin and Cream, they followed the Yardbirds. Going back even further, you had Alice Cooper in the 60s doing this very theatrical rock and roll which evolved into metal and influenced countless bands. In Detroit, there was this raucous rock and roll scene that had many of the elements that metal musicians would embrace. It was really cool that we were able to get a lot of those people–they were happy to talk about the pre-metal years and how thing came to evolve, until Sabbath suddenly put this big stamp down with their first album. The first Sabbath album is really definitely the benchmark in where things began.
You also devote a chapter to the sometimes maligned glam and hair metal scene of the late '70s and '80s with interviews with bands from that era, like Poison, Warrant, Motley Crue.
Katherine: They may not be everyone's favorite. A lot of those bands were L.A. based and people don't think of that. [They] think, "Oh, Poison, Pretty Boy Floyd, Warrant and Ratt." But Motley Crue, Van Halen, all the early '80s bands–they influenced a huge generation to follow. Even Anthrax were huge Kiss fans. A lot of people didn't want to admit, Yeah, we really love [guitarist] Warren DeMartini [of Ratt]. I think ultimately people are coming around and saying, Yeah, we love [Dokken's] George Lynch's solos. We really wanted to include everyone who was pertinent, even if they were not critically acclaimed at the time.
Jon: Everything is a reaction to everything else is one thing I've learned from working on this book. I don't think you would have had thrash metal without hair metal. There wouldn't have been that anger, that vindictiveness about it: "These L.A. bands are fucking playing melodic bullshit and we like Sabbath and hardcore and we're gonna play everything faster." Either bands grew from the bands before them or they reacted against the bands before them.
After all these years, the "Big Four" thrash bands–Metallica, Megadeth, Slayer and Anthrax–are more popular than ever and outlasted most of their peers.
Jon: I think the "Big Four" bands represented most concretely the evolution in metal from hair metal to thrash. And thrash was the cornerstone for the idea of taking everything to a new level of heaviness. Thrash elements can be found in death metal and black metal, even in industrial metal, and deathcore even. Metallica was such an outstanding band and still are. They're a great group of musicians, that they raised the bar of what metal should and could be. Thrash still maintained its legitimacy because it's melodic and heavy and brutal.
You devote a chapter to Pantera, another important part of the heavy metal story.
Katherine: Personally they're a band that both Jon and I are big fans of. We managed to do together we talked to [former Pantera frontman] Philip Anselmo. He gave us a lot of time. He has this very deep, slow delivery. Jon: Not only is he an incredible storyteller and an amazing lucid memory of the Pantera years, but he's just a huge metal fan in general. He was a good resource to bounce what's metal, what's not ideas off of. He said, "Hold on a second." You hear a door kind of creak and then close. He's talking and suddenly you hear something that sounds like someone pouring water into a pool. Thirty seconds later he said, "I just shared something special with you guys…I just had to take a leak." We have on tape Phil Anselmo having a special moment.
You document the death metal scene of the '90s in Norway, which by accounts was so extreme there–there are stories of church burnings and murder.
Katherine: It reads more like a true crime book rather than music. Jon actually had the task of attempting to track down the guys who were not dead or in jail.
Jon: On the one hand, you don't want to glamorize this scene [whose] popularity was based on these crimes, these church burnings, one band member murdering another from another rival band, a guy killing a gay person in the park as a hate crime is a horrible thing. On the other hand, you listen to their music and their taking death metal and bringing it to the next level. There was a lot of innovation and not all of them were criminals. These guys were really interested in this new presentation, new approach to the music.
Why after more than 40 years that heavy metal music remains popular?
Katherine: I think the main thing is that there's always going to be disenfranchised, rebellious kids who don't feel they fit in, they're not the cheerleaders, they're not the popular ones. [Judas Priest singer Rob] Halford and everyone says metal is sort of a place where like-minded kids find their home. There is a group for them and that group is metal, and it kind of lets everyone in. it welcomes all comers. I think that's part of the enduring appeal. There's always outsiders and it's a place where outsiders can find other outsiders.
Jon: The music is very aggressive, it's based on rage and power and anger and empowerment. For someone who feels they've been taken advantage of or beaten up or shoved into lockers, or have a bad relationship with their parents. There's teenage angst and the whole idea of teenage angst fuels the longevity of metal. A lot of these kids turn into adults…but the devotion to [metal] is pretty incredible. If you go to a Sabbath show, you'll see age ranges from 13 to 60. These guys have all got the devil horns up, it's a pretty amazing thing because there's no other genre that hasn't come-and-gone and come-and-gone, like punk rock.