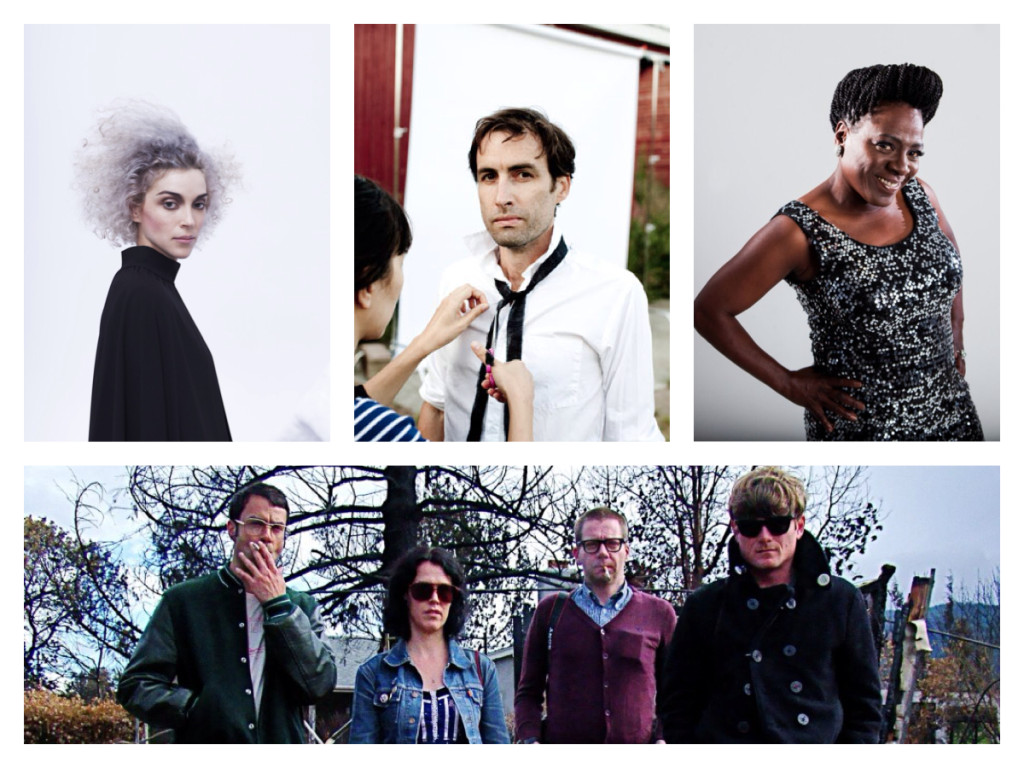 Folks, it's that time of the year when New York is bombarded with free concerts. A stellar mix of top-tier acts and up-and-comers of every imaginable musical genre will be hitting the stages soon, from the Celebrate Brooklyn! festival at Prospect Park, to Lincoln Center Out of Doors. It's time to get out of the house, leave the wallet behind, and rock on. We've made this neat Google calendar to keep track of all the free shows around the city this summer, and we'll keep adding to it as more concerts are announced. Here's a sampling of what's in store.
Celebrate Brooklyn! at Prospect Park Bandshell Prospect Park West & 9th Street
This year's installment of Celebrate Brooklyn! is the most supurb lineup in quite a while. It's book-ended by two amazing performers who are guaranteed to draw huge crowds–R&B sensation Janelle Monae and indie rock goddess St. Vincent–so get there early. In between are some terrific acts, including roots trio Nickel Creek, punk-pop band Dum Dum Girls, a tribute to jazz giant Ornette Coleman, traditional Irish collective Altan, and Latin singer Bebel Gilberto. (By the way, if do you have spending money, there are also some benefit shows featuring The National and Neutral Milk Hotel–not only will you hear more great music, but you will also help fund more free shows at the park.)
Wednesday, June 4, 8pm: Janelle Monae
Saturday, June 7, 7pm: The Soul Rebels/Jon Cleary & The Absolute Monster Gentlemen/Lost Bayou Ramblers
Thursday, June 12, 7pm: Celebrate Ornette: The Music Of Ornette Coleman Featuring Denardo Coleman Vibe
Saturday, June 14, 4pm: Ozomatli's Ozokidz
Friday, June 20, 7:30pm: Amos Lee/Lake Street Dive
Saturday, June 21, 7pm: Dum Dum Girls/Hospitality/TEEN
Thursday, June 26, 7:30pm: Warpaint/Yellowbirds
Friday, June 27, 7pm: Shovels & Rope/Valerie June/Shakey Graves
Saturday, June 28, 7:30pm: Luciano / Sandra St. Victor & Oya's Daughter
Saturday, July 5, 7pm: Robert Glasper Experiment Featuring Talib Kweli/Glenn Kotche/Aja Monet
Thursday, July 10, 7pm: Illya Kuryaki & The Valderramas/Choc Quib Town/RVSB
Friday, July 18, 7pm: Bebel Gilberto/Vinicius Cantuaria /Netsayi (part of Brasil 2014 Summerfest)
Saturday, July 19, 7:30pm: Deltron 3030/Nomadic Massive
Thursday, July 24, 7:30pm: Nickel Creek
Friday, August 1, 7:30pm: Jimmy Bosch y Su Estrellas/Pedrito Martinez Group Featuring Ariance Trujillo
Saturday, August 2, 7pm: Kes The Band/Kuenta i Tambu/DJ Dr Wax / Steel Sensations
Thursday, August 7, 7:30pm: Altan/Maura O'Connell
Friday, August 8, 7:30pm: Asian Dub Foundation: THX 1138 / Taylor McFerrin
Saturday, August 9, 7:30pm: St. Vincent/San Fermin
Celebrate Brooklyn! Dance Parties at Brooklyn Bridge Park Old Fulton Street, Brooklyn Most of these dance parties have passed, but you can still get your boogie on at Brooklyn Bridge Park to the infectious and joyous sounds from Sierra Leone's Refugee All-Stars.
Thursday, May 22, 7pm: Sierra Leone's Refugee All Stars/Okayafrica Electrafrique w/Chief Boima and DJ Underdog
BAM R&B Festival at MetroTech MetroTech Commons between Jay Street and Flatbush Avenue, Brooklyn, every Thursday at noon A taste of Twenty Feet from Stardom is coming to this year's edition BAM's Rhythm and Blues Festival in downtown Brooklyn from two artists who appeared in the acclaimed Oscar-winning documentary about backup singers: Rock and Roll Hall of Famer Darlene Love, who sang on so many great pop hits from the '60s, including "He's a Rebel" and "Christmas (Baby Please Come Home)," and Fort Greene's own Lisa Fischer, who is best known for her work with the Rolling Stones. They bolster an eclectic festival bill that includes esteemed jazz trumpeter Nicholas Payton, the '70s funk group Ohio Players (who will most definitely play their signature hit "Fire"), and blues singer Bobby Rush.
June 5: Darlene Love
June 12: Nicholas Payton presents Black American Music
June 19: The Ohio Players
June 26: Butler Bernstein and the Hot 9
July 3: Davell Crawford
July 10: Fredericks Brown
July 17: Third World
July 24: Bobby Rush
July 31: Snarky Puppy
August 7: Lisa Fischer
Northside Festival McCarren Park, N. 12th Street and Bedford Avenue, Brooklyn
Saturday, June 14, 2pm: Thee Oh Sees (RSVP for this show)

Brookfield Place Waterfront Plaza, 220 Vesey St., Manhattan There's a strong Brooklyn connection to these shows happening in the Financial District. First up is guitar virtuoso and singer Kaki King, who will be collaborating with the string quartet Ethel on their piece "…And Other Stories." Then Sharon Jones and the Dap Kings will bring down the house with their hot soul sounds as part of the Lowdown Hudson Blues Festival (And having the great roots music stars Robert Cray and John Hiatt ain't too shabby either—they are also a must-see!).
Tuesday, June 24, 7:30pm: Ethel/Kaki King
Wednesday, July 16, 6pm to 10pm: Sharon Jones and the Dap Kings / No BS! Brass Band
Thursday, July 17, 6pm to 10pm: Lowdown Hudson Blues Festival The Robert Cray Band/John Hiatt and the Combo/James Carter Organ Trio
Lincoln Center Out of Doors Damrosch Park Bandshell, Amsterdam Avenue and W. 62 Street, New York Among the highlights at Lincoln Center Out of Doors is a performance by choreographer Rennie Harris and his company along with the U.S. debut of dynamic Brazilian dancers A Batalha do Passinho. There's also the Americanafest NYC series, whose Aug. 9 show has a killer lineup headlined by the remarkable and ever-wonderful Rosanne Cash. But you should also go to this gig for Brooklyn's own The Lone Bellow, who last year released a terrific self-titled debut album of heartfelt roots music.
Thursday, July 24, 7:30pm: Rennie Harris Puremovement/A Batalha do Passinho (part of Brasil Summerfest 2014)
Saturday, August 9, 6pm: Rosanne Cash/The Lone Bellow/Buddy Miller & Jim Lauderdale
Central Park SummerStage
Rumsey Playfield (enter Central Park on 69th and 5th Ave.), Manhattan
Tuesday, July 8, 7pm: Andrew Bird & The Hands of Glory / Luke Temple
Saturday, July 19, 7pm: Lenine & Martin Fondse Orchestra, Maira Freitas, DJ Tutu Moraes (part of Brasil Summerfest 2014)
Sunday, July 27, 3pm: Rock Steady Crew 37th Anniversary Concert
Monday, July 28, 8pm: John Leguizamo's Ghetto Klown
Saturday, August 2, 3pm: Dr. John & the Night Trippers / Hurray for the Riff Raff
SummerStage Presents at Red Hook Park
Halleck Street, Bush Street between Otsego and Court streets
Tuesday, June 3, 7pm: Ty Dolla $ign
Wednesday, June 4, 7pm: Mark McGuire / Marissa Nadler / Delicate Steve
Thursday, June 5, 7pm: Pro Era