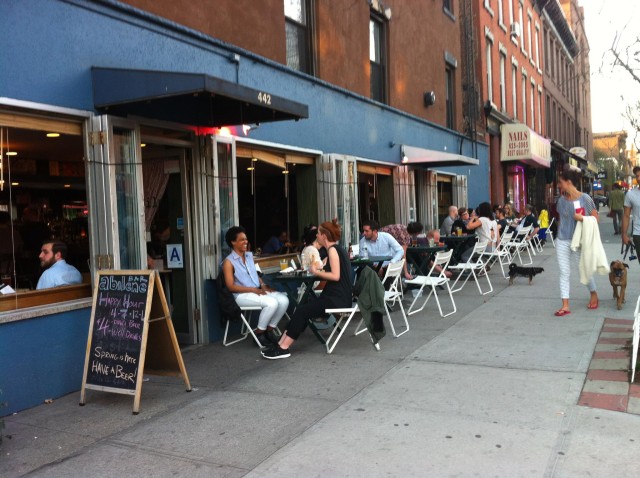 While a beautiful garden or a tucked away backyard spot has the ability to whisk you away from your urban surroundings, bars with sidewalk seating do just the opposite–they put you in the thick of everything, with a drink in your hand. All the better for running into friends, and for watching the world walk by.
The Gate (Park Slope, 321 5th Ave. at 3rd St., 718-768-4329) Way back in 1997, before there was a spot with Aperol cocktails and Edison lightbulbs on every corner, The Gate opened its doors and its taps to Park Slopers looking for good beer. Despite its impressive list of drafts, the dark, dusty bar with its scarred wooden tables lacks pretention and feels like the kind of place the term "watering hole" was coined to describe. On a sunny afternoon, the outdoor seating area–a wide swath of sidewalk enclosed by a wrought-iron gate–offers a great view of the hustle and bustle of life in the neighborhood: it's along a prime route to Prospect Park, across the street from a state-of-the-art playground, and down the block from the Sunday Greenmarket. Like any institution, The Gate is not exactly under the radar, so you'll want to get there on the early side to score some real estate.–Kate Hooker
Abilene Restaurant and Bar (Carroll Gardens, 442 Court St. at 3rd Pl., 718-522-6900) Before Lowlands, before Skylark, and the new Adirondack, there was Abilene, an eclectic, vintage-y bar that's inhabited the corner of Court Street and 3rd Place for the past nine years. As this stretch of Carroll Gardens continues to grow with more cafes, boutiques and bars–like the new outdoor watering hole Goldenrod, a block down–Abilene maintains its local appeal with decent grub (particularly if you like buffalo sauce, which appears on multiple dishes), cheap drink specials like a Genee beer and cheap shot for $6, and sidewalk seating that offers prime people watching. Each year, for the past three, they've add a new table outside to keep up with demand. Just arrive by 5pm on a sunny weekday to score one or be prepared to hover, especially during brunch on weekends.–BB
The Graham (East Williamsburg/Bushwick, 151 Meserole at Graham, 718-388-4682) The Graham has a sweet corner spot and a large seating area out front where you can enjoy $1 tacos during happy hour or brunch on the weekends with a killer Bloody Mary. It's a popular after work spot for the creatives and craftspeople who work in the neighborhood, though their recent decision to stop serving free popcorn has drawn a few jeers from regulars. Still, a solid neighborhood bar all the way around. –Annaliese Griffin
Pencil Factory (Greenpoint, 142 Franklin St. at Greenpoint Ave.) To be completely honest, there's nothing all that special about the Pencil Factory–they have an extensive beer list, a wine list you don't need to bother with, and plenty of spirits, but they've never really made headway with a cocktail program. The thing is, it's one of my favorite bars. Why? If you sit outside on the corner of Greenpoint and Franklin you're guaranteed to see someone you know walk by. I can't tell you how many "quick drinks" have turned into long afternoons after running into a friend. It's a place that's way more about the people you're drinking with than the fancy cocktail you're sampling. Cash only (there's an ATM inside). –AG
The Richardson (Williamsburg, 451 Graham Ave., 718-389-0838) With a well justified reputation for excellent cocktails, and a swanky-cozy interior, The Richardson more readily springs to mind as a place to sip hard-to-get bourbons in November than a  summer staple. It does, however, have a large patio area that seems to attract chance encounters with people you know who just happen to be strolling by. Unlike most places, which make you order inside and then carry your drink out, The Richardson believes in cocktailers–someone will take your drink order on the patio and then deliver your drink, like a booze-bearing angel, and for that I heartily salute them. Their classic cocktails tend to trump their original creations and I think they make the best Aviation in Brooklyn. –AG
We've got more outdoor drink recommendations in our full guide to outdoor bars. Then plan some new happy hours using our outdoor drinks map.