Although he was born and raised in California, the late Jeff Buckley will always be a quintessential New Yorker. It was in the Big Apple that his career really flourished after he moved here in the early '90s. New York City was different then—most of the music venues were in Manhattan, record shops were plentiful, especially along 8th Street in the West Village and St. Mark's Place, and you found out about a band through word of mouth or reading a (much thicker) Village Voice.
The East Village and the Lower East Side were like a playground for Buckley, and he performed at almost every venue in those neighborhoods. But it was in Brooklyn that he found inspiration for his most famous song. Even as he later toured the world to much adulation, Buckley returned to perform in New York, where it all began for him.
This Saturday marks the 20th anniversary of Grace, his only full-length studio album released while he was still alive (he drowned in a tragic accident in 1997), a powerful and stunning work that is now considered a masterpiece. In honor of that milestone, here is a list of notable spots in New York that impacted his career, according to the Kingdom for a Kiss tour page from his website. It's also a reflection of how much the city has changed in the last 20 years.
St. Ann and the Holy Trinity Church
157 Montague St., Brooklyn
It was at this church in Brooklyn Heights where Buckley made his public debut on April 26, 1991, when he performed at a tribute to his father, the late folk troubadour Tim Buckley. The relationship between father and son was estranged–Jeff only met his dad when he was eight. At the tribute show, Jeff, by then in his early 20s, performed a couple of his father's songs. "There was one song, 'Once I Was,' that I remember because my mother played it for me when I was 5, when my stepfather was out of the house," Buckley once told Rolling Stone. "So I sang this song, and a string broke at the very end, and I had to finish it a cappella…I didn't sing it very well." Unfortunately for Jeff, the comparisons to Tim from the press and from Tim's fans would plague the young singer throughout his career. It was also this show that led Jeff to a brief collaboration with guitarist Gary Lucas, formerly of Captain Beefheart, in the band Gods and Monsters, which also performed at St. Ann's on March 13, 1992.

The Knitting Factory
47 E. Houston St., Manhattan (1987-1994)
74 Leonard St., Manhattan (1994-2009)
In researching for this piece, I discovered that the Knitting Factory actually started on East Houston Street in 1987—I always assumed it originated in Tribeca prior to moving to its current location in Williamsburg. Buckley performed at the original Knitting Factory on November 1, 1991 as a member of Gods and Monsters, then later in April and on August 13, 1992 as a solo artist, and finally on February 4, 1997. The Knitting Factory was a venue that drew a wide range of pop, rock, jazz, avant-garde acts—Suzanne Vega and Juliana Hatfield were among the musicians I saw at the Tribeca location. Currently, 47 E. Houston is the address of restaurant called Estela.
Park Slope, Brooklyn (circa 1992)
According to Alan Light's book, The Holy or the Broken: Leonard Cohen, Jeff Buckley, and the Unlikely Ascent of 'Hallelujah,' Buckley was cat-sitting at a friend's Park Slope apartment, when he came across a copy of the Leonard Cohen tribute album, I'm Your Fan, which features John Cale's version of an obscure song called "Hallelujah." "That was my favorite one," Buckley once said in archival interview footage. "I just learned it one night before a gig at Sin-é. Somebody suggested that it should be on the album, just that it should be somewhere. I said okay." That song would become a staple in his live set and appear on the Grace album. Today, it's perhaps Buckley's most recognizable song, which has been endlessly covered and appeared on TV and film. Earlier this year, it was announced that Buckley's version of "Hallelujah" made it to the Library of Congress National Recording Registry.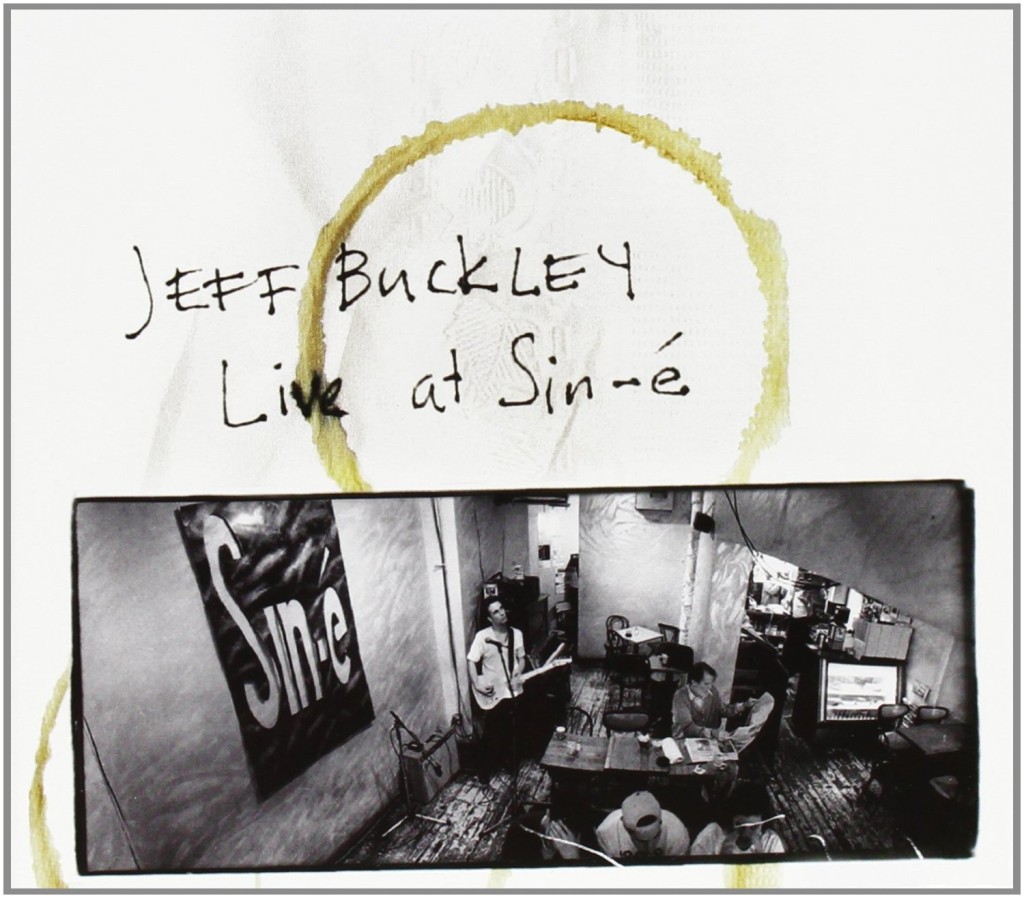 Sin-é
122 St. Marks Pl., Manhattan
Sin-é was a small Irish cafe and music space in the East Village, a few blocks away from the apartment buildings that were photographed for the cover of the 1975 album Physical Graffiti by Led Zeppelin, one of Buckley's favorite bands. It was at Sin-e in 1992 that Buckley began a residency every Monday night, performing both other people's material (Zep, Leonard Cohen, Van Morrison, Nina Simone, Ray Charles) and his own songs ("Eternal Life," "Grace," "Last Goodbye" "Lover, You Should've Come Over, "Mojo Pin"). Performing by himself with his electric guitar, Buckley wowed audiences, which helped him secure a deal with Columbia Records. In 1993, Buckley made a return to the cafe for performances that were later recorded and released as an EP, Live at Sin-e, prior to the release of Grace. As for the place itself, it closed in 1996, moved to Williamsburg in 2000, and then relocated to the Lower East Side until it shut down in 2007. Today 122 St. Marks Pl. is the address of bar called Bua.
Fez Cafe under Time Cafe
380 Lafayette St., Manhattan
This was another place that Buckley performed at on July 23, 1993 (as part of the CMJ festival) on June 17 and 18 in 1994. Buckley was in good company  here, from 1992 to 2005, this venue hosted many famous local and national performers including Rufus Wainwright, Greta Gertler, Nellie McKay, Richard Hell, Patty Griffin, and Norah Jones.
Tower Records
4th and Broadway, Manhattan
How the hell did I miss Jeff Buckley's in-store appearance on December 16, 1994? Me, the guy who always waited on a long line whenever a rock star would do autograph signing and/or performance at my all-time favorite store, which tragically, in my opinion, closed in 2006. (Kate Bush, Lou Reed, Patti Smith, Erasure, Philip Glass, Bryan Ferry were just some of the folks I met). Consider yourself very lucky if you were there to meet Buckley. As of today, the location houses the "MLB Fan Cave."
Irving Plaza
17 Irving Pl., Manhattan
On December 17, 1994, Buckley played at this New York institution, which is still around, which I always associate with the very unpleasant experience of going through the gauntlet of the mean-looking security staff upon entering the venue. Regardless, I've seen so many awesome acts here–Liz Phair, the Psychedelic Furs, the Verve, Echo and the Bunnymen, and INXS in 1997, a few months before singer Michael Hutchence died.
Roseland Ballroom
239 W. 52nd St., Manhattan
Ahh, good old Roseland, which unfortunately shuttered earlier this year. Back on June 2 and 6, 1995, several months after the release of Grace, Buckley performed at Roseland opening for Juliana Hatfield.
Mercury Lounge
217 E. Houston St., Manhattan
One of my favorite places to see a show, the Mercury Lounge is where Buckley performed on New Year's Eve 1995 and on May 4, 1996.
Brooklyn Heights, Brooklyn
Back to Brooklyn Heights, this time, the neighborhood served as the locale for Buckley's "So Real" video–reportedly his favorite clip. Just like the song, the video, directed by Sophie Muller (Weezer, No Doubt, Beyonce, Rihanna), is aptly surreal (no pun intended) with Buckley riding a bicycle in a suit, taking off his shirt in the street, and being accosted by apes.

Arlene's Grocery
95 Stanton St., Manhattan
Shane Doyle, who was the co-founder of Sin-é, also started another venue  in 1996 on the Lower East Side called Arlene's Grocery, one of the few places from Buckley's era that is still around, with its bodega-like facade intact. There, Buckley performed on February 9 and 11, 1997, which would possibly make it his last ever show in New York City. Having relocated to Memphis to work on the follow-up to Grace, he drowned in the Wolf River on May 29 of that year.
For more on Buckley, I highly recommend three terrific books: Dream Brother: The Lives of Jeff and Tim Buckley by David Browne; Grace by Daphne Brooks, and The Holy or the Broken: Leonard Cohen, Jeff Buckley, and the Unlikely Ascent of Hallelujah by Alan Light. And of course, listen to Buckley's Live at Sin-é and Grace.