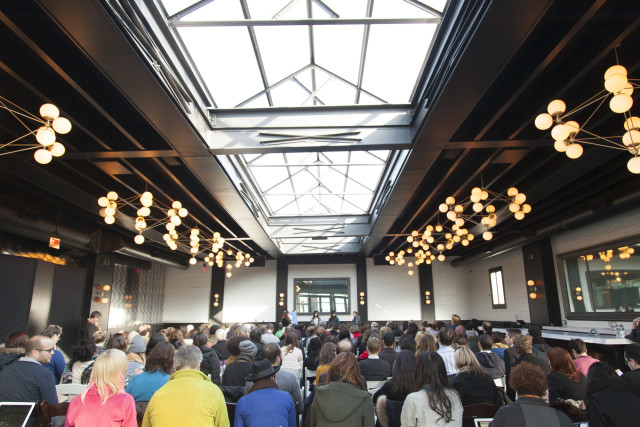 The Republicans have taken over Congress, but New York City, fortunately, feels more liberal than ever. In just one week, you can rest easy walking around with almost an ounce of weed, knowing the possible penalty you face is just a $100 ticket. What else does the de Blasio administration have in store for us? Tonight at Pratt, you can learn more about the future of New York's open spaces from our new Parks Commissioner, Mitchell Silver, who plans to speed up the process of creating and improving parks, in part by making the database that tracks park allocations by councilmembers open for everyone to see.
This is a good thing. Here's what else you can look forward to this week.
Thursday, Nov. 13: It's no secret that you can get a good pour in Bushwick, but it's never been done on quite this level. Tonight, local blog Bushwick Daily (whose founder Katarina Hybenova is speaking at Indie Media Camp next Wednesday) will team up with local bar The Sampler to host the first-ever Bushwick Brewski Bonanza, "a one-night beer extravaganza" featuring special brews and $9 flights from some of the best beer brewers in city. Representatives from Grimm Artisanal Ales, Sixpoint Brewery, Third Rail Beer and other breweries will share their brews and the stories behind them starting at 7pm at The Sampler. While admission is free, interested parties should RSVP here for a preview of all the great beers that will be on draft. Cheers!—N.R.
Friday, Nov. 14: The hacktivist group known as Anonymous is little understood, by design, and also because the NSA has put such a negative spin on what this underground network of hackers has done to date, which is mainly to disrupt the sites of those it finds fault with, be it child pornographers or government agencies. Anthropologist Gabriella Coleman spent years researching and befriending its members, and the result is her new book, Hacker, Hoaxer, Whistleblower, Spy: The Many Faces of Anonymous, which covers the genesis of the group, along with other facets of internet culture like the history of trolling. Originally recommended that you hear her read at Verso's HQ but that is actually a private event. Our apologies. Instead, you can see her at the book release party on Nov. 18 at The Strand.
Saturday, Nov. 15: In 2000, Mark Hogancamp was beaten senseless, literally, in his town of Kingston, N.Y. The damage was tragic, resulting in brain damage that essentially wiped clean his memory. He recovered in one of the strangest, most fascinating ways imaginable—by re-creating a WWII-era village in his backyard, which he calls Marwencol, using mannequins as stand-ins for people he knows. He then documented their movements on camera, and became an accidental artist. Pioneer Works has an exhibition of his photographs of the town from its early days 'til now, and tonight at 7pm they're screening the widely praised documentary about his work, Marwencol.
Sunday, Nov. 16: It's been a long time since we've gone to a major craft fair, and one of us still has bad memories of standing in line, waiting to get in. As Annaliese recalls, "It was really cold, I was brutally hungover and we waited in line for gift bags that were just full of stickers I threw away. BUT," she said—and this is an important but—"I still have the hand-decorated lighter I bought from Amy Sedaris." The November edition of the Renegade Craft Fair brings similarly bold-faced names, maybe not in comedy, but definitely in the DIY community, including workshop demos with Grace Bonney of Design*Sponge and Paul Lowe of Sweet Paul Magazine. You'll be able to browse the wares of 200 indie makers, too, so you can get a head start on gift buying during what will be a very rushed shopping season. Just try not to drink so much the night before.
Monday, Nov. 17: As part of an ongoing series on Brooklyn and fire in collaboration with Green-Wood Cemetery, the Brooklyn Historical Society will host Brooklyn's On Fire: Bushwick is Burning, a panel discussion on the 1977 burning of the North Brooklyn neighborhood and its decades-long repercussions. Times journalist Jonathan Mahler, author of Ladies and Gentlemen: The Bronx is Burning, will moderate the conversation, speaking with photographer Meryl Meiser (author of A Tale of Two Cities: Disco Era Bushwick), a FDNY fire marshal, a tenant lawyer and a displaced resident on Bushwick as it was then and how it is now. Admission to the 6:30pm discussion is $5 for the general public and free for members of the BHS and the Green-Wood Cemetery.—N.R.
Tuesday, Nov. 18: While the Brewski Bonanza earlier this week will be best enjoyed by beer nerds, Spirits of New York is made for cocktail lovers. It helps that it's held at one of our favorite bars, The Shanty, where you have a window onto the next-door New York Distilling Company, makers of potent gins like the "naval strength" Perry's Tot. A $40 ticket ($30 for Slow Food members) buys you samples of 16 spirits distilled in New York State, served neat or in seasonal drinks.
Wednesday, Nov. 19: Let's say you have your own site, or you write for one. To interest an audience in your content, you can't rely on compelling writing alone. You also need to be skilled at headline writing, photography, and social media, for starters. Knowing how to grow your audience, and trends in storytelling will help, too, and these are just a few of the topics we'll be covering at our second annual Indie Media Camp next Wednesday, which is produced with the help of car2go. We've invited staff from Food52, Bon Appetit, Gothamist, Refinery29, BKC, Bushwick Daily, BarkBox, Corner Media, and more to share their secrets and insights and we hope you can join us. Early bird pricing ends soon but you can use the code BB to extend it.
Tips this week by Nicole Davis and Nikita Richardson